Grains Analytical Testing Laboratory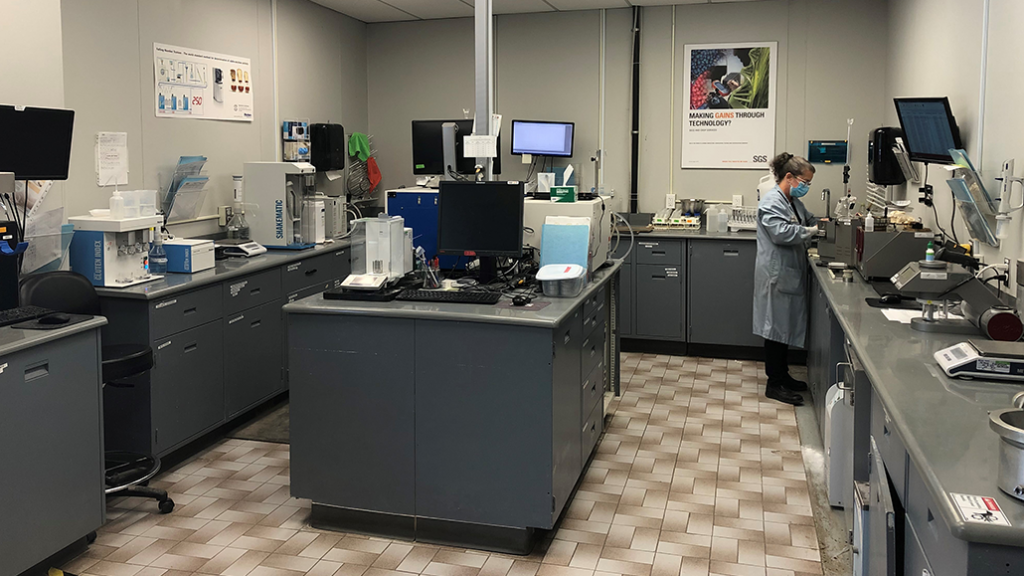 WHEN GRAIN FARMERS of Ontario entered into a joint venture with SGS Canada, it was a unique arrangement for a producer group. The Grains Analytical Testing Laboratory (GATL) opened in 2016 with the goal of gaining a better understanding of the quality of the wheat grown in Ontario.
Now, five years into the 10-year agreement, the lab has become the technical voice on behalf of Grain Farmers of Ontario's wheat initiatives.
"Ontario wheat production is increasing, and that wheat needs a market," says Crosby Devitt, CEO of Grain Farmers of Ontario. "The Grains Analytical Testing Laboratory is an innovative way to provide quality proofing that ensures the needs of end-users are being met while at the same time supporting our farmer-members with market access for their grain."
Paolo Santangelo, the GATL's operations manager, has leant his expertise to discussions with domestic millers and to new crop missions for the growing export market in Mexico and Latin America. The technical bulletins that he creates provide the information being sought by grain buyers within these sectors. They are based on samples and test results from the annual Wheat Harvest Quality survey conducted by Grain Farmers of Ontario. The bulletins help to build our network and establish us as a reliable and objective source.
EDUCATION
"We've definitely learned in the last five years there is a lack of awareness internationally about the good quality wheat being grown in eastern Canada. In a general sense, education has been our primary focus," says Santangelo.
As Devitt notes, Ontario wheat is a very different market and type of wheat than Western Canada. "Soft red winter wheat, the predominant class grown here, has varied uses and is often blended with other classes. Its unique qualities and functionality means you can't just translate quality data from other parts of the country to know how to position and use it."
The information provided to millers and bakers has been fine tuned over the past five years to ensure it is relevant to changing industry standards and needs. While grain is graded and purchased based on protein and sprout damage, there is a growing interest, particularly from exporters, to know about flour quality parameters of the wheat they are buying. Their customers want to know how the flour they produce from Ontario wheat will perform in their baking processes. The lab provides that information utilizing various testing equipment, such as an alveograph or a wet gluten test, to help predict how the dough or batter will behave in production of baked goods. Ultimately, they need to meet their customer's expectations.
Santangelo has also been working with breeders to screen potential new varieties to ensure prospective new wheat varieties meet the quality criteria international markets are requesting, as well as working with private enterprises and grain companies performing their independent harvest surveys to ensure marketability.
CREDIBILITY
The strong connections that have been made with industry are particularly important in a year like 2021 when there are some concerns with specific quality parameters. Falling number became a concern when rain created moisture issues with the crop at harvest time.
"This year it really was about providing that expert opinion and credible objective information on the crop," says Devitt. "We could show what is coming out of the field and how best it could be used."
The concerns over the marketability of the crop also highlighted the need for more communication with farmer-members around the importance of the quality parameters.
"Moving forward, we want to improve our ability to share knowledge in the form of educational sessions, for example. Do farmers know the reasons behind why a load was rejected because of low falling number? What does low falling number mean to the milling and baking process? The more information we can share will benefit the entire value chain," says Santangelo.
The GATL has also provided an important commercial service. It is the only commercial wheat testing lab available in all of Canada. "We have set ourselves up to be a leader at supporting the Canadian wheat market," says Santangelo.
When the lab originally opened, there was some discussion about expanding to test other crops, such as testing related to malt barley for the expanding microbrewery industry. But Santangelo says they have realized they don't need to bring everything under the GATL roof to provide service to other sectors.
"The entire SGS Canada and global network is available to support us with providing testing services we can't perform at the GATL. Having those extended resources beyond the grains lab is one of the benefits of our joint venture. It allows us to explore Grain Farmers of Ontario initiatives requiring testing of crops other than wheat without the need for additional equipment."
Devitt agrees, "We have the direct connection to farming but we can also provide global context and that is what makes this joint venture successful." •