Raising concern
THE EU'S FARM TO FORK STRATEGY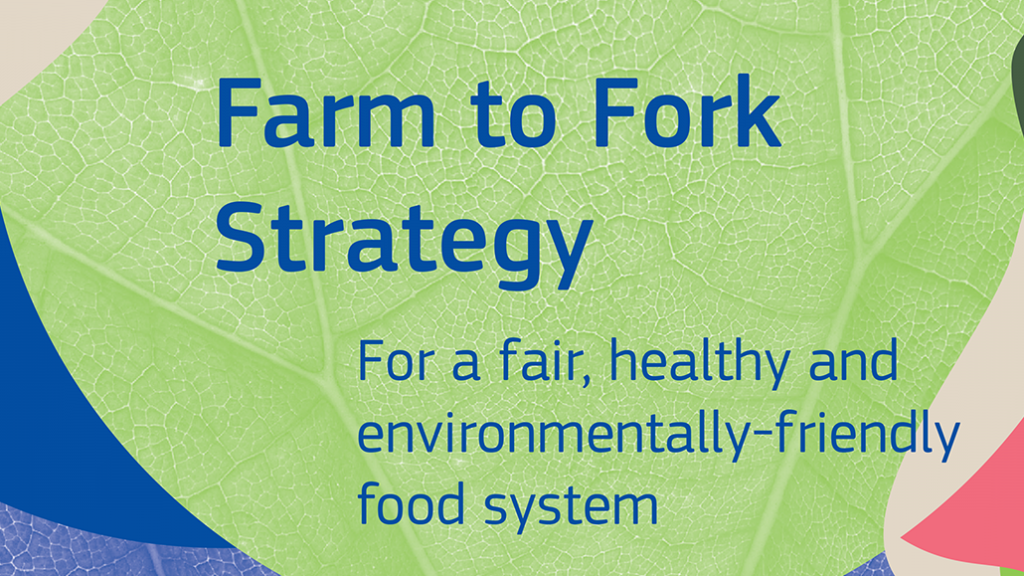 LAUNCHED IN MAY of 2020, the European Union's (EU) Farm to Fork strategy is an ambitious plan that aims to transition to a sustainable food system that protects food security and ensures access to healthy food produced on a healthy continent. While the plan is impressive in terms of its actions and expected outcomes, many are concerned that it will have the opposite effect by destabilizing food security and raising food prices.
Farm to Fork is a strategy under the EU's Green Deal. Its aim is to accelerate the transition to a sustainable food system that, among other things, has a neutral or positive impact on the environment, mitigates climate change, ensures food security, health and nutrition, and preserves food affordability while generating fair returns for Europe's farmers. The strategy has outlined 27 actions that should help the EU reach its ambitious goals by 2030, including:
A 50 per cent reduction in the use and risk of pesticides
A reduction by at least 20 per cent in the use of fertilizers, including animal manure
A reduction by 50 per cent in the sales of antimicrobials used for farmed animals and aquaculture
Boosting organic production to 25 per cent of all agricultural land (the current level is eight per cent)
CANADIAN IMPACT
At a high level, Pierre Petelle, president and CEO of CropLife Canada, says there is not much to argue about when it comes to the ambitions of the Green Deal and the Farm to Fork strategy. But there are points where their thinking deviates as well.
"When we look at some of the specific goals of the Farm to Fork strategy, for example, you know, 25 per cent of the land under organic production, 50 per cent reduction the use of quote-unquote hazardous pesticides… All those things are potential red flags," he says.
Petelle did point out that none of these ambitions are currently enforced by legislation. They are just that — ambitions. His concern, though, is that many of the strategies somewhat contradict the end goals. Because organic production requires more tillage passes to control weeds, for instance, it could actually release more carbon than it stores. He also pointed to the lack of uptake of technology, such as gene-edited or genetically modified crops, which could help lower the use of some pesticides and boost yields even under less-than-desirable conditions.
"I think that'll be the true test," said Petelle. "If they're really serious about some of these climate goals, then they have to open the door to technology. Otherwise, they'll be almost impossible to attain."
Petelle is perhaps most concerned about some of the language used in the Farm to Fork strategy. The EU frames its food production system as the 'gold standard' and this, says Petelle, could be problematic for the world's developing nations. He is also concerned that the EU could expect imported crops to meet the same standards that EU farmers have to meet.
"The reality is if everyone in the world adopted these policies, we frankly would not have enough food to feed the world," he says.
CHALLENGES
In a recent email, Max Schulman, member of the Finnish Farmers Organisation in Copa and Cogeca, says that EU farmers could surely lower their use of plant protection products in the future, but only by switching to alternatives, such as biocontrol technologies, and adopting new tools and technology, such as crop rotation systems, digitalization methods, and new genomic techniques.
"However, all options are not currently available on the ground and the political objective of the Farm to Fork in further reducing the use of active substances is a challenge in all the main EU productions," he says. "There is a clear need to carry out a comprehensive assessment of the cumulative economic, social, and environmental impacts of the various targets for EU agriculture set out in the Farm to Fork and Biodiversity strategies before taking any political or binding regulatory decisions."
Headquartered in the European capital of Brussels, Copa and Cogeca is the strongest interest group for European farmers.
In a joint open letter, agri-food chain organizations, including COCERAL, the European association of trade in cereals, oilseeds, and pulses, asked the European Commission (EC) to keep three points in mind going forward. First, they asked the EC to carry out a comprehensive assessment of the cumulative economic, social, and environmental impacts of the various targets before making any political or binding regulatory decisions.
The joint letter also asked the EC to ensure the proposed targets are coherent and consistent, as well as useful, measurable, realistic, and achievable. Finally, it expressed concerns over how targets are calculated, requesting that the EC use science-based, technically feasible and economically sustainable targets that ensure the long-term economic viability and competitiveness of Europe's food supply chain.
"We must be conscious that the Farm to Fork strategy goals of reducing pesticides use and risk are aspirational," says Corrado Finardi, regulatory affairs manager, food and feed safety, COCERAL. "The Commission has set the bar high."
With regard to the impact on EU production, Finardi expressed concerns about a steep decrease in yields, an increase in food prices, and endangerment to food security. COCERAL's internal estimates expect a decrease in wheat production by eight per cent on the low end, but 35 per cent on the high end. Those same estimates calculate a conservative eight per cent loss or a high estimate of a 33 per cent loss in corn production. Similar numbers are estimated for barley and oilseed production.
"Under any foreseeable scenario, the EU becomes a net importer of cereal and oilseed," he says.
While many outside of Europe see the continent's approach to agriculture and plant protection products as unscientific, Finardi said they have a sound risk assessment process in place.
"Having in place different risk assessment methodologies in different parts of the world does not necessarily imply that there are unscientific ones," he said, clarifying that the EU approach is hazard based, while North America's is risk based.
GLOBAL CONCERNS
Countries that export grain to the EU have expressed concerns too, though, as the phasing out of products or lowering of Maximum Residue Levels (MRLs) often makes it difficult for exporters. A good example of this is alpha-cypermethrin, a product used in cereals storage, which failed to meet renewal requirements. As a result, it was phased out early in 2021. When phasing out begins it is usually followed by a lowering of MRLs.
"This means that, for instance, it will be more difficult, if not impossible, for Brazil to export to the EU crops treated with alpha-cypermethrin in the future," said Finardi. "But even here, the Commission and Brazil are working together to see if it will be possible to maintain import tolerances."
Glyphosate is the next big product up for renewal in the EU. "I cannot see a swift reapproval for the substance, as political debate will heat up in a while, and if then, EU countries will authorize plant protection products to be placed on the national market," said Finardi. "The saliency of the debate and citizens' voice will for sure have an impact on this."
It should be noted that the EU was in deep discussion on import tolerances granted to export countries, but the European Parliament failed to endorse its amendment (Art. 118a) to the Common Market Organisation regulation, covering marketing standards. Such an article, said Finardi, would have implied a ban of imported agri-food commodities treated with pesticides not authorized in the EU on the ground of health or environmental reasons by January 1, 2025.
Instead, EU institutions agreed to prepare a Commission report by June 2022 to assess the rationale and legal feasibility of applying these standards to imported agri-food products, especially under World Trade Organization rules. They also agreed to release a joint statement on health and environmental standards for imported products to raise awareness and stimulate third countries of the political will in the EU. Finally, they agreed to release a unilateral statement by the Commission indicating what could be done in terms of the imports of agricultural and agri-food products from third countries.
"At COCERAL, we are closely following the discussion, but the intentions from the EU institutions seem real," concluded Finardi. •