Weed science research
WOMEN TAKING THE LEAD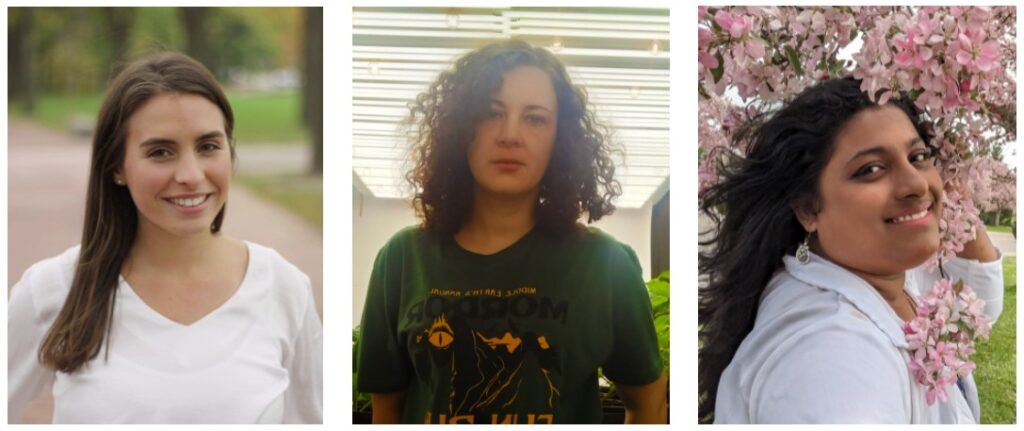 THE UNIVERSITY OF GUELPH'S Plant Agriculture department continues to build on its world-renowned reputation for research and innovation. Weeds are an increasingly common problem across all crops. From increasing rates of herbicide resistance to finding new control methods and watching for new and emerging problem weeds, researchers in the department have their pick of weed challenges to investigate. Ontario Grain Farmer sat down with three weed science students to learn about their research projects and how their research results could advance future weed control solutions.
UNDERSTANDING THE ROOT OF GROUP 4 RESISTANCE IN GREEN PIGWEED
Ontario is home to the first case of Group 4-resistant green pigweed in the world, and that means it is attracting attention from the global weed science community.
Confirmed in a field of processing peas in southwestern Ontario, green pigweed has proven resistance to some Group 4 herbicides. Isabelle Aicklen, a University of Guelph Plant Agriculture graduate student, is committed to determining how the resistance developed and proactively identifying alternative weed control strategies for herbicide-resistant green pigweed in field crops.
"Since this is the first case of Group 4 herbicide resistance, this research project is quite novel," says Aicklen. Introduced in WWII, the Group 4 chemistry is one of the oldest synthetic herbicides and has been slower for resistance to progress, especially compared to Groups 2 and 5, which have developed herbicide resistance much faster.
During the first two years, Aicklen's research was conducted in a greenhouse to confirm the level of herbicide resistance in this population and rule out obvious source causes of resistance. Now in her third year of this four-year research project, Aicklen is studying green pigweed at a molecular level in an attempt to determine exactly what mechanism inside the plant has caused this weed species to develop resistance. "We're using genomics as a tool to look at the gene expression of the plant to determine why resistance is happening, and using this information, we also hope to develop alternative weed control solutions," she says.
Field trials are also being conducted in corn and soybeans to evaluate alternative chemical options for controlling this population of green pigweed. Aicklen says that, though the first case of Group 4 resistant pigweed was found in peas, the weed could have an economic impact on field crops such as corn and soybeans.
The research goal is to identify specific genes that cause resistance. This discovery will help Aicklen understand why Group 4 is one of the slowest herbicide chemistries to develop resistance and how they can apply what they learn to future weed control options. She notes the process is complicated because, while Group 4 has been around for so long, it's difficult to understand the science of how the herbicide works within the plant, identify the pathways the chemistries follow, and, ultimately, why resistance evolves.
"Our results could directly apply to Ontario farms and may impact new weed control solutions," says Aicklen. "We're hopeful that the answers we find will help farmers if green pigweed develops resistance in their fields."
INNOVATIVE WEED CONTROL RESEARCH LEVERAGES NANOTECHNOLOGY
Malavika Nair, a University of Guelph PhD student, is bringing a "green" revolution to weed control, introducing nanotechnology to combat pigweed.
"Weeds are clever; they take advantage of everything a crop needs to survive and continually develop mechanisms to adapt, like herbicide resistance," says Nair. "That's why we are studying a new way to attack weeds, using nanotechnology to be sneaky and fast before they can find a way to fight back."
Commonly used in vaccines, nanotechnology is a study that understands and controls the character of the smallest atoms and molecules in nanoscale. Undetectable by the human eye, nanoparticles can exhibit significantly different physical and chemical properties to larger plant materials and can be manipulated as a tool to deliver molecules like RNA. Using this nanotechnology, naturally occurring as well as designed RNA can be transported to targeted areas of a plant, or in the case of Nair's research, pigweed and kill it by knocking out a necessary gene the weed needs to survive.
Using this new technology, Nair is developing an RNA nano-herbicide that uses the self-assembled natural nanoparticles of a sour cherry as the vehicle to quickly deliver the RNA to the exact point in the pigweed where the RNA can kill the plant. Since the natural herbicide formulation only affects the targeted weeds, it can be applied anywhere and will not affect crops.
While still in the early stages, Nair believes growers will welcome this new weed control option, especially because it is fast acting and requires very little amount applied. Now that the RNA and nanoparticles have been identified, the next stage of the project is to formulate the RNA nano-herbicide and conduct toxicology studies. Nair is testing formulations for efficiency, storage and convenience.
"We're developing a new, biodegradable herbicide that could be a future solution for weed control," says Nair, explaining that, while the project is nearly halfway through, the research looks promising. Anticipated to be tested in greenhouses and fields, this research shows the potential to selectively target and kill pigweed and other common weeds found in Ontario crops.
The benefits of utilizing nanotechnology as a weed control solution extend beyond removing weeds from fields, Nair is also looking into the impact on soil health. "Since everything we're using is biodegradable, nothing can accumulate in the soil," says Nair. "Switching to an RNA nano-herbicide can also be safer for farmers, reducing the risk of exposure to chemicals."
The application of nanotechnology in agriculture is relatively new, and while it will take time before growers are able to adopt this revolutionary technology, Nair continues to be inspired by the progress and promise her research holds.
RESEARCH OFFERS PROACTIVE INSIGHTS ON MANAGING PALMER AMARANTH IN CANADA
anadian farmers and agronomists are on high alert for Palmer amaranth. Native to the southwestern United States and northwestern areas of Mexico, Palmer amaranth is an invasive weed that affects multiple crops, grows quickly, causes crop yield and quality damage, and can quickly develop herbicide resistance.
University of Guelph weed science master's student Francine Ballantyne explains that since Palmer amaranth is a dioecious species (male and female plants), the plant's ability to cross-pollinate enhances the speed at which it can build resistance. For perspective, waterhemp is also a dioecious weed species and continues to build herbicide resistance in Ontario fields.
In 2021, Palmer amaranth was found and removed from a Manitoba field. Ballantyne has spent the past two years studying the competitiveness of Palmer amaranth in canola and soybeans in an effort to prepare for the eventual arrival of the problem weed on Canadian soil. She hopes her research can help farmers manage the weed when they inevitably need to.
"Already established in Michigan fields, Palmer amaranth is only 100 miles away from the Canada-U.S. border," notes Ballantyne, explaining that the weed can have different characteristics based on geography and, like waterhemp, is resistant to multiple herbicide groups.
Conducting her research in a greenhouse, Ballantyne tested the competitiveness of Palmer amaranth weeds sourced from two different locations in the U.S. — Arizona and Kansas. She conducted three different experiments, planting the weeds in pots alongside canola, soybeans, and redroot pigweed to determine if any of the plants would suppress the growth of Palmer amaranth. Research into how Palmer amaranth interacts with soybeans has been conducted in the U.S., but little has been done to learn about the weed's interaction with spring canola. Ballantyne was able to compare existing soybean research information and compare it to her own results, adding to a growing bank of information about how Palmer amaranth affects field crops. "The idea is to test to see how common Canadian crops like canola and soybeans stand up against the weed, and if we could use these as cover crops as a possible Palmar amaranth weed control method if needed," explains Ballantyne.
Results showed there was a clear interaction between redroot pigweed and palmer amaranth (a pigweed species), demonstrating the competitiveness of both weeds. In pots where canola and Palmer amaranth were planted together, the weed grew smaller, demonstrating canola's potential ability to suppress this invasive plant. Unfortunately, Ballantyne's results were consistent with previous research conducted in the U.S. that observed Palmer amaranth suppressed soybean growth and reduced yield. "Soybeans are shorter and don't have height advantage canola does over Palmer amaranth," says Ballantyne. The study shows that canola could have potential as a cover crop to manage Palmer amaranth weed pressure, but Ballantyne notes that while this study was conducted in a greenhouse, the results still need to be tested in the field. And while some field research has been conducted on spring canola's ability to suppress palmer amaranth in the U.S., that can not happen until Palmar amaranth takes root in Canadian fields.
A secondary research project was also conducted, testing the allelopathy of palmer amaranth with canola, soybeans and redroot pigweed. Allelopathy is the negative or positive effect on one type of plant by a chemical produced by another type of plant. Preliminary results showed that each plant material did have an interaction with each other.
"This is a new area of research for Canada, and I hope this project will open more questions about how Palmer amaranth affects and interacts with Canadian crops like canola," says Ballantyne. •