HIGHLIGHTING THE LATEST TECHNOLOGY IN GRAIN PRODUCTION AND UTILIZATION
New research on biodiesel
Collaboration between the Government of Canada and a number of energy and transportation organizations is advancing essential research on the storage and use of heating and transportation fuel containing biodiesel.
A recent study reveals that using up to 10 percent biodiesel content in heating oil should not cause furnace performance issues. They also discovered that limiting the level of monoglycerides in biodiesel helps maintain adequate fuel flow which is particularly important for low-temperature storage and for operation of both furnaces and motor vehicles.
"This research initiative further demonstrates a commitment by all stakeholders to ensure a successful introduction of biodiesel as part of Canada's renewable fuels standard," said Patricia Davidson, M.P. for Sarnia-Lambton on behalf of the Honourable Christian Paradis, Minister of Natural Resources Canada. "Our Government is investing $202,000 in this important step forward to help reduce Canada's total greenhouse gas emissions."The study was funded by the Government of Canada's National Renewable Diesel Demonstration Initiative, Imperial Oil and the Canadian Petroleum Products Institute (CPPI). Assistance was provided by the Canadian Oil Heating Association, the Canadian Trucking Alliance, the Canadian Renewable Fuels Association and several other industry players. •

Biofuel model crop genome sequenced
The completion of the sequencing of the genome of a kind of wild grass will help researchers learn about the genetics behind hardier varieties of wheat and improved varieties of biofuel crops reports the Agricultural Research Service (ARS), the in-house research arm of the US Department of Agriculture (USDA).
GENETICIST YONG GU AND MOLECULAR BIOLOGIST JOHN VOGEL EXAMINE TRANSGENIC BRACHYPODIUM PLANTS IN A GROWTH CHAMBER. THE PLANT IN GU'S HAND IS SETTING SEED.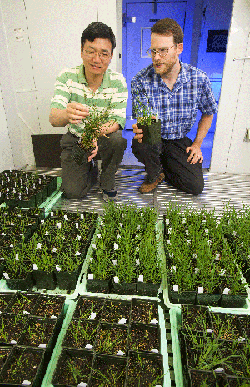 USDA scientists have mapped the genome of the grass Brachypodium distachyon which, according to the ARS, can be used the way other researchers use lab mice to study human disease. This genome can act as a model organism for important agricultural crops, including wheat and barley. The grass is beneficial to research because it is easier to grow and study than the crops that can be modeled from it.
The lead researchers, John Vogel, molecular biologist and geneticist David Garvin, both with ARS, have shared Brachypodium seeds with more than 300 labs in 25 countries and have provided free access to a draft sequence of the genome. •