Refuge compliance slipping
a recent survey reveals that refuge requirement compliance has slipped to 61 percent in 2009, down from a high of 80 percent in 2005. This is of serious concern for the entire corn industry.
When Bt corn is planted, non-Bt seed, or refuge, must be planted in amounts specific to the variety of corn planted (see chart below) to delay resistance from developing. The refuge requirements were mandated after careful consideration by the Canadian Food Inspection Agency (CFIA) and supported by the Canadian Corn Pest Coalition (CCPC).
The CCPC is a national think tank and advisory group comprised of industry leaders in corn breeding, experts in entomology, insect resistance management, agronomy and regulatory bodies like CFIA. Grain Farmers of Ontario is a member of the coalition and works hard to bring farmers' concerns to the table.
"The recent decline in refuge compliance by some Canadian farmers is very concerning to the CCPC and to the Canadian Food Inspection Agency," says Dr. Art Schaafsma, chair of CCPC. "We call on the corn industry across Canada to do the right thing and promote the planting of a proper refuge to minimize the risk of insects developing resistance." Schaafsma also notes that should the insects become resistant, these plant pests could become increasingly detrimental to crop yields in several crops as there would be fewer options to control their populations in either conventional or organic cropping systems.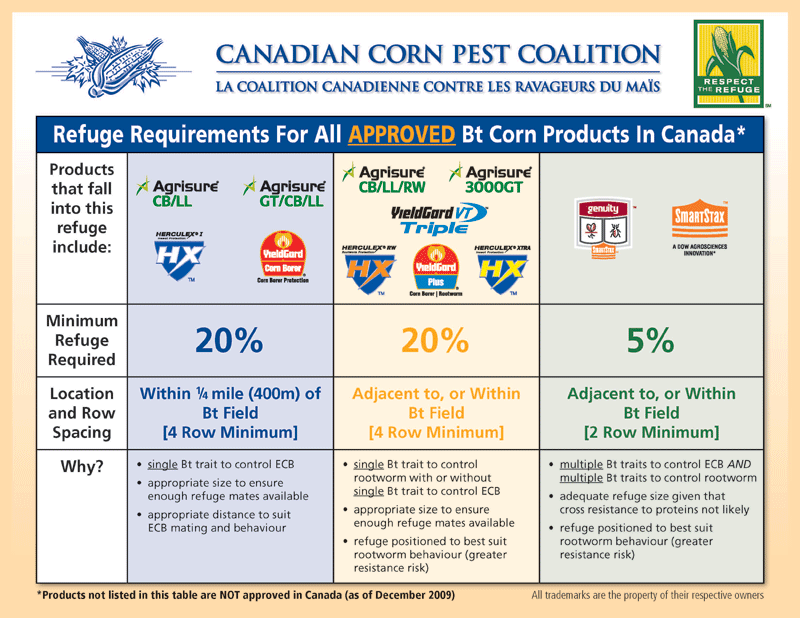 "These technologies are approved by the CFIA on condition that technology providers (seed companies) ensure that users maintain proper refuge area and configuration on farms," says Schaafsma. "Continued non-compliance in terms of the use of refuge could result in the availabilities of these technologies being put at risk. We cannot afford to lose Bt corn technology because of misuse."
As more Bt traits become available, trait-specific refugia may be required and these are not always the same. Always check with the technology provider for the correct refuge to use. Currently, there are no approved technologies with refuge included in the bag and mixing non-Bt with Bt seed is prohibited.
Although all members of the corn industry need to be held responsible for this slippage, it is imperative that grain farmers are part of the solution. As a farmer it is important to know the rules and 'respect the refuge'.
Grain Farmers of Ontario recognizes that in order for farmers to be part of the solution they need to have access to appropriate refuge hybrids, management information and performance data. GFO would like to see seed companies include more conventional (refuge) hybrids in their entries in the Hybrid Corn Performance Trials.
GFO will continue to work with CCPC, the industry and farmers to help increase compliance levels.
More information can be found on the CCPC website at www.cornpest.ca. •