Ontario Environmental Farm Plan program going strong
WITH COST-SHARE OPPORTUNITIES, FARMERS AND THE ENVIRONMENT ARE BENEFITING FROM THE EFP
the success of Ontario's Environmental Farm Plan (EFP) program continues due to its strong farmer-driven philosophy, voluntary nature, peer-reviewed evaluation and proven track record.
Ontario, which piloted EFPs in 1992, is still the leader among all Canadian provinces. "EFPs originated from the Ontario farm community, and farmers have been involved in every stage of their development," says Andrew Graham, Program Manager for the Ontario Soil and Crop Improvement Association, the organization that delivers the EFP program.
The Canada-Ontario Farm Stewardship Program (COFSP) was launched this past spring as the new cost-share component of the EFP program. Both EFP and COFSP are funded through 'Growing Forward,' the funding structure supported by Agriculture and Agri-Food Canada and OMAFRA that is now entering its second year. The EFP and the COFSP are administered by the Ontario Federation of Agriculture, acting on behalf of the Ontario Farm Environmental Coalition (OFEC).
The EFP process begins with an assessment, voluntarily prepared by the farmer, which focuses on up to 23 different environmental aspects. Then, through the locally-delivered EFP workshops, participants highlight their farms' environmental strengths, identify areas of concern, and set realistic action plans with timelines for improvement.
A peer review committee examines the action plans through an anonymous process and deems them either inappropriate or appropriate (eligible for funding). There are currently 28 different categories of Best Management Practices (BMPs) supported through COFSP.
Between 1993 and March 31, 2009, 35,400 farm businesses participated in EFP workshops at least once, and about 28,500 projects were completed by over 17,000 farmers (an average of more than two projects per farm). The estimated cost of projects completed to date totals about $304 million, of which about a third is provided by government funds.
Project proposal applications for 2010 were made available on January 15, and farmers are advised to act quickly. In 2009, approximately $7.34 million in funding (for over 1,800 projects on 100 farms) was allocated in about two months' time.
education is key
Cost-share, however, is only one of five factors that support BMP adoption, says Graham. "The others are education, proven practices, regulation and peer pressure." Graham says the educational aspect of the process is key. "It walks farmers through identifying the risk factors and takes them through to adoption," he says. "For example, a farmer identifies the risk of nutrient run-off and completes a cost-share project to modify equipment to inject manure rather than spread it."
In addition to improving the environment, farm productivity and profitability, Graham says the EFP program has also been successful in one of its original aims – to stem the introduction of provincial environmental legislation by encouraging farmers to adopt new practices voluntarily. In addition, the efforts of OFEC have helped in having province-wide environmental regulations, such as those concerning nutrient management, that are consistently applied.
EFP participation is also mandatory for farmers wishing to be part of two growing environmental/quality assurance food branding initiatives. The Ontario Corn-Fed Beef Program, administered by the Ontario Cattle Feeders Association, provides beef to hundreds of outlets including Kelsey's restaurants. You must also complete the EFP process to be a member of Local Food Plus, a non-profit certification initiative in the Toronto area that brings farmers and consumers together to promote environmentally and socially responsible food production.
past projects
The most popular EFP project category is precision agriculture, followed by cropping system improvements and habitat management. "About 2,100 claims for GPS units were awarded cost-share between April 2005 and March 2009," notes Graham.
Of all agricultural sectors, field crop producers such as Mark Foster of Ashton (near Carleton Place) made up the greatest number of participants in 2009. At Jockbrae Farms Ltd., Foster grows crops such as soybeans and grain corn, and also operates a dairy of 105 head with his mother Lynda, father Jim and grandmother Vera.
The Fosters have gone through the EFP process twice and have reaped the benefits of many completed projects. "In terms of strengthening the industry and getting the best return for our tax dollars, I really believe this is one of the best programs out there," says Foster. "It's low-cost from a government perspective, stimulates the economy, and rewards those who run their farm as businesses. It encourages us to reduce environmental impact through improving efficiency and adding value."
Foster freely admits that changes made at Jockbrae Farms due to EFP cost-share funding most likely never would have happened otherwise. "We'd still have our old drinkers, and in terms of water-use efficiency, they were terrible," says Foster. "They leaked and we also wasted large volumes during cleaning. In the fields, we now do almost 1,000 acres of no-till, which has saved time, fuel and reduced our farm's carbon emissions."
Through EFP funding, the Fosters have also made barnyard run-off and fuel storage improvements, and purchased a GPS unit. "We used auto-steer this past season with the GPS to spray, and it saved a 12-foot width on a 20 acre field," says Foster. "When you get about 30 percent of the cost of something, it makes it manageable, and things like new drinkers and auto-steer pay for themselves more quickly than I ever would have thought."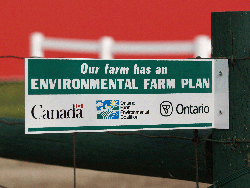 Both the philosophy and the delivery of the EFP program are important reasons why it seems destined to maintain strong momentum. Graham is pleased to observe "the EFP is normal farming practice in Ontario now."
For more information about the Environmental Farm Plan and the cost-share program, visit the Ontario Soil and Crop Improvement Association website at www.ontariosoilcrop.org. •