Building bridges overseas
A RECENT DELEGATION TO JAPAN HELPS OPEN DOORS FOR CANADIAN SOYBEANS
building relationships was the name of the game for the recent Canadian delegation of growers, government officials and industry representatives that traveled to Japan to talk soybeans.
The goal of the program, led by the Canadian Soybean Council (CSC) and coordinated by the Canadian International Grains Institute (CIGI), was to promote Canadian soybeans to current and potential buyers, gather industry intelligence and to establish relationships with key Japanese industry and government associations on behalf of Canadian soybean farmers.
"The program was a tremendous success," says Michelle McMullen, Manager of CSC and member of the travelling delegation. "We had a very diverse program in which we toured soy food manufacturing facilities, met with high-ranking officials and conducted information sharing seminars."
Chairman of the CSC and a Walkerton area soybean grower, Jim Gowland, echoes McMullen's comments, "Our industry's strength is building good relationships with companies, upper level government and industry officials. Building these relationships improves dialogue on important issues like market access and consumer trends."
formalizing relationships
Past programs run by CSC and CIGI have focused on information exchange with individual businesses and soybean importers in Japan. This year, emphasis was placed on meeting with officials from the Japanese Ministry of Agriculture, Forestry and Fisheries and high-ranking representatives from Japan's nine soy food industry associations.
Dialogue between the two countries was made official at the inaugural Japan-Canada Soybean Consultation Meeting. "The meeting offered a more formal opportunity to discuss key issues and areas of interest that may have not otherwise been addressed," explains McMullen.
According to both McMullen and Gowland, Japanese buyers are very interested in learning about the production practices of the Canadian soybean industry. "They are looking for a safe and secure supply of soybeans and are interested in all that happens within the value chain to make that available," says Gowland.
"Specifically, the Japanese recognize and appreciate the unified approach that the industry in Canada has taken in regards to export development," he continues. Canada is well-known in export markets for having a united value-chain in which the safety and quality of soybeans is assured straight from farmer to elevator, processor and exporter through the identity preserved system.
Below:  Jim Gowland at a miso processing facility.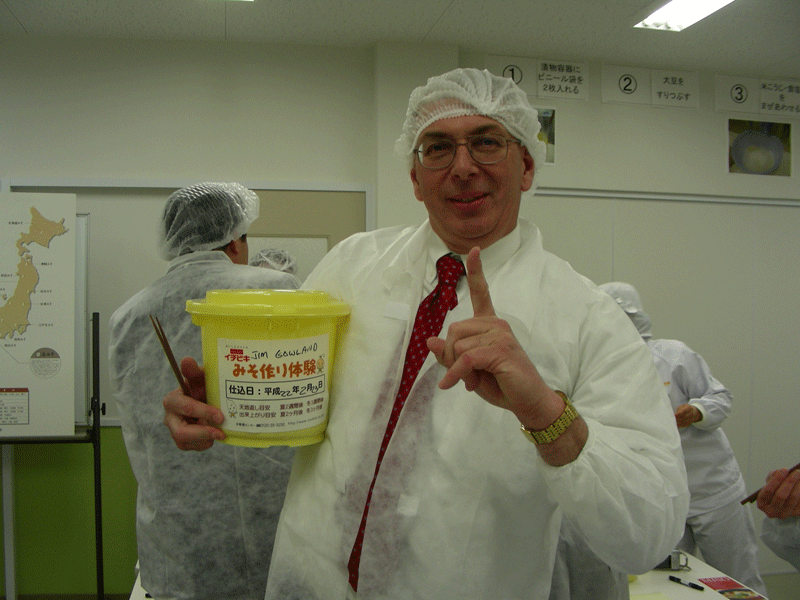 meeting the farmer
Although representatives of the Japanese soy food industry are impressed by Canada's entire value-chain, they are especially interested in meeting farmers, says Gowland. "Past programs have brought Japanese buyers to tour Canadian farms and they have always found that the highlight of their trip," he says. "On this year's trip to Japan, production practices were often the topic of conversation as Japanese customers appreciate a connection to the land."
In addition to sharing information with Japanese end users about Canadian soybean production, Gowland also explains that the trip was important for him, as a farmer, to learn about soy food production and the needs of our customers.
"Understanding the uses of your crop is important to me as a farmer," he says. "Seeing the process of turning soybeans into food products gives me a new appreciation for the importance of best management practices in the field."
gathering information
Gowland and McMullen, along with other Canadian delegates had the opportunity to tour a port facility that handles soybeans arriving from Canada along with separate soya sauce, miso and soy beverage manufacturing facilities.
"We gained a lot of valuable information from our meetings and tours," says McMullen. Interestingly, these different soy food products all have different requirements from the soybeans they are made from. "For instance, one soy beverage company mentioned they need soybeans with the shortest possible boiling time to save energy and therefore prefer a bean with a softer seed coat," says McMullen.
The soy sauce manufacturing plant was an especially important tour as the delegates met with Kikkoman officials. Kikkoman soy sauce products are marketed in more than 100 countries and the plant toured by the delegates is the largest in Japan. "This was an important opportunity for the Canadian soybean industry because Kikkoman sources most of its soybeans from the US. They represent a potential customer and it was very worthwhile to meet with them and understand their needs," says McMullen.
moving forward
The information gathered on this program will be distributed throughout the Canadian soybean industry to exporters, breeders and researchers and will ultimately help the industry provide our Japanese customers with the type of soybeans they prefer and require.
"In addition to sharing information, we also plan on continuing the formal consultation meetings with high-ranking Japanese government and industry officials. We hope to reciprocate their hospitality and host them in Canada in the future," says Gowland.
"Continuing to build relationships is important as Japan expects Canada to surpass the US in market share for food grade soybeans within the next few years."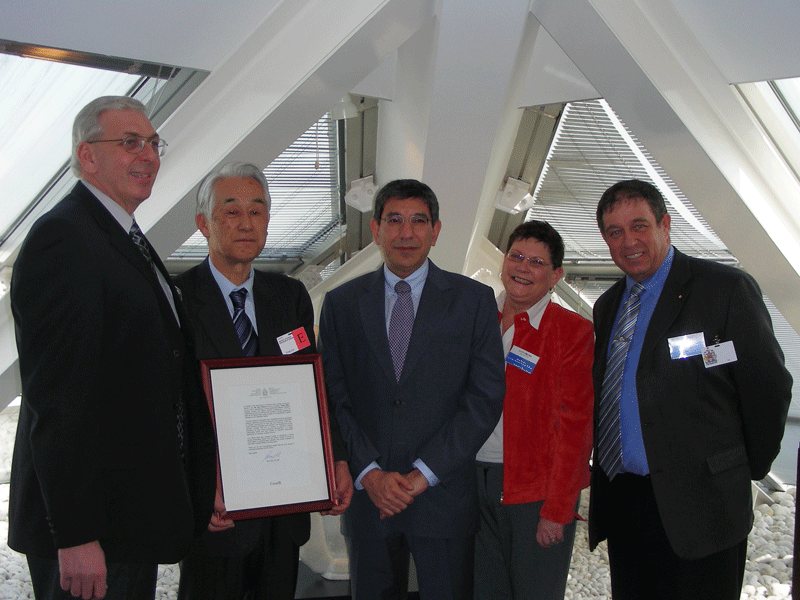 recognizing a leader
A prominent Japanese businessman has recently been bestowed with recognition from Canada for his invaluable role in building Japanese-Canadian relationships within the soybean industry.
Mr. Ikuo Fujimori of Takeya Miso Company in Japan has been recognized by the Government of Canada through a formal letter of thanks from the Honourable Gerry Ritz, Minister of Agriculture and Agri-Food Canada. The letter was presented to Fujimori by Ambassador Jonathan T. Fried at the Canadian Embassy in Tokyo in February, 2010.
Fujimori's significant role in facilitating technical exchanges between Japanese soy food manufacturers and Canadian soybean researchers over the past 25 years has created value-added opportunities for Canadian soybean producers. His efforts have contributed to the development of new soybean varieties which meet the processing needs of Japanese customers and the creation of the identity preservation system that has enabled Canada to become a world leader in the supply of high-quality soybeans.
"Mr. Fujimori is a pioneer for the use of Canadian soybeans in Japan," says Jim Gowland, Chairman of the Canadian Soybean Council. "He had the vision to look for non-traditional suppliers, saw the potential for soybean production in southwestern Ontario and initiated and invested in a strong partnership with Canada that has contributed to trade with Japan." •