Cropside: The right seeding depth?
AGRONOMIC INFORMATION FROM ONTARIO'S CROP SPECIALISTS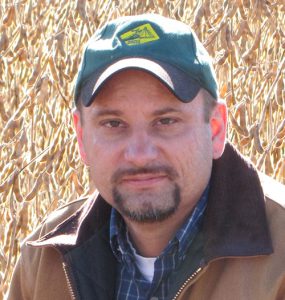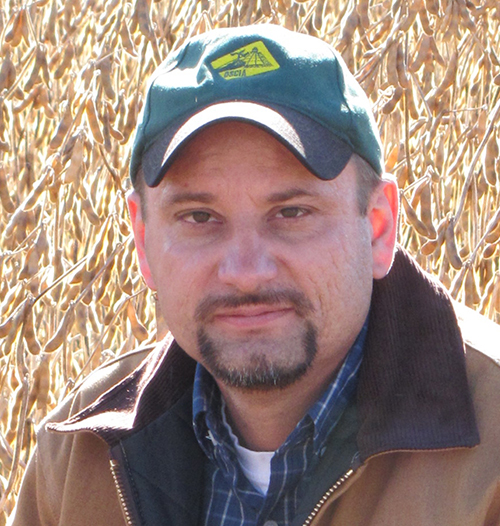 KEEP DEPTH IN MIND WHEN PLANTING SOYBEANS
A NEWLY PLANTED soybean seed is completely dependent on its reserve of energy to push through the soil.  In general, larger seeds contain more energy and can be planted slightly deeper than small seeds.  Precise seed placement is difficult to achieve with seed drills, especially in reduced or no-till fields.  Adequate down pressure, ballast, and the use of a coulter cart can help achieve proper seeding depth. It's essential to have good seed-to-soil contact and a closed seed slot no matter what the seeding depth.
Soybeans often get planted too deep.  A seeding depth of 1.5 inches is generally adequate for soybeans.  Early planting into no-till conditions should be reduced to one inch if there is sufficient soil moisture.  However, due to the high water demand for germination, plant 1/2 inch into moisture when possible, but never deeper than 2.5 inches in total. 
coulter depth?
Many no-till drills and planters have coulter attachments designed to aid in no-till planting (see photo 1). 
Photo 1:  Coulter Attachment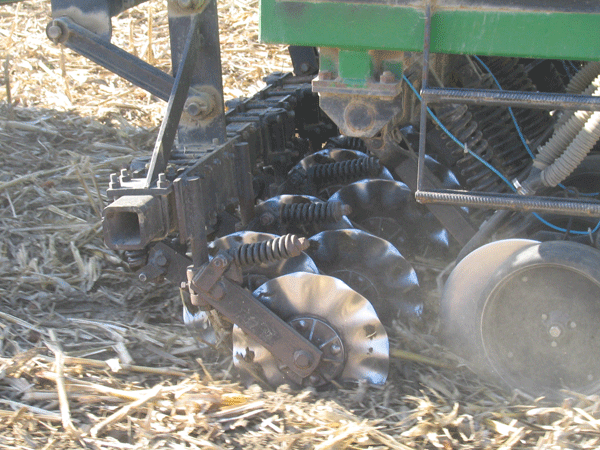 Traditionally these coulters were run at planting depth or even slightly above planting depth.  Research has shown that the most yield benefit from coulters run at the time of planting is when they are set deeper than planting (3.5 inch depth). This can reduce plant stands slightly but provides the highest yield.  Coulters run at seeding depth (1.5 inches) showed no yield benefit (see Table 1).
Table 1. Soybean Yield Response to Spring Minimal Tillage (2003-2005)

Treatment(1)

Average Yield (bu/ac)

No-till drill

45.1 c

No-till drill with coulters (3.8 cm depth)

45.4 c

No-till drill with coulters (9 cm depth)

46.0 b

Pre-tillage (operated 1-3 days prior to seeding at 9 cm)

46.9 a

Values followed by the same letter are not significantly different

Values based on 40 Ontario trials seeded with a JD 1560 no-till drill.  Coulters run at seeding time in the row (2 cm or 0.75 in. coulters.)  Pre-tillage coulter unit operated 1 – 3 days before seeding at a depth of 9 cm (4.5 cm or 1.75 in. coulters). 
Photo 2: Pre-Tillage Run 1-3 days before seeding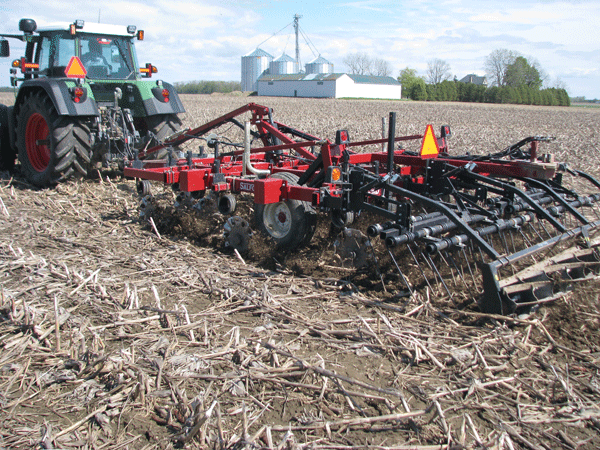 A pre-tillage run one to three days before seeding showed the most benefit (see photo 2). •