RESEARCHERS ARE USING CHINESE SOYBEAN GENETICS TO IMPROVE DIVERSITY AND YIELD
adopting new plant genetics and breeding technology is an important factor in progressing Ontario's soybean crop. Yield improvement is naturally the most common measure of breeding success and breeders believe that introducing new genetics to the existing gene pool could make new traits and higher yields a reality for Ontario growers, says a University of Guelph researcher.
FIGURE 1. SOYBEAN PLANT IN A YIELD PLOT OF THE PROVINCIAL YIELD TRIALS IN JILIN PROVINCE. THE PLANT/VARIETY HAS LARGE PODS AND EVERY POD HAS FOUR SEEDS IN IT. IT ILLUSTRATES SOME OF THE POTENTIAL THAT SOYBEAN VARIETIES FROM CHINA MAY HOLD FOR CANADIAN SOYBEAN BREEDERS.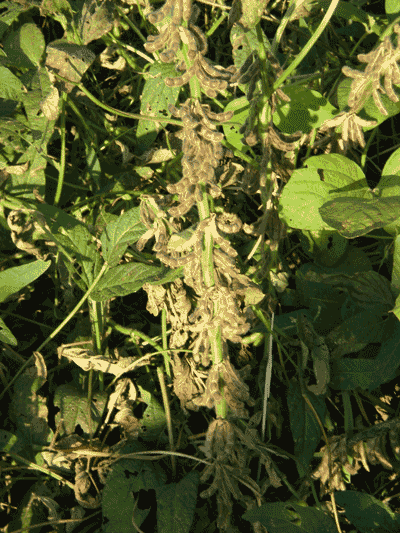 "China is the centre of origin of soybeans and is well-known globally for holding the most genetic diversity," says Dr. Istvan Rajcan of the Department of Plant Agriculture. "Until now, North American soybean breeders have not incorporated Chinese genetics into their research so the potential to learn about this opportunity and grow diversity and yield is huge."
Rajcan is leading an on-going research project focused on testing and analyzing breeding populations developed by crossing Canadian and Chinese varieties. Started in 2004, this initiative has sparked much excitement in the field of plant breeding and has built an international partnership between Ontario researchers and Chinese scientists. 
progress in yield
While Ontario soybeans have experienced steady yield increases of nearly one bushel per acre per year for many years, production challenges including pests and diseases have slowed yield progress.  "There is a concern among growers that the yield curve for soybeans is not as steep as for other crops such as corn and this is related to plant genetics," says Rajcan.
Research indicates that 35 ancestral lines make up 90 percent of soybean genetics in North America, meaning a narrow gene pool and a lack of diversity.
breeding for diversity
To combat the concern of genetic diversity, Rajcan began by choosing modern high yielding Chinese soybean parents donated by Chinese scientists. These modern varieties, in comparison to older varieties from gene banks, are more likely to be sources of favourable alleles that could improve various characteristics such as yield and increase genetic variability.
Two crosses between Canadian and Chinese varieties, including OAC Millennium and Pioneer 9071, were then conducted. Both crosses were grown in multiple locations in Ontario and Heilongjiang and Jilin, the Chinese provinces most comparable to Ontario growing conditions. More recently this collaboration has also been expanded
to Minnesota. 
Each Canadian-Chinese breeding population is dissected and the genetic basis for yield is analyzed by studying the qualitative trait loci (QTL), or chromosome region associated with yield. Both the first population and a second population with different parents have allowed Rajcan to identify specific QTLs that enhance yield.
With initial results proving that the Canadian-Chinese crosses are high yielding, this research knowledge will ultimately spur the development of new varieties that yield higher than any existing Ontario varieties or any varieties bred with two North American parents. 
global collaboration
Another unique aspect of this research project has been the information sharing and collaboration it has inspired. Results of the first population trial have been published and information about the second population will follow suit, giving other breeders the knowledge to experiment with Chinese genetics using proven methods. Chinese researchers have also benefited from this project as they now have access to North American soybean genetics.
"It has been very rewarding research to work on because we're focused on improving North American soybeans but we are also contributing to breeding projects in China," he says.
FIGURE 2. PROFESSOR LIU LI-JUN'S RESEARCH GROUP AND DR. ISTVAN RAJCAN AT THE SOYBEAN RESEARCH INSTITUTE OF THE HEILONGJIANG ACADEMY OF AGRICULTURAL SCIENCES IN HARBIN, HEILONGJIANG PROVINCE, CHINA.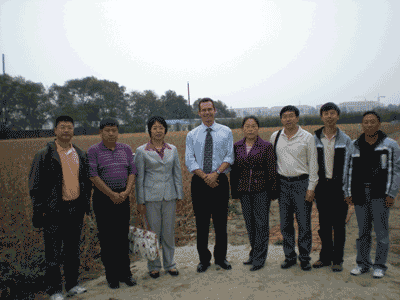 future innovation
Rajcan plans to continue research into analyzing breeding populations developed by Canadian-Chinese crosses and believes learning more about genetic diversity in relation to yield could significantly impact soybean production as we know it.
"One of the biggest questions in the Ontario soybean sector is whether or not we can breed better soybeans and increase the slope of the yield curve," explains Rajcan. "By utilizing additional genetics from China to breed new varieties, I think the answer is yes."
Chinese research collaborators include Professors Wenbin Li, Soybean Research Institute of the Northeast Agricultural University and Li-Jun Liu, Soybean Research Institute of Heilongjiang. Dr. Jim Orf, University of Minnesota, Dr. Elroy Cober, Agriculture and Agri-Food Canada, Bradley Hedges, formerly of Pioneer Hi-Bred Limited, University of Guelph graduate Dr. Laura Palomeque and current graduate student Eugenia Rossi have also contributed to this project.
Funding has been provided by the Grain Farmers of Ontario, Natural Sciences and Engineering Research Council of Canada and the Ontario Ministry of Agriculture, Food and Rural Affairs. •