Palm oil: a growing competitor to soy oil
INCREASING PALM PLANTATIONS IN SOUTHEAST ASIA COULD IMPACT WORLD OIL SUPPLY
brazil's huge expansion of soybean acreage – up 43 percent from 1990 to 2000, then up another 74 percent from 2000 to 2010 – has produced a lot of headlines and contributed mightily to a major increase in world soybean oil output.
 
Meanwhile, more aggressive growth in world palm oil production has drawn far less attention.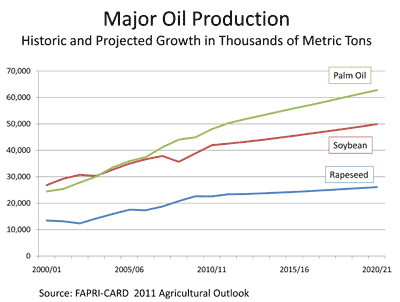 The numbers tell the tale.  World soybean oil production climbed 70 percent from 1990 to 2000 and 58 percent more by 2010.  Big as those increases are, palm oil/palm kernel oil eclipsed them, up 118 percent in the decade of the '90s and 96 percent between 2000 and 2010.
In 2002, palm surpassed soy as the world's leading vegetable oil.  By 2010, the palm industry provided 37 percent of the world's major edible oils, followed by soybeans (29 percent) and rapeseed (15 percent).
popular palm
Grown primarily in Indonesia and Malaysia, palm oil also comes from Nigeria, Thailand, Colombia, Papua New Guinea, Cote d'Ivoire, India and Brazil, and press reports and forecasters' projections both suggest that production will continue its growth for at least the coming five to    ten years.
For example, Sime Darby, the world's leading palm oil producer, has more than 96,000 acres of land yet to develop in Indonesia, has a concession to develop 480,000 acres in Liberia, and is eyeing almost 725,000 acres in Cameroon for palm production.
Palm offers several advantages. 
"It's probably one of the best sources of vegetable oil in the world," says Mark Ash, a vegetable oil specialist for the US Department of Agriculture's Economic Research Service (USDA-ERS).  "My understanding is that the production inputs aren't the highest, and yields are superior to almost every other crop."
FIGURE 1. A PALM PLANTATION IN INDONESIA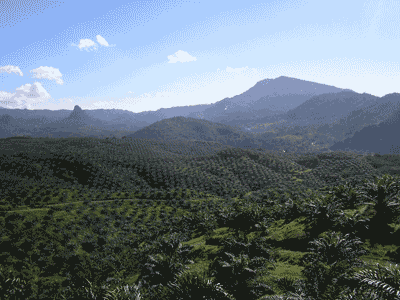 Production averaged almost 1.75 tonnes  per acre from 2001 to 2006, compared to about 0.25 tonnes per acre for rapeseed and less than 0.5 of a tonne for soybeans.
That advantage may increase, since palm producers have been working for a decade or more to clone the most productive oil palms as a means of improving oil output per acre. 
Palm's energy balance gives it another advantage as more palm oil goes into biodiesel production.  According to the Malaysian Palm Oil Council, palm oil uses just 19 Btus (British thermal unit; a common measurement of energy) of energy inputs to deliver 183 Btus.  The balance for soybeans is 20 Btus of inputs to produce 50 Btus.  For rapeseed, 23 Btus results in 70 Btus. 
Finally, palm oil is a versatile ingredient suited to many food applications, including cooking oils, shortening, margarine, milk fat replacers and as a substitute for cocoa butter.  Recently it has gained popularity as a replacement ingredient that allows foods like crackers to be labeled "No trans fatty acids." 
Oil from the palm kernel is typically used in soap, detergent, cosmetics, toiletries, and now for biodiesel.
drawbacks to palm
On the other hand, palm oil has its detractors, and they are passionate about its disadvantages.  A typical headline is "Cruel Oil: How Palm Oil Harms Health, Rainforest, and Wildlife" by the Center for Science in the Public Interest. 
There are several major criticisms of this oil including the environmental risk associated with the crop. Expanding palm oil plantations are often accused of destroying natural habitat, reducing biodiversity, and threatening at-risk  species like Indonesia's orangutans. Palm oil plantations have also been accused of contributing to greenhouse gases by replacing forests or peat lands which are carbon sinks. The long-term sustainability of the crop has also been called into question.
And on the health front, palm oil and palm kernel oil may not have trans fatty acids but they deliver a much higher level of saturated fats (49 percent and 81 percent respectively) than other vegetable oils.  Rapeseed oil is 7 percent saturated fat and soybean oil is 14 percent. 
The anti-palm oil drum beat has been effective enough to prompt the industry to establish a Roundtable for Sustainable Palm Oil (RSPO).  Major palm oil users (notably Unilever) have committed to use only RSPO-certified sustainable oil, and the internet is full of fact sheets, releases, and claims by pro- and anti-palm oil groups.
overall oil demand set to rise
On one question – what drives palm oil's growth – there is less debate and potential good news for palm growers and soybean growers alike.
"Demand for both soy and palm oil is driving the expansion," says Michael Shean, who tracks Middle Eastern and Southeast Asian agriculture for the USDA's Foreign Agricultural Service. 
Expansion is being driven by growing world food demand and the demand for biofuels, according to Mark Ash at USDA-ERS.
"For oilseeds in general, the major driver for the next few years is the demand for oil," says Miguel Carriquiry, an international oilseeds analyst for the Food and Agricultural Policy Research Institute – Center for Agricultural and Rural Development (FAPRI-CARD).
"We expect [demand] to grow strongly for food and biodiesel.  As long as the Asian countries keep growing as they have, demand will be pushing the supply," he says.  "As it is right now, oils sector production is having trouble keeping up with demand growth."
FAPRI-CARD issues an annual report on the outlook for major agricultural commodities ten years into the future.  The 2011 report issued this spring projects 16 percent in growth for rapeseed oil by 2020, a 19 percent increase for soybean oil, and a 31 percent jump in palm oil production. •