New storage facilities a boon for Ontario grain farmers
P&H's new dome storage in Hamilton
Ontario grain has a new home in Hamilton as Parrish & Heimbecker's new storage facilities are complete and operational at the Lake Ontario port. 
Inside the Dome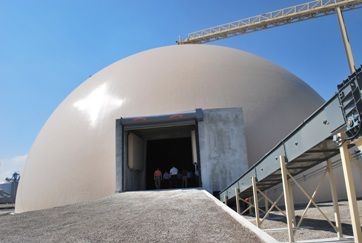 Each dome is about nine stories high and about the width of a football field in diameter. Origanally, each dome was inflated and made of plastic and fabric. Once the domes were up, the interior was sprayed with concrete to make the final structure.

Inside, the floor of each dome is sloped to the outside walls. Although this may seem counterintuitive to moving grain, P&H designed it this way so they could gain an additional 2000 tonnes of extra storage.

The company's two new storage domes can hold 30,000 tonnes of grain each and have changes the landscape of the Hamilton harbour. Made of concrete, the domes represent a flexible storage system that can handle a variety of different commodities. This flexibility is a big reason why P&H went with this design as opposed to the traditional elevator set up. The domes can even handle more "sticky" commodities like dried distillers grains that are unable to pass through traditional bin elevators, says Steve Kell of P&H during a tour of the new facilities in August.
"We think that the eastern Canadian grain business needs more capacity to reach the world market," says Kell of P&H's decision to invest in these facilities. "There's more grain to export," says Kell. He chalks these new export opportunities up to farmers' increasing yields.
"The market was also underserviced," says Kell. Farmers who have ever waited in line at an elevator or terminal with a wagon load of grain will probably agree with Kell's assertion that Ontario needed more storage.
In addition to the storage domes themselves, P&H has also invested in an entirely new conveyance system designed to unload and load grain as quickly as possible. The conveyance system can deliver 800 tonnes of grain per hour into or out of the domes. This system will be put to the test on August 24 when P&H loads their first ship from the facilities.
"It's great to see companies investing in Ontario grain," says Don Kenny, Chair of Grain Farmers of Ontario. "Storage is an ongoing challenge for Ontario farmers and we're very pleased to see this new development," he continues.

Farmers interested in delivering to this new facility are welcome to call the office to inquire. Deliveries are being accepted but arrangements must be made in advance.