Young farmers help diversify the family farm
WANNA MAKE IT FARM' OF MOOSE CREEK MAKES RUNNING A FAMILY BUSINESS LOOK EASY
at wanna make it farm near Moose Creek in eastern Ontario, everyone wears many hats – and the same hats are also worn by multiple members of the family. That adaptability and flexibility is an essential ingredient in their diversified success. Currently, the Leducs (Alain and Sue, with daughter Erin and son Patrick) farm about 4,000 acres, do some custom farming, run a Mycogen seed corn dealership, have a licensed elevator and also manage land-clearing and trucking businesses.
"While there are no set titles on our farm, we all have our strengths and we try to maximize on them," says Erin. Alain manages the business as a whole and is considered the farm's visionary. Sue does the majority of the office work, as well as being a full-time nurse. Pat, 24, completed his education in operations management and returned to the farm about three years ago.  He's responsible for helping to manage the staff (between six and 10 year-round), and helps with planting, harvesting and spraying. He also does a great deal of equipment maintenance, and has 100 acres of his own. Twenty-six year-old Erin studied international business and marketing and has been on the farm for about two years, with 150 acres of her own. Erin works with Alain in seed sales and is responsible for grain marketing and logistics. 
"Especially in the busy seasons, we all pitch in and share the workload to make things run as smoothly as possible," says Pat. "Both Erin and I have been given a lot of responsibility and freedom to set our work schedules and make decisions, which means we also have to be accountable for our decisions and actions." In addition, he says this level of involvement and input makes them committed to the business and motivates them to go further.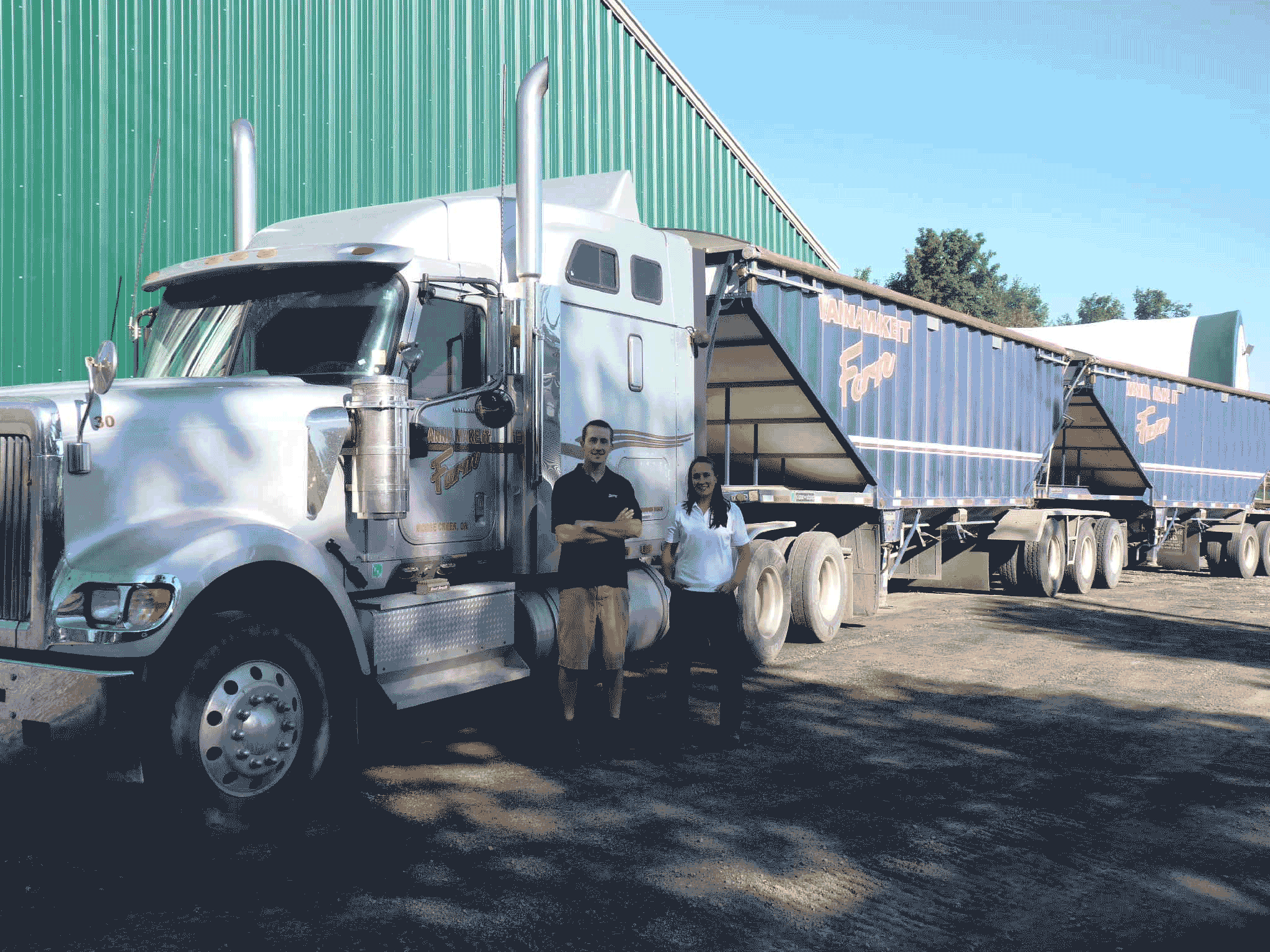 Both Alain and Sue came from farm backgrounds, but it's only in the past 15 years that Alain began farming full-time. "Prior to this, he was working for a tile drainage company and farming part-time," notes Erin. "When he started full-time, he quickly made up for lost time by accumulating land and diversifying the farm." The Leducs currently grow corn, soybeans and hard red spring wheat.  In the past, they've also grown edible beans such as natto and adzuki. "Since our farms are spread out across four counties, we are dealing with sandy loams, clay, loam, muck and everything in between," Pat explains. "We typically grow anywhere from 2900CHU (crop heat units) to 2600CHU for corn and 2850CHU for beans."
shared priorities
Initially, it was a challenge for family members to determine the roles for which they were best suited. "That will be ongoing as we all go forward and also when we begin to look into succession," says Erin, "but we all share a commitment to our first priority, which is always family. The second is to continue to grow a successful diversified business – expanding our land base and taking in new opportunities while we improve what we're presently doing."
In terms of the biggest lessons Erin and Pat have learned so far, Erin says "I've realized there's never enough time in a day and there is work for years ahead! And every year brings opportunities to change what we'll do differently next year, what to plant, what fields need tweaking, which equipment should be modified, etc." She notes that they both read a lot of farm magazines and attend a lot of farm shows and conferences, which always provide new ideas as well as the opportunity to meet and learn from other farmers.
"On an ongoing basis, we also work closely with many very knowledgeable marketing advisors, agronomists, sales representatives and others who enhance what we're currently doing," says Pat.
Community resources also play a key role in Erin and Pat's success. "We also have strong relationships with many producers in our community through our seed and grain buying who are always willing to share what they've learned and provide insight into their successes and failures," Erin adds. "There is an endless amount of resources which permit us to learn something new every day, and we both find that people are very receptive to young farmers and are very willing to help and encourage them to succeed." 
Erin and Pat have also recently served as Grain Farmers of Ontario delegates. "It's been a great opportunity to meet many other young farmers from across the province," Erin says. "I've had the chance to participate in the Grains In Action program where you meet a variety of people that hold prominent positions in various ag sectors, and visit places like the Sarnia grain terminal and Chatham ethanol plant." She says every GFO event they've attended has been well-organized and informative. 
"Being delegates has provided us with these opportunities and gives us the chance to be in the loop of what is coming," Pat adds. "It's also provided us with a chance to voice our opinions on local matters." •