NEWS BITES THAT MATTER
New soybean genetics made available
New genetics are becoming available to soybean farmers as a result of the success of a new public breeding program supported by Grain Farmers of Ontario.
The "Advanced Canadian Field Crops through Breeding" project began in April 2010 and will continue through until March 2013. This project is managed by the newly created Canadian Field Crop Research Alliance (CFCRA), which GFO is a founding member.
Ten new varieties are being released to the market as a result of this program. The varieties are currently available to seed companies and several have already been made commercially available to farmers.
The CFCRA is an alliance of provincial farm organizations and industry partners. In partnership with Agriculture and Agri-Food Canada through the Developing Innovative Agri-Products program, $5.7 million is being invested over the next three years for the project.
The successful introduction of new soybean varieties is just the first triumph to come out of this project and Grain Farmers of Ontario is looking forward to seeing more results in the six crops the project covers over the next few years. In addition to soybeans, this project is investing funds in breeding efforts in corn, winter wheat, spring wheat, oats and barley. •
OAC undergrads win the first WeedOlympics
The first WeedOlympics proved to be a tough competition and the University of Guelph undergraduate weeds team came out on top. Held in July on the University of Tennessee campus in Knoxville, the competition saw 150 students go head to head in a variety of events. The Guelph team of four beat out 17 other schools.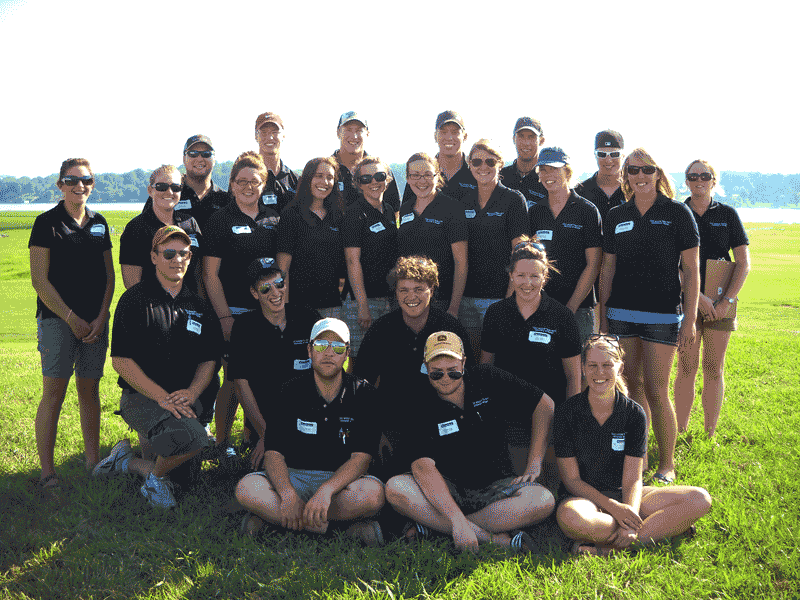 THE WHOLE OAC WEEDS TEAM
The Ontario Agricultural College (OAC) students had to identify more than 100 weed species, calibrate a hand-boom sprayer, solve a grower problem and distinguish a particular herbicide from a group of 30.
The winning team of four were part of a larger team of 23 OAC undergraduate and graduate students who competed in the event representing the only Canadian competitors. This was the first year of the WeedOlympics but OAC students have competed in the Northeastern Weed Science Society's collegiate competition since 1983, winning that regional event 17 times. Students from the Northeastern, North Central, Southern and Western Weed Science Societies competed in these Olympics.
This year's winning team members included Michael Vanhie, Jessica Gal, Thomas Judd and Adam Parker. Jessica was featured in the July/August 2010 issue of the Ontario Grain Farmer in a story on future grain farmers. •