GRAIN FARMERS OF ONTARIO SPONSORS A YOUNG COUPLE FOR THE AMERICAN SOYBEAN ASSOCIATION AND DUPONT YOUNG LEADER PROGRAM
supporting young farmers and grooming future leaders is an activity Grain Farmers of Ontario takes seriously. Which is why, GFO is proud to announce that a young couple has been chosen to participate in the 2012 American Soybean Association (ASA) and DuPont Young Leader Program.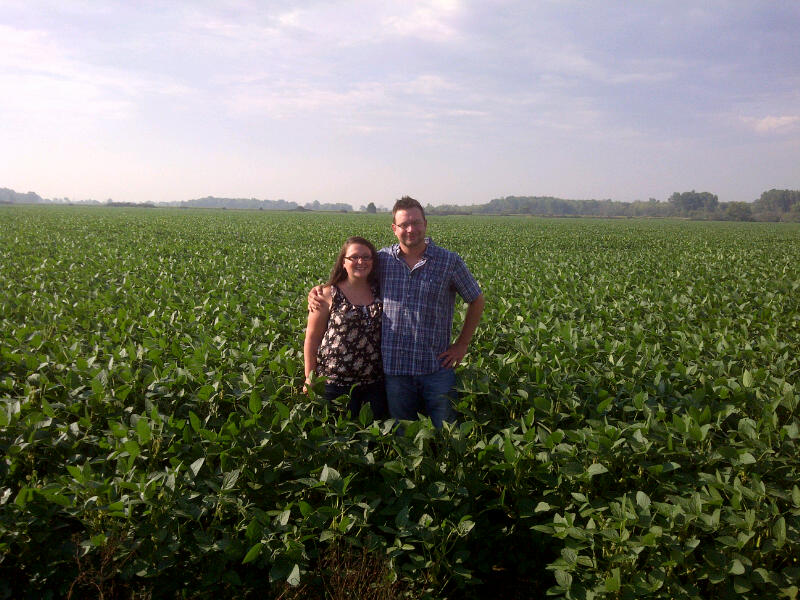 DAVE PARK AND CHRISTINE RUSSELL ON THEIR FARM IN SARNIA
future leaders
Dave Park (pictured above) is a full-time cash crop farmer from Sarnia, a Grain Farmers of Ontario delegate and a recent participant in the Grains in Action program. Along with his father and his cousin, Dave manages a diverse farm operation which totals 10,500 acres and a seed business. This past year, Dave's farm grew 4,500 acres of soybeans, 4,500 acres of corn and 1,500 acres of winter wheat, they employ 18 people full time and recently added robotics to their seed production packaging line.
Dave has worked on the farm his whole life — full time for the past six years. He holds an associate diploma is agriculture from the University of Guelph and has also studied at Olds College in Alberta.
In addition to the robotics recently added to their seed packaging line, Dave is also proud of his farm's environmental practices. "We have auto boom shut off and height control on our sprayer that reduces pesticide drift and it reduces how much we apply," says Dave. "On our farm, we also work hard to maintain shelterbelts like tree lines and fence rows. This increases our yields by as much as 25 percent over a 20 year span and reduces our greenhouse gas emissions by sequestering atmospheric carbon," he continues.
Expanding these innovative farm practices and learning from other farmers is one of the key reasons Dave and his partner, Christine Russell, applied for the leadership program. "I'm most excited about the networking," he says, "you can't put a value on that and the lasting relationships that could be created are important." Dave still counts friends he met during his school years as some of his best business contacts and he's excited to expand his network and learn from others.
"It's also important that Christine joins me in this program," says Dave. "She works off the farm but as the farm is so intricately connected with family, she plays an important role and I'm please she will be able to share this experience with me."
young leader program
Dave and Christine will join their colleagues in November at the Pioneer headquarters in Johnstown, Iowa for the first portion of the Young Leader Program. The goal of the program is to train the next generation of leaders for the North American soybean industry.
In Iowa, the 2012 class will learn how to evaluate their own strengths and weaknesses to help them better run their businesses and work within the industry. They will also hear from experts and be able to test their communications skills through hands-on training opportunities. The public speaking training is focused on teaching these future leaders how to interact with politicians, the media and the general public on the issues of farming.
The course continues in February, 2012 in Nashville, Tennessee at the Commodity Classic. At this world class event, participants will learn in greater detail the expectations of the group moving forward. This portion of the training helps participants realize their capabilities for leadership.
"This is an excellent program that we're really pleased to support," says Barry Senft, CEO of GFO. "We received several applications it was a difficult decision to make.  I think Dave and Christine will make excellent leaders and GFO is pleased to support them."
past success
Last year's chosen participant has only positive things to say about the program. Jessica Schouten of Schouten Corner View Farms participated in the 2011 ASA and DuPont Young Leaders Program with GFO's support.
"The program gives you more experience, more awareness of global issues and it was a great opportunity to meet with other farmers and understand their issues and how they address them," says Jessica. "The most impactful thing I learned during the program is the importance of advocating for modern agriculture. It's important to communicate to the general public about what farms are like today and how we produce safe food for our communities and the globe."
The Young Leader program is sponsored by Pioneer Hi-Bred, a DuPont Business and run by the American Soybean Association. •