The house that straw built
LIVING HAPPILY EVER AFTER IN HOME-GROWN HOMES
building with straw can be accredited to both early pioneers and a beloved porcine fairytale character. But with increasing consumer demand for sustainable practices, straw bale housing is a dream-come-true for some builders.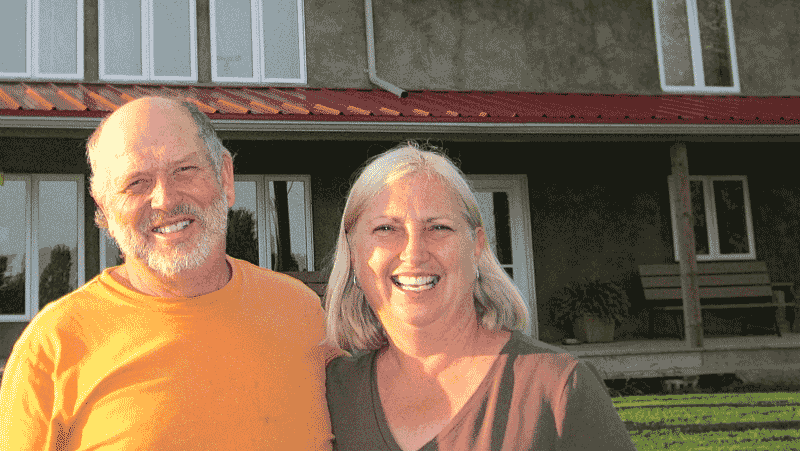 Putting a modern day twist on a fabled practice understandably requires some
out-of-the-box thinking. Known for their unconventionality, Larry and Karen Wiebe of Port Rowan, fittingly chose a straw bale design when building their dream home. The two-story, 3000 square foot home boasts every modern day convenience and aesthetic charm imaginable, as designed by Mr. Wiebe himself. Wiebe admits the original idea did come from a book, though not one written for bedtime stories, and that his design boasts several well-researched alterations.
"People think of the three little pigs and that straw is the worst house," says Mr. Wiebe. "But we like to think of ourselves as the fourth pig because we have steel too and that didn't make it into the story."
With the help of their son and daughter-in-law, the Wiebes built 90 percent of their home themselves. The foundation was poured by a local contractor and they hired a neighbouring welder to construct the steel skeleton of the house before rolling up their sleeves in earnest. Twelve-hundred wheat straw bales were used in total and every one of them was run through Mr Wiebe's own bandsaw mill to ensure each bale was exactly 18" thick. The team of four carefully constructed the walls in 12 to 16 foot sections that could be tarped during inclement weather, protecting the interior and exterior stucco finish. Since the wood trusses and steel roof were complete long before the final wall was finished, the Wiebes say that the whole structure always earned a lot of attention.
"The house is on a very scenic road and people often stop to look at it," says Mr. Wiebe. "Some have very creative excuses just to try getting invited in!"
a growing industry
Ben Polley is the President of Evolve Builders Group Inc., a construction company that specializes in straw bale buildings. Having just completed the Upper Grand District School Board's first straw bale portable just outside of Guelph, he understands the attention garnered by straw based structures well.
"When you do something different like this, a reputation comes quickly," says Mr. Polley. "We've never been able to keep up with the demand of the calls."
Polley says his company first got involved in constructing straw bale facilities with do-it-yourselfers like the Wiebes and often held demonstrations and workshops to teach the techniques involved with straw bale construction. But more recently they've started receiving a high volume of requests about commercial facilities. Polley says his company is using straw to meet provincial fire safety standards cheaper than builders who are using traditional building materials.
"In a baled form, straw is compact enough that is doesn't fully combust until you break it open," says Mr. Polley. "Straw bale construction gets the same fire rating as a cement wall and can even be used as a fire stop."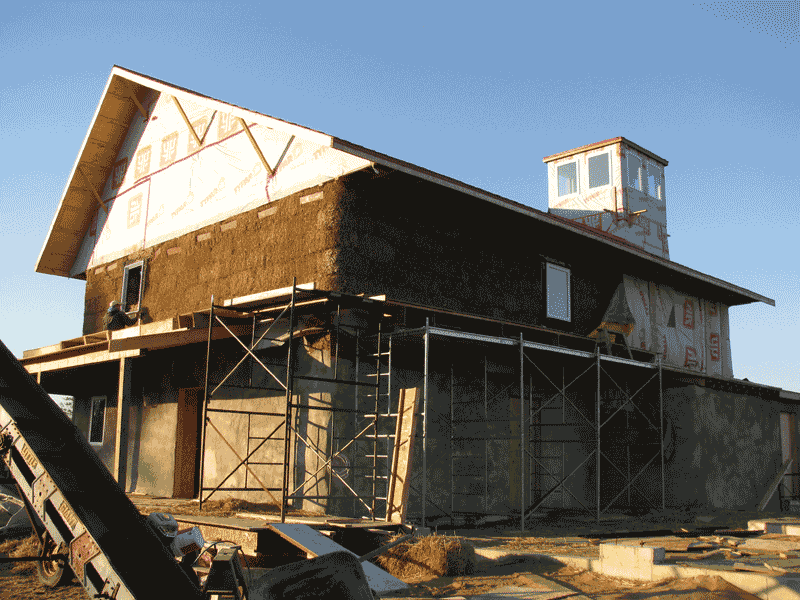 Polley says the insulation factor of building with straw is also an economic incentive because it is twice as good as most provincial building codes require. The Wiebes agree with him and say this has been a contributing factor to their ability to operate their new home fully off the grid.
energy efficiency
With the exception of their propane stove and furnace, which is slightly more user friendly during the winter than the modified tobacco steamer that pumps radiant heat throughout the house, the Wiebes are meeting all of their energy needs completely from a single solar panel and the two wind turbines Mr. Wiebe built from scratch. Mrs. Wiebe says that other than switching from an electric to a gas stove and running her dishwasher or vacuum during the day, being off the grid hasn't really changed their lifestyle.
"We watch the weather a lot more than we used to but that's about it," says Mrs. Wiebe with a laugh. "We wanted to make sure we could operate a regular household before going off the grid."
creative solutions
As a highschool shop teacher, Larry Wiebe is already well known for his innovative ways and is no stranger to inventing creative solutions to problems or working with his hands. When it came time to attach fibreglass mesh to the straw bale walls of the house, he designed two large needles that could be passed through the walls for "sewing" the mesh on. Wiebe also modified an old tobacco baler to create custom sized straw bales for door and window framing. The Wiebes tackled everything that could be made from scratch themselves and even had Mrs. Wiebe's brother grow all the winter wheat needed on the farm she grew up on. 
 
"If you can do it yourself, it won't save you a lot of money," said Mr. Wiebe, "but it's going to be more personal and you can be so much more creative with straw."
With a little planning and a lot of consultation with local building inspectors, the Wiebes were able to overcome any limiting factor that building with straw could possibly offer. The entire house is wheelchair accessible and reinforced to support any lifts required in the future should Mrs. Wiebe's 85 year old father decided to take up residence in their granny suite. Local building inspectors have even used the home to host a symposium on how to address issues to specific to straw bale construction. Mr. Wiebe hopes that this helps encourage more people to try building a straw bale dream-come-true of their own.
"Do your research, know that it's going to be labour intensive, and make it personal," said Mr. Wiebe. •