From field to furniture and crop to countertop
GRAINS IN YOUR LIFE RETURNS TO THE ROYAL AGRICULTURAL WINTER FAIR
back, by popular demand, the Grains in Your Life exhibit will be showcased at the Royal Agricultural Winter Fair in Toronto from November 4 to 13.
Building on last year's success, the exhibit will continue to showcase vignettes of a house constructed and decorated with grain bio-products, but in 2012 it will incorporate some fresh interactive elements to engage visitors in a different way.
PHOTO 1: AN EYE-IN-THE-SKY VIEW OF GRAIN FARMERS OF ONTARIO'S GRAINS IN YOUR LIFE DISPLAY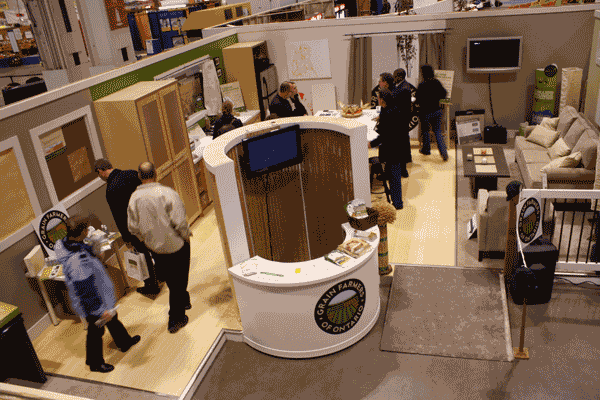 The impressive living room, kitchen and garage vignettes have been updated with new products including a La-Z-Boy recliner with EcoComfort™ soy fabric, corn based biodegradable containers and SoyClean sealants for wood and concrete. The rooms will also continue to display the crowd favourites – wheat straw particle board panels, a corn resin countertop and soy spray foam insulation – among many other bio-products.
Fans of the exhibit might note a glaring absence – the office vignette. This space has been redesigned as a field of corn, soybean and wheat plants mimicking an actual farmscape. This small field plot will help visitors make a direct connection from field to furniture, or crop to countertop.
And, to help visitors understand how grains are processed into the food and bioproducts within the exhibit, small countertop soybean crushers and wheat grinders will be available for a truly
hands-on experience. Students who have participated in the What's Growing ON? classroom kit have been invited to bring their very own soybeans and wheat kernels that they grew at school and at home to process at the exhibit.
To further support the classroom kit, Grain Farmers of Ontario is proud to sponsor the grade four class from Gradedale Public School to visit the Royal Agricultural Winter Fair. Their wonderful teacher, Cheryl Agoston, has shown much enthusiasm for bringing agriculture to her urban classroom and is incorporating What's Growing ON? into her curriculum.
With all this excitement, Grains in Your Life is sure to draw crowds at the 2011 Royal Agricultural Winter Fair. Much
pick-up by television, radio and print media is anticipated to extend the reach of the exhibit well beyond the ten days
in November.
Additional buzz was created by exhibiting the updated Grains in Your Life display at the International Home Show October 27 to 30 at the International Center in Toronto. The crowd was keenly interested in renewable, sustainable and local options for urban homes making the exhibit of grain bio-products a must-see. l