Nematicides yield promising results
FINDING MORE MANAGEMENT TOOLS FOR NEMATODES IS THE FOCUS OF ONGOING RESEARCH
using nematicide seed treatments could improve yields and help crop growers get a handle on cyst populations says an extension specialist with the Ontario Ministry of Agriculture Food and Rural Affairs.
Field crop plant pathologist Albert Tenuta has just finished the first of a three-year project funded in part by the Grain Farmers of Ontario to study the efficacy of nematicide seed treatments in both soybeans and corn. For him, nematicides hold great potential as a management tool for growers.
"Our Ontario results are quite promising," says Tenuta, while describing plot sites that responded with a noticeable greening in plant colour. "There were significant yield increases in our plots, and there was also an effect on nematode numbers."
SOYBEAN CYST NEMATODE (PHOTO COURTESY OF ALBERT TENUTA)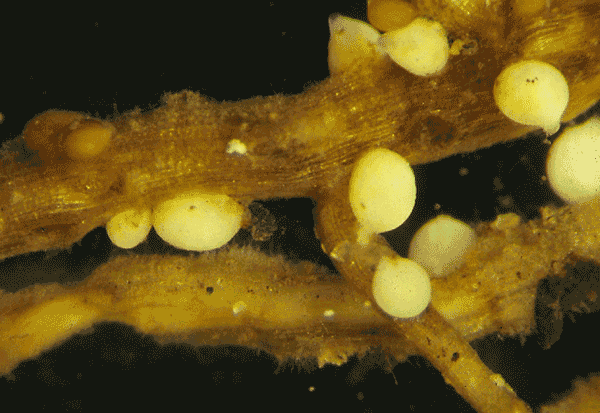 more management options
Traditionally, growers have used tools such as crop rotations, field scouting and selection for varieties with genetic resistance to keep a handle on nematode populations, including soybean cyst nematode (SCN) and the more common root lesion nematode. Tenuta says these tools have been quite effective to date in areas such as southwestern Ontario where SCN is ubiquitous. Yet, nematicides can offer yet another tool to the grower's box.
"It's a promising area from a management standpoint for corn and soybeans in Canada," says Tenuta, "it will surely be something to look to in the coming years." Already one nematicide has been registered in Canada and Tenuta says there are more on the horizon.
Tenuta's field research is being done in collaboration with the US North Central Soybean Research Program. This partnership enables both registered and experimental nematicide treatments to be tested on a broader footprint of plot sites in Canada and the US, says Tenuta.
chemical and biological options
Some of the nematicides being studied are biological in nature and others chemical. The biological nematicides essentially 'trick' the nematodes and confuse them from finding the soybean root, Tenuta says. They consist of Rhizobacteria that grow and colonize the plant's root system and protect it by eliminating the trigger that attracts nematodes to the roots. Chemical nematicides kill nematodes directly.
Tenuta says he's finding both modes of action can work against nematodes, depending on the type of nematode being controlled. However seed treatment nematicides are not a "silver bullet," he cautions. "They won't eliminate all the issues, but they will assist with the reduction and buildup of cyst nematodes."
Nematicide seed treatments could be incorporated by growers as an added bit of "insurance" against nematodes, says Tenuta. Growers can include this seed treatment as part of a base treatment for insect, fungicide and nematicide control. Growers could also rotate treated soybeans with corn, wheat and other crops to lower the cyst population and maintain yields. He also believes that by knocking the population back, nematicides can help extend the longevity of genetics for tolerance/resistance, particularly for SCN.
more research on corn needed
There's still work to be done, says Tenuta. In the next two years of this field research project, he plans to continue monitoring yield influences, as well as better understand the biology involved, and look more at the influence of nematicides on resistance genes over time.
Tenuta says there is also need to increase awareness of nematodes, particularly in corn. "Corn knowledge today is where we were 20 to 25 years ago with soybeans," he says. It took the discovery of SCN in Ontario in the 1980s (also the first observed in Canada) to fuel interest in its control so growers could minimize losses. "We don't know the resistance levels in corn, like we do soybeans," he says, adding that nematodes are likely more common in corn than expected and diagnosed. He suspects that for some growers with chronic yield and health challenges in a range of crops that nematodes may be the underlying issue.
"Like new technology, there's a lot to learn," says Tenuta. "We need to get it in grower hands and evaluate conditions  where these products are most effective at limiting losses." •