Science before speculation
INVESTIGATION INTO BEE DEATHS STILL UNDERWAY
thousands of bees died in southern Ontario this spring, and scientists are still trying to figure out why.
The Ontario Beekeepers' Association reports about 100 incidents where honey bees are believed to have acute poisoning symptoms. Based on anecdotal observations, beekeepers suggested there was a link between their losses and the air seeding of treated corn.
Bill Ferguson, of Ferguson Apiaries in Hensall, is one of the beekeepers who reported a large number of deaths this spring. He noticed, "an hour and a half after my neighbour planted corn, my bees were rolling out of our hives dead." He says a friend, and fellow beekeeper, had told him about a similar problem with his hives a few days before.
Ferguson says they lost 40 to 50 per cent of the bees in their home yard in mid-April, and they were still dying a month later, "It would be like taking every second or third row of corn out of the field. That's the affect we're seeing on our hives." But he also notes that he has never seen a die-off to this extent during previous planting seasons.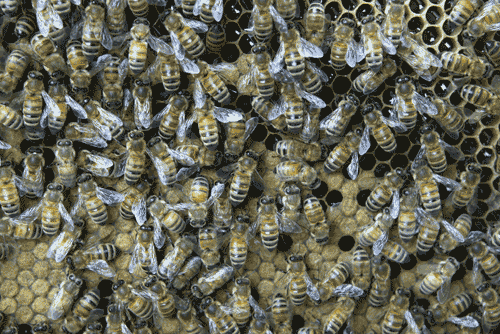 testing
The Pest Management Regulatory Agency (PMRA) is involved in testing some of the bees, and they will be filing an investigation report.  The final results are not available yet; however, Health Canada released some preliminary findings. Testing was done on 37 samples of bees that were taken from various sites; they found residue of the insecticide clothianidin in 28 samples. Clothianidin is used as a seed treatment under the Bayer trade names Poncho® and Prosper®.
In an email statement, a spokesperson for the government agency said, "Health Canada is continuing to investigate with its provincial colleagues what role various factors, including pesticides, may have played in cases of bee loss in Ontario. However, given the large number of potential factors involved, Health Canada has not drawn conclusions at this stage of the investigation. Screening for additional pesticides is still to be done, and other factors relating to overall bee health are also being examined."
It's important to note that toxicology tests are on-going, no conclusions have been drawn and other factors have not been ruled out. But the possibility that an insecticide may have played a role is a serious concern for beekeepers, farmers and the plant science industry.
"There's definitely something going on," says John Van Alten, President of the Ontario Beekeepers' Association. "There are all sorts of ways the bees could have been exposed. There seems to be some way the chemical is not staying in the planter or the ground, and we need to find out why."
"People I've talked to are concerned for the bees," says Kevin Armstrong, a farmer in Woodstock, Ontario and Grain Farmers of Ontario Director for the Waterloo and Oxford areas (District 7). "But everyone believes it's best to wait for the science before pointing fingers at a person or industry."
"We all recognize that the seed coating is an insecticide, but the question is why is it that this year it's poisoning bees when it hasn't in the past?" asks Armstrong.
According to Derrick Rozdeba, Manager, Integrated Communications at Bayer CropScience Inc., "Our products have been used extensively on corn and canola since their introduction in 2004 without incident. Scientific studies have clearly confirmed that clothianidin is safe when used as a seed treatment."
regulations
Insecticides go through a rigorous regulatory process in Canada, which involves a thorough testing process for potential effects on human health and the environment. Pierre Petelle, Vice President of Chemistry at CropLife Canada, says that process includes non-target plants and insects.
"There is data that's required specifically for bees," says Petelle. "And depending on the use and type of pesticide there could be different tiers or groups of data required that PMRA can ask for. You could have semi-field studies or they could   even ask for full-field exposure studies to get a real life, realistic level of exposure in  the field."
Petelle also notes the development and testing of any new chemical can take ten years or longer, including as much as two years for the regulatory process alone. Even after a product is registered, a mandatory incident reporting system requires companies let PMRA know of any problems.
"Seed treatment is one of the most precisely targeted forms of plant protection," says Rozdeba. "The amount of active ingredient used and its contact with the environment can be reduced to a minimum."
bee survival
Beekeepers have been dealing with extreme losses for several years. Varroa mites, insect diseases, environmental changes and a lack of genetic diversity have all taken a toll on bee populations.
"I don't know what the long term effects of this loss will be on our industry," says Van Alten. "Some bee hives are rebounding; others are still reporting a steady decline." Ferguson is concerned his hives won't bounce back. "We're just doing everything we can to figure out what we can do to help our hives survive," he says. "If a die-off happens another year, I may have to give up."
There are still many unanswered questions surrounding the surge in bee deaths this year. What isn't in question is the important role that bees play in agriculture, and everyone's desire for an open, objective and comprehensive investigation process.
"We need to deal with this as a community," says Armstrong. "We can't pit farmer against beekeeper."
"We rely on pollinators as much as anyone else," adds Petelle. "Our member companies are anxious to work with regulators, growers and beekeepers to find solutions."
Van Alten agrees, "We want to find out what the cause is and work together to find a reasonable solution."
PMRA re-evaluating some insecticides
The issue of bee health and the potential link to insecticides is continuing to be examined. In recent weeks, several organizations have released statements and new recommendations.
Health Canada's PMRA announced in mid-June that it will re-evaluate three neonicotinoid insecticides and their associated products currently registered in Canada. They include clothianidin, thiamethoxam (used by Syngenta in their Helix Xtra® and Cruiser ® brands), and imidacloprid (included in Bayer's Admire®, Genesis® XT, and Concept®).
The re-evaluation of this cluster of insecticides will focus on resolving issues related to environmental risk; in particular the potential for effects on pollinators such as bees. The study will consider all agricultural uses of the insecticides including soil applications and seed treatment. The products can still be used during the re-evaluation process. Results are not expected before the 2013 planting season.
To read the full re-evaluation notice from Health Canada, go to:
http://www.hc-sc.gc.ca/cps-spc/pubs/pest/_decisions/rev2012-02/index-eng.php
New testing of clothianidin
Bayer CropScience and the University of Guelph are currently conducting a study of clothianidin and its effect on foraging bees. They were asked by PMRA to repeat the research due to concerns about the way two previous field studies were conducted. Both of the previous studies showed no adverse effects to bees foraging on canola grown with treated seeds.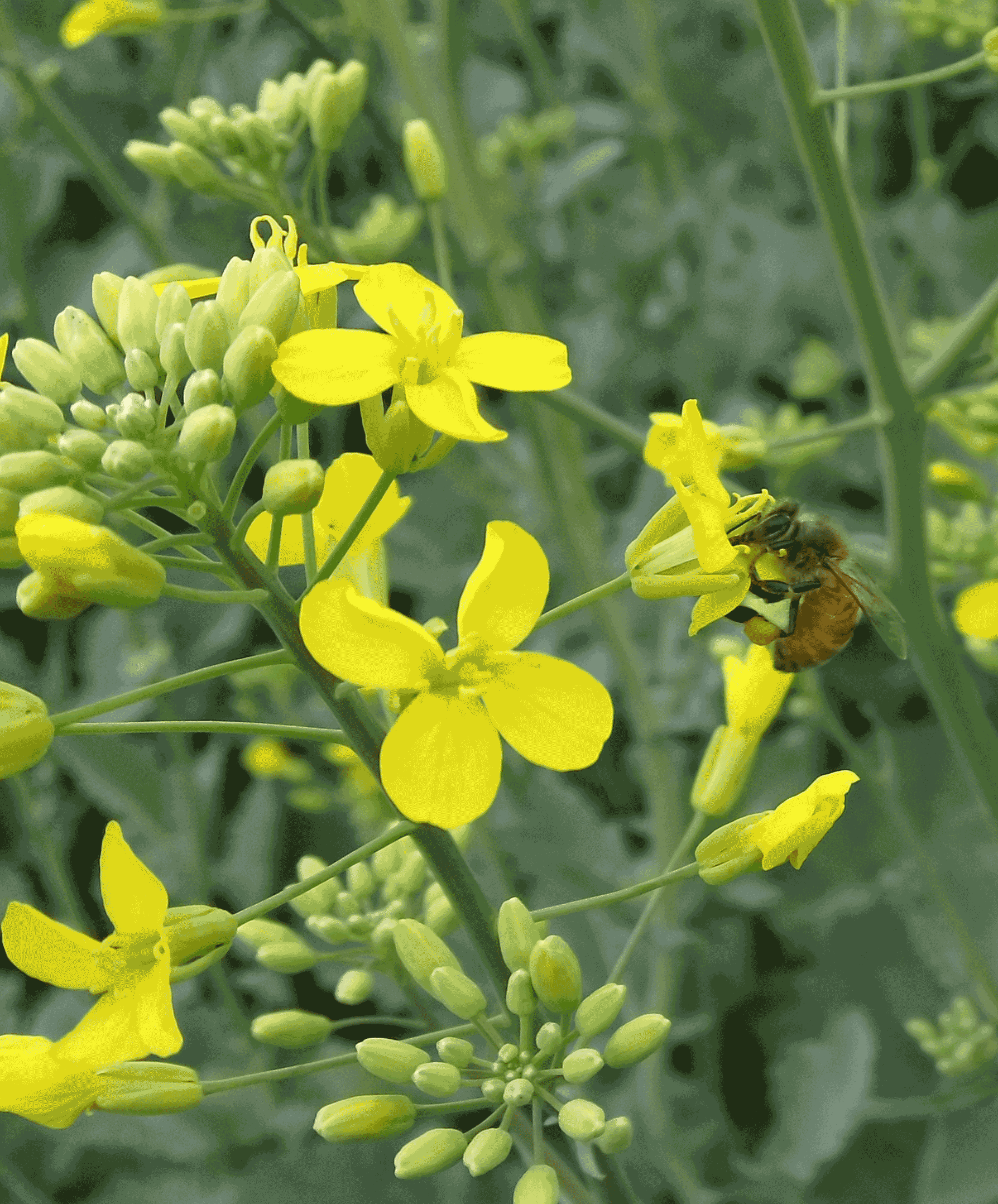 The new study involves ten fields in the Kitchener-Waterloo, Cambridge, and Guelph areas. Half were planted with treated canola seeds, the other half were planted with untreated seeds. The goal is to determine what changes, if any, occur in the hives placed within the fields. Photos of each hive frame are taken every 11 to 14 days and are entered into a customized computer program, eliminating the variability between assessors. Hive weight, honey yield, and adult mortality will be studied and residue levels of clothianidin will be measured in pollen, nectar, honey and wax. Previous residue samples have shown the rate of chemical exposure is proportional to how much is put on the seed.
As this study focuses on bees foraging during the canola bloom stage during the end of June-beginning of July, it does not address exposure levels during the planting season this spring. However, representatives from Bayer CropScience are investigating alternative seed coating methods and equipment modifications that could help reduce the amount of insecticide that is inadvertently released into the air during planting.
The University of Guelph is looking into factors relating to bee health beyond pesticide exposure. They recently announced the establishment of The Rebanks Family Chair in Pollinator Conservation within the School of Environmental Sciences at the Ontario Agricultural College. A key research role will involve finding ways to limit the impact of disease, malnutrition, and climate change on pollinators. The Chair will also raise awareness on the plight of pollinators, inform public policy, and help train conservationists.
Pollinator stewardship
CropLife Canada has published a series of stewardship best management practices (BMPs) designed to help growers minimize the inadvertent exposure of pollinators during the planting of insecticide-treated seed.
The document includes tips on handling treated seed and lists the environmental factors to consider during planting. Communication between corn producer and bee keeper is also recommended. This is a prelude to a more comprehensive series of BMPs currently being developed by the organization.
CropLife Canada's BMP document can be viewed at http://www.croplife.ca/wp-content/uploads/2012/06/Pollinator-Stewardship-BMPs-FINAL-EN.pdf •