Sounding off about wildlife damage
FARMERS LOUD AND CLEAR ON CROP LOSSES
farming's most peaceful moments are often quiet times, spent alone, and surrounded by nature. Although they generally share a deep appreciation and respect for the animals they encounter, some farmers are getting noisy about crops being lost to wildlife.  
During a hard year, when every last dollar earned counts, feeding the native fauna for free can be tough for farmers to suffer in silence. The range of damage done by wildlife across the province varies by region but studies conducted by the Ontario Soil and Crop Improvement Association (OSCIA) and the George Morris Centre suggest the overall cost was conservatively $41 million dollars province-wide in 2009. Andrew Graham, Program Manager for the OSCIA, was actively involved in these studies and suspects little has improved for farmers.
"Based on the opinions expressed by OSCIA members from across the province, it is evident wildlife damage impacts on agriculture continue to escalate," said Graham. Wildlife experts tell him that the populations of species that can lead to crop losses, such as Canada geese, Sandhill cranes, elk and wild turkeys, seem to be on the rise. The number of applications received by OSCIA for the prevention of wildlife damage, through the Canada-Ontario Farm Stewardship Program, has also remained steady over recent years. "These are clear indicators that the problem is not going away," said Graham.
Finding farmers to confirm Graham's assessment is an easy task. Gordon Hacker raises beef cattle and grows forage crops for dry hay and silage on about 700 acres on the north shore of Lake Huron in Bruce Mines, Ontario. Originally from Michigan, Hacker was very familiar with contending with wildlife damage. He witnessed extreme feeding by white-tailed deer where 20-30% of crop yields had easily been consumed.
"The deer populations in my area are so much lower than what my experience back in Michigan was, which is one of the reasons that I came here in the first place," said Hacker. "We're in a bit of a transition zone between deer and moose territory here."
But now, Hacker is much more concerned about growing elk populations than deer or moose. As the secretary for the Algoma Federation of Agriculture, he can name several farmers he personally knows who have been dealing with elk damage for years. So far, they seem to be concentrated in a small number of hot spots; but recently he's heard reports that three elk have been sighted in his immediate area. He worries that if the elk start moving through his fields regularly, or take a liking to the feed he stores for the winter, he could be forced out of business very quickly; and neighbouring farmers with small grains and annual crops could face the same fate.
"Elk are open ground animals and up here, the only open ground is farm land," said Hacker. "Grazing animals will take their share of the crop and you have no way to recover from that; it's just lost crop."
Elk damage is an extreme example of grazing damage which most farmers in the province will never deal with says Peter Jeffery, Farm Policy Researcher for the Ontario Federation of Agriculture (OFA). But he agrees with Hacker's assertion that any crop lost to wildlife is difficult for farmers to recover, even if they're insured, because the coverage level often isn't enough to trigger a claim. But Jeffery says there's some promising work being done by the Agriculture-Wildlife Conflict Working Group that could lead to compensation for farmers like Hacker in the future.
"Agricorp is collecting information from producers on the extent of wildlife damage, even if it isn't covered, simply to get a handle on how big the issue is because [OMAFRA] has indicated they are willing to look at some sort of a compensation program for wildlife damage to crops," said Jeffery.
By July 18, 144 production insurance customers reported wildlife damage on 176 crops for 2012. According to Agricorp, that represents four percent of all damage reports received up to that point. Jeffery says it's conceivable that this year's dry weather may somewhat skew the data collected. However, the numbers will help to develop a case that the Ministry needs to address the issue and pinpoint the worst offenders.
"Deer, raccoons, turkeys, and geese would probably be the really big four as far as damage to crops," said Jeffery. "Obviously figuring out what critter is responsible is key and means you have a much better opportunity to do something."
PHOTO: DAMAGE IN CORN FIELD AS A RESULT OF RACCOONS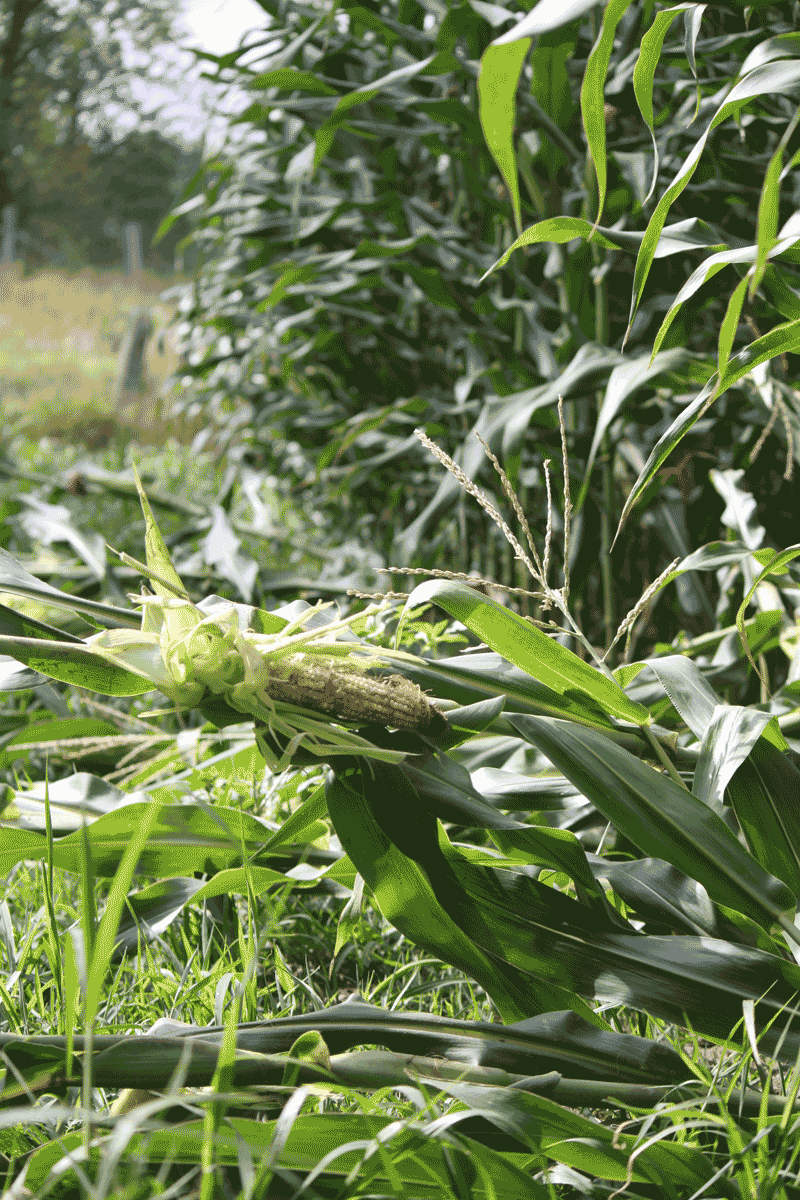 The problem is farmers are often dealing with invisible damage. There's no sign that a deer or a bird was eating your crops until yields start to go down. Even minor amounts of damage can affect your average yield each year, and that could have an impact on the numbers used for compensation when you do report crop damage.
Jeffery says farmers should continue to protect their crops from predation using all the management options they have available to them this fall. He recommends farmers contact the local hunters and trappers that they feel are most competent and trustworthy to take full advantage of upcoming hunting seasons. The OSCIA also advises farmers to keep a close eye on their fields and watch where they anticipate damage based on past experiences. Sticking to crop rotations during the winter cereals planting season does help, since wildlife is usually discouraged by change. Taking the time to provide Agricorp with information updates (should these measures fail) will also be important says Andrew Graham.
"Farmers, consumers, governments and wildlife conservation groups would benefit from regular measures on the actual volume of wildlife damage, the costs incurred, and an evaluation of the effects of prevention measures," said Graham. To report your damage, contact Agricorp 1-888-247-4999 (Monday to Friday, 7am to 5pm) agricorp.com contact@agricorp.com •