ADDING VALUE FOR GRAIN FARMERS
canada is currently negotiating a free trade agreement with Japan and Grain Farmers of Ontario was asked in June 2012 to make a presentation to the Standing Committee on Trade explaining the value this agreement will bring to Ontario's grain farmers.
The largest value will be in soybean exports since Japan is our second largest export market after the European Union. However, quantities can be deceiving when it comes to soybeans – there are distinct value-added differences between Europe and Japan when it comes to market needs and Japan is a significantly higher value market on a per tonne basis for Canada (see Figure 1 below for statistics).
FIGURE 1: CANADIAN SOYBEAN EXPORTS FOR 2011 (STATISTICS CANADA)
Canadian Soybean Exports
January-December 2011
EU
1,128,893
$ 566,091,344
Japan
361,816
$ 244,841,691
USA
295,851
$ 148,902,584
Malaysia
92,388
$  54,746,294
Egypt
150,289
$   72,789,044
China
179,989
$   95,845,548
Norway
61,900
$   34,140,454
Other
274,277
$ 151,789,005
 
 
 
TOTAL
2,545,402
$1,369,955,963
The food grade soybeans produced in Canada set us apart from the rest of the world in the eyes of the Japanese. Food grade soybeans are exported as a whole bean, typically in containers or bags, and are used for popular Japanese foods such as tofu, miso and natto. Canada's 350,000 tonnes of soybeans sold into Japan in 2011 represent an approximate 38 percent share of the Japanese food grade market and return over $200 million annually to the Canadian economy.
The majority of the Canadian soybeans sold to Japan are from Ontario and Quebec but production in Manitoba is steadily growing. Other major exporting regions of food grade soybeans to Japan are Argentina and Brazil. The US is the largest exporter of soybeans to Japan; however, 85% of these exports are for the lower value crush market. US food grade exports to Japan have been steadily declining due to an increase in the preference for Canadian soybeans by Japanese buyers.
natto beans
Another opportunity for Canadian farmers, if trade increases as a result of an agreement, is in natto bean production – smaller soybeans used for a traditional fermented dish. Japanese processors are interested in switching from using Chinese beans to Canadian suppliers. Over the past seven years, Japan has steadily increased their use of Canadian beans over Chinese imports due to the consistent high quality of Canadian natto beans delivered year after year in contrast to the inconsistent quality of the Chinese natto beans.
growth in exports
Figure 2 illustrates the growth of the soybean industry in Canada over the last 10 years especially with respect to export markets. Both yield and acreage have also increased over this timeframe. Soybean yields have increased from an average of 32 bu/acre in 1981 to over 45 bu/acre in 2010. The acreage of soybeans in Ontario has also increased over this time period from 680,000 acres in 1981 to 2.4 million last year. This chart illustrates quite well the ongoing need for international market development.
FIGURE 2: THE GROWTH OF THE SOYBEAN INDUSTRY IN CANADA OVER THE LAST 10 YEARS ESPECIALLY WITH RESPECT TO EXPORT MARKETS. BOTH YIELD AND ACREAGE HAVE ALSO INCREASED OVER THIS TIMEFRAME.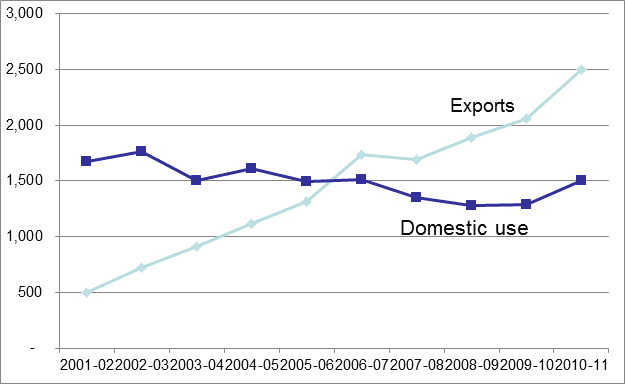 Japan is a significant market for our farmers and one that returns high premiums to the farm gate. There are few trade barriers today between Japan and Canada and our organization encourages participation in both a free trade agreement and the trans pacific partnership to ensure there are no barriers imposed in the future. We are pleased with the government's efforts to increase trade with Japan additionally because it will provide a positive opportunity for other Canadian commodities, namely pork and beef, where we can increase our opportunities for feed sales here in Canada. Ultimately, any increase in the demand for Ontario's higher value production will result in job creation and the growth of our economy.

potential asian markets
Grain Farmers of Ontario has also encouraged the Canadian government to pursue trade agreements with other Asian countries, as well as Japan, including China, Thailand, Taiwan, Vietnam and South Korea where there is significant export growth potential.
South Korea especially has very high tariffs on soybeans – a 487% over-quota tariff rate was imposed on the 300 tonnes of soybeans sold by Canada to Korea in 2009. Grain Farmers of Ontario will continue to work with the Canadian government to target these Asian markets and other countries around the world that are advantageous to Ontario's grain farmers. •