2013 ASA/DUPONT YOUNG LEADERS CHOSEN
the future of farming will rely on strong leaders like Dave Vandewalle and Lisa Mardlin Vandewalle who have been chosen for the 2013 American Soybean Association /DuPont Young Leader Program. The Perth County couple applied to, and were selected by, a Grain Farmers of Ontario committee to represent the organization and Canada.
PHOTO: DAVE VANDEWALLE AND LISA MARDLIN VANDEWALLE ON THEIR FARM NEAR DUBLIN, ONTARIO.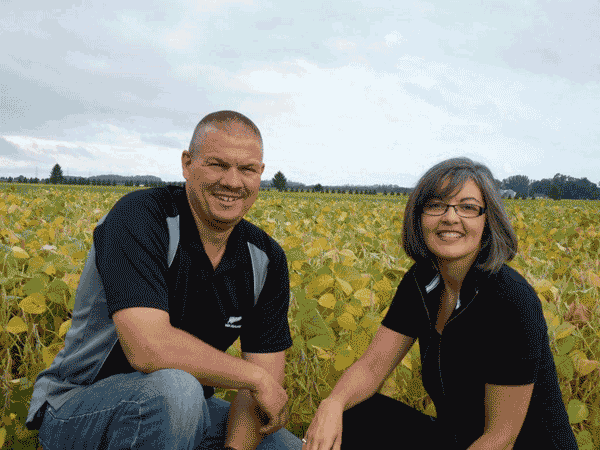 Applications for the Young Leader program were accepted between June and August. Dave and Lisa had read about the program in a past issue of the Ontario Grain Farmer magazine and had heard a presentation from last year's participant Dave Park. Encouragement from their peers within Grain Farmers of Ontario was the final push they needed to apply for the program.
"It looked like a great learning opportunity and an opportunity to meet other people who are involved in agriculture across the US," says Lisa.
The 2013 class of Young Leaders will participate in several leadership experiences over the next year – including educational sessions in Iowa and Florida. The program is designed to enhance leadership skills and provide soybean farmers with the opportunity to meet and learn from other young leaders from across North America.
soybean farmers
Dave and Lisa farm 1100 acres of wheat, corn and edible beans as well as soybeans (both Roundup Ready ® and Identity Preserved). The soybeans account for about 200 acres, but it's a crop they're looking to expand.
"Soybeans are exciting," says Dave. "They're providing an opportunity for producers to try and increase yields, and I think that's something we're always looking at – how do we do a better job than we did last year. And so with that in mind, I think soybeans are becoming more of an attractive crop    to grow."
Their goal is to efficiently and effectively produce high quality soybeans while upholding land stewardship practices. They've already applied the knowledge they've gained from growing edible beans to their IP soybeans, such as paying attention to micronutrients and the proper use of fungicide. They're also using tile drainage, cover crops, and nutrient management to promote natural resource stewardship on their farmland. Now, Dave and Lisa hope to learn other production tips from their US counterparts involved in the Young Leader program.
"US farmers deal with different fungal and insect pressures before we do," notes Dave. "And in a lot of cases, they have some new technologies that we don't have access to. It's quite interesting to learn from them, and hopefully as the regulatory system approves the same product to be used here, we're already a step ahead to know how these products are going to perform and we can begin using them immediately."
focus on research
Dave and Lisa hope they'll also be able to discuss new research and trends in the soybean industry with other producers. It's one of the topics they discussed with the program's selection committee. "We talked about how sometimes the university research is there, but then there's a missing link between research and really getting it into final production," says Dave.
"We think there is so much potential for new uses of agricultural products," adds Lisa. "We know there is a lot of research being done and it is exciting to see that moving forward."

community involvement
Dave and Lisa are actively involved in their local agriculture organizations and community groups. They believe in promoting the positive aspects of the industry; and  both are looking forward to the training they will receive over the next year which will help them convey the messages they feel are important.
"Some of the communication and media training will help us to articulate what we're trying to say anytime that we're communicating about agriculture,"
says Lisa.
"I think we both want to promote the agriculture lifestyle," adds Dave. "I think sometimes agriculture is perceived as the straw hat, old tractor, two cows and two sheep type farming – where really it's become big business and involves a lot of technology."
embracing technology
One example of technology that both Dave and Lisa have embraced on their farm is the smartphone. They see it as an invaluable communication tool, and use it to stay connected with other farmers through Twitter (@vandewallefarm). It's a quick and easy way to share advice and discuss production issues with other farmers. But Lisa also sees it as a great way to educate non-farmers. "If it's the people who work in the agriculture sector that can provide the information consumers are asking for about how their food is produced in a safe and high quality manner, then they are getting accurate information."
2013 marks the 29th year of the ASA/DuPont Young Leader Program. ASA, and its 26 state affiliates, including Grain Farmers of Ontario, work with Pioneer Hi-Bred, a DuPont business, to identify the top producers who will participate in the program. One couple or individual from Ontario is chosen each year.
If you're interested in learning more about this program, or participating next year, contact Valerie Gilvesy, member relations coordinator at Grain Farmers of Ontario vgilvesy@gfo.ca  226-979-5581 or go online http://www.gfo.ca/Youngleadersprogram.aspx •