High antioxidant soybean variety
GROWING MARKET OPPORTUNITIES FOR 'BLACK PEARL'
international interest in the first and only black soybean variety registered in Canada is growing. Known as 'Black Pearl,' the variety was developed in Ontario by agronomist Eric Richter in his spare time.
In early August, the Government of Canada's International Trade Office in Taipei contacted the Canadian Soybean Exporters' Association enquiring about the possible supply of a quantity of Canadian black soybeans for a Taiwanese importer. "In Asian countries, things like soy beverage and soy sauce are made with the skins of black soybeans added to boost the antioxidant content and turn the product into a 'functional food," Richter notes. "In addition, a powdered form of the skins can be used in many, many products, added in with ingredients like flour, similar to the use of the powdered form of grape skins."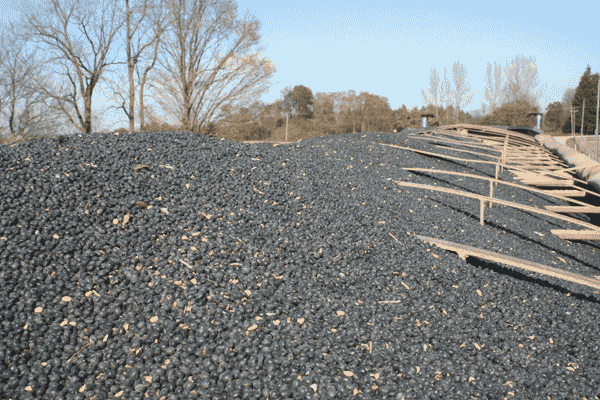 Richter explains that the anti-oxidant-rich pigments found in the dark purple skin of Black Pearl soybeans are the same as those contained in the skin of berries and fruit such as blueberries, blackberries and dark plums. The story of Black Pearl began 15 years ago because of those pigments.
"My daughter noticed black soybeans in a load of our soybeans," says Richter, "and it happened that at that point in time, I'd heard a lot about the anti-oxidant properties of dark pigments and the associated health benefits." Right then and there, Richter had his daughter pick them out of the wagon with the intention of trying a little breeding the following year. It was the start of a long and interesting journey. From 1998 onward, Richter grew black soybeans from the best plants of the year before, and by 2005, had a line strong enough to take things further.
He approached many businesses and groups in the soybean sector, but found little support from any of them – except one. "I honestly almost gave up because there was so little interest, and so it meant a great deal to have the moral and financial support at that time from Grain Farmers of Ontario," Richter recalls. "You really need partners who believe in what you are doing. Some members of the Grain Farmers of Ontario Board gave me incredible personal support, and the strong support of my wife Cheryl and my family has also been extremely important."
Grain Farmers of Ontario's financial contribution allowed Richter to enter Black Pearl into the Ontario Soybean Variety Trials in 2011 and complete the final steps for commercialization. "Getting regional yield data from the trials was critical," he says. Seed tests completed by Agriculture and Agri-food Canada confirmed the soybeans' very high antioxidant levels. By the end of 2011, Richter and his family celebrated the registration of Black Pearl. He says there are a few US-registered black soybean varieties but their long maturity means they can't be grown here.
markets abroad
Richter is not involved in the marketing, production, processing or exporting of Black Pearl, having licensed the rights to Woodstock-based PRO Seeds of Canada and Parkhill-based Beechwood Agri Services. "I had interest from a US company, but wanted the variety to stay Canadian," he says.
While Black Pearl's market is currently a small niche – the non-GMO functional foods sector – there is potential for it to grow, especially in Asia. "Chinese growers offer a soybean right now that is meeting this need, but we're optimistic about market expansion," says Paul Kremer, Beechwood's general manager. Beechwood contracted about 500 acres in 2012.
"There's no crush opportunity for black soybeans, which means a firm market is a must," adds Dennis O'Connor, General Manager at PRO Seeds. "However, there is a lot of promise with black soybeans in that they are a more cost-effective source of antioxidants than berries like blueberries," says O'Connor. Their contracted acreage for Black Pearl has grown again in 2012, and O'Connor says both the performance of the crop in this year's tough growing conditions and export demand will be critical factors in further expanding the acreage.
"Projects like this are what is going to keep Ontario and Canada strong competitors in these markets," says Crosby Devitt, Grain Farmers of Ontario's Manager of Market Development and Research. "We cannot compete with other countries on a production basis, so we need to develop niche varieties such as Black Pearl."
Support for this project was provided by Grain Farmers of Ontario through their Market Expansion Innovation Fund, a fund created to stimulate innovative new markets and develop products made from Ontario grown corn, soybean and wheat. •
BLACK PEARL: A QUICK LOOK
•    the first and only black soybean variety registered in Canada (2011)
•    seed can be purchased from two Ontario distributors
•    medium-tall variety suited to all soil types
•    suited to the 2700 to 2800 corn heat unit region of Ontario
•    included in the Ontario Soybean Variety Trials for the first time in 2011, showing strong agronomic characteristics
•    provides a somewhat higher premium than most other identity-preserved (IP) soybeans
RECOGNITION
Eric Richter is a 2012 regional recipient of the Premier's Award for Agri-Food Innovation Excellence. The award recognizes the success of rural communities, farms and food processing sectors. Innovations developed by the winners help to improve existing products, create jobs and drive economic growth.
This year, 50 regional award recipients have been announced across Ontario. From these regional recipients, a Premier's Award, a Minister's Award, and three new "Leaders in Innovation" awards will be chosen and announced in the fall of 2012. •