HIGHLIGHTING THE LATEST TECHNOLOGY IN GRAIN PRODUCTION AND UTILIZATION
Scouting from the sky
Farmers in Ontario now have access to a new scouting tool that will help them monitor crop stress, weeds, insects, diseases, and nutrient deficiencies in their fields. Thompsons, and their precision ag division Laresco, recently acquired E.A.R.L – an Enhanced Aerial Land Surveyor that provides 10X better image quality than small fixed wing airplanes currently used for small field surveys.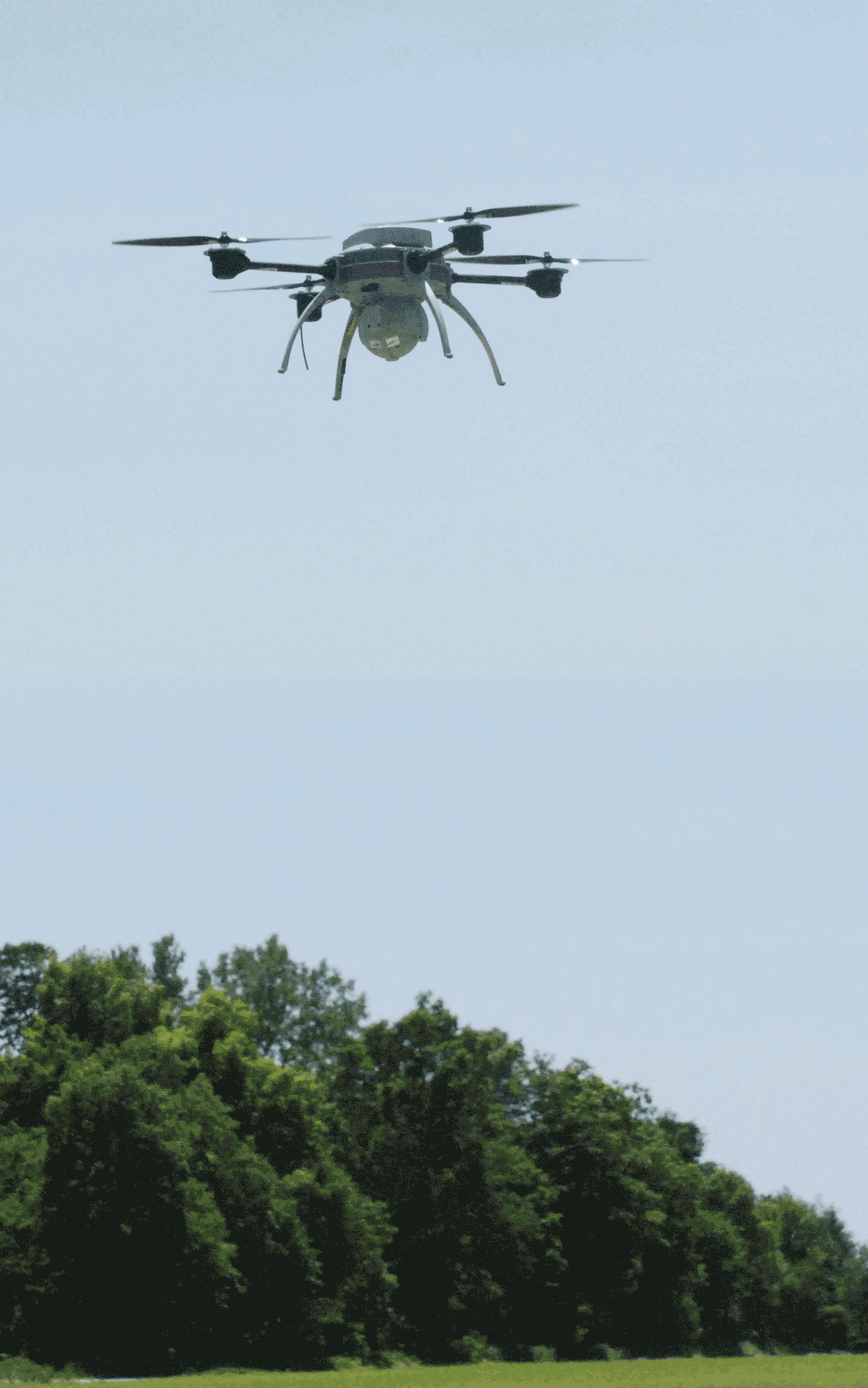 The micro-UAV (unmanned aerial vehicle) from Aeryon Labs uses a quad-rotor platform for stability and ruggedness. It typically flies at 35 kilometres per hour, 150 metres above the ground, and can fly in winds up to 50 kilometres per hour. True-colour, near infrared and chlorophyll (NDVI – Normalized Difference Vegetation Index) images are collected from each field.
Within 24 to 48 hours all images are put together and entered into a GIS mapping system, allowing farmers to assess the images and ground truth problem areas quickly. Local Thompsons retailers will keep a record of the digital image in their GIS software which will allow farmers to review their data-set year after year and analyse the effectiveness of their variable rate programs.
Currently, Thompsons is charging $5 per acre to scout your field with E.A.R.L. Transport Canada requires a flight plan be provided for the UAV, which means bookings must be arranged ahead of time to allow for regulatory approval. •

Who are you following?
Farmers are using Twitter to stay connected and up to date with industry news. Each month, Ontario Grain Farmer magazine will highlight Twitter accounts we think you should consider following or hashtags (#) that will help you join specific conversations.
@FarmsFeedCities
Farmers Feed Cities is committed to increasing the understanding of the value that farmers contribute to Ontario's economic, physical and social health. The campaign team, led by Jenny Van Rooy, regularly tweets about events and outreach efforts they are involved in to educate consumers about food and farming.
#GFOAGM
You can use the hashtag #GFOAGM to follow updates on Grain Farmers of Ontario's Annual General Meeting.
Include it in your tweets about the event and your experience with our new location at the Outdoor Farm Show and be entered into a draw for a prize! •

The Digital Toolbox
The smartphone, tablet and computer are important tools on today's farms. Each month, Ontario Grain Farmer magazine will highlight an app, online tool, or website that may help you in the field or in the farm office.
WeatherCentral.ca
Weather INnovations Incorporated's WeatherCentral.ca provides site-specific, weather-based agricultural decision support tools. Registering for a free account gives you access to all features, including, field mapping, analytical maps with monthly rainfall and CHU, information saved from last season's registered fields, and weather forecasts.
DONcast® predicts concentration levels of the toxin in wheat at harvest and  WHEATcast™ predicts Septoria tritici leaf spot and powdery mildew foliar diseases. Several tools are also available for corn producers, including a growth stage calculator and drydown calculator. •