Revealing the cost of recycling
THE STORY BEHIND TIRE STEWARDSHIP FEE CHANGES
farmers who purchased new tires this spring saw a hike in recycling fees on their receipt as part of a permanent change introduced by Ontario Tire Stewardship (OTS). While the new fee announcement received considerable media attention, the program itself remains a topic of curiosity as many farm groups work to learn more about OTS and determine the future impact of their mandate.
Andrew Horsman, Executive Director, explains that "OTS is governed by the Ministry of the Environment and has a vision to create long term sustainability for tires where they will be seen as raw materials and not waste."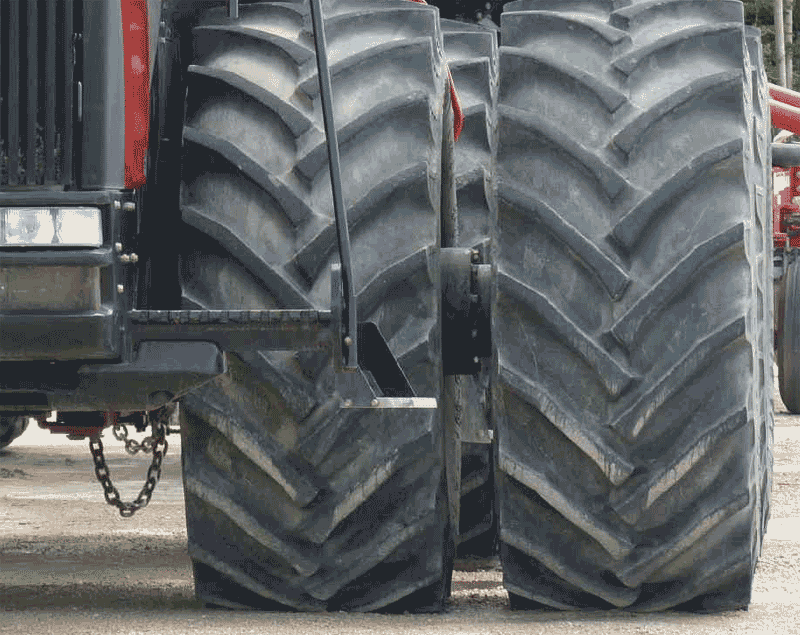 tire stewardship initiative
OTS is a not-for-profit organization established to lead one of four provincial recycling programs under the Waste Diversion Act of 2002 (WDA). Since September 2009, OTS has implemented the Used Tires Program – the collection of per tire fees from brand owners and importers of tires known as stewards.
"100 percent of fee revenue goes towards tire recycling, including transportation and processing, as well as sundry items such as manufacturing investments and consumer education," says Horsman.
Ontario's program was the first of its kind to include a full range of off-road tires, meaning that the portion of the program impacting farm equipment tires was built from scratch in 2009.
The initial fee model was based on the quantity of tires being purchased and recycled annually, as well as the cost associated with recycling in accordance with the WDA. "The original fees were created using a series of assumptions based on the best information available at that time," says Horsman.
By early 2010, tire stewards were experiencing significantly higher distribution than previously assumed and OTS was gaining more accurate data about the true cost of recycling – a combination that made their original budgets inaccurate.
Horsman says the economic downturn may have impacted their model as the tire purchasing patterns they were studying represented a time when farm demand for new tires could have been depressed. However, the first few years the program was operational was also when growers experienced stronger commodity markets and likely increased purchases.
rising off-road fees
Throughout 2011, Horsman led research within the OTS network of stewards to determine the quantity of new tires representative of a stable market. By 2012, he conducted a consultation project with stakeholders, end users and government to discuss and regulate proposed program changes.
OTS announced a new fee structure in January 2013 and implemented it on April 1. This major change transitioned the program from a diameter and use classification system to a weight-based option, which Horsman says makes logistical sense because weight is the main driver of transportation and recycling costs.
Until March 31, common agricultural tires carried a stewardship fee of $15.29 and the maximum off-road fee was $250.20. On April 1, the increased fees for comparable agricultural tires ranged from $29.40 to $47.04 while the upper limit in the off-road category reached $1,311.24.
agriculture's voice heard
This change sparked a passionate reaction from the agriculture industry. "The decision to raise fees in excess of 400 percent would unfairly penalize farm businesses by costing them thousands of dollars of unanticipated fees each year," says Mark Wales, Ontario Federation of Agriculture (OFA) President.
Horsman received the industry's feedback and met with OFA, as well as representatives from Christian Farmers Federation of Ontario (CFFO), in early spring to discuss the issue.
"Meeting with agricultural organizations was incredibly helpful in learning about the industry and the differences in use between small, medium and large off-road tires," he says. "OTS now has a better understanding of how agricultural tires are managed and how they attract fees differently than other off-road uses such as mining."
As a result of these discussions and the industry's strong response to the increased fees, OTS published an amendment on the classification of agricultural tires on April 19. Tires up to 70 kilograms remain in the categories previously announced; however, all agricultural tires between 70 and 250 kilograms are classified under the $47.04 category and the fee for all tires exceeding 250 kilograms is now $182.28.
"The heaviest tire category still sees a significant increase compared to the prior program; however, when looking at the cost of disposal analysis, the consensus was that the fee is reasonable," says Horsman.
impact on your farm
Although steward records indicate that a minimal number of tires were purchased and paid for between April 1 and April 19, the fee amendment is retroactive to the first of the month. Horsman confirms that dealers have received a fee refund for tires supplied during that period and encourages farmers to request a refund from their dealer if appropriate.
He also reminds anyone who may be participating in or considering a group buying effort to purchase tires outside of Ontario that they do not escape the stewardship fee. "If tires are purchased out of province, the individual purchaser becomes the steward and is responsible for registering with OTS and paying
the fee."
While frustration about the regional competitive disadvantage caused by the fees continues to be voiced, especially through online forums, Horsman says OTS is also positively benefiting rural Ontario. "We are proud that the program has absorbed the cost of cleaning up over 500,000 tires in the last three years from property owners and victims of illegal dumping," he says.
Individuals with scrap tires on their property are encouraged to visit www.rethinktires.ca to find their nearest collection point where tires are accepted at no charge. Horsman says those with larger accumulations can contact OTS directly and request a complimentary pick up.
future changes
Wales says OFA considers their lobbying against stewardship fees successful; but notes that the amendment is short-term relief, as the real challenges lie within the legislative restrictions of the Waste Diversion Act (WDA) under which OTS must operate.
"It is a function of the WDA that lower cost recycling options are not available in Ontario and that HST cannot be remitted in our case," says Horsman. He notes that lower cost recycling options such as fuel and landfill cover would reduce costs by 75 percent and HST represents a $5 million annual expense.
Since the fee amendment was announced, Wales says OFA has continued to seek changes to the mandate that would allow for more flexibility within the program. "We expect there to be a new WDA incorporating more opportunities for tires to be recycled in other places," says Wales.
According to Wales, a new Act is being developed with the goal of having it in place by the end of the year.
Looking ahead, Horsman plans to continue learning about agricultural tire usage and foresees that there could be more opportunities to work with the industry. For example, he says that transportation represents one of the largest costs of tire recycling. "If a grain elevator or other business wants to become a collection point with the ability to haul tires, OTS would pay for that service. Opportunities like this would not eliminate the stewardship fees but could reduce the net impact on the industry."
"GREEN" TIRE PRODUCTS NOW AVAILABLE
For the Ontario Tire Stewardship (OTS), collecting fees from tire stewards is just the beginning of the recycling process. They also work with a network of processors who break down the tires to separate the steel, rubber and fibre. A group of manufacturers then use the materials to produce a variety of environmentally-friendly products.
These products include landscape and playground tiles, shingles and mulch available at Home Depot and Canadian Tire. Specifically for agriculture, rubber is now an ingredient in some stall matting products for cattle and horse barns and fibre is being blended with rubber to create softer, more resistant horse arena footing.
OTS has also invested over $2 million in 10 research and development projects focused on potential new markets for recycled products, such as blending rubber with asphalt to make longer lasting roads. OTS is optimistic about the opportunity and demand for high value recycled products. •