MAXIMIZING THE PRODUCTIVITY OF FUTURE CROPS
after wheat harvest, you have a three to four month period to make use of that land for more production and to prepare for future crops as well. You can double crop, plant a cover crop or plant a new seeding of alfalfa. You have an opportunity to correct any drainage, fertility or perennial weed issues, and consider your tillage options in preparation for next year's crop.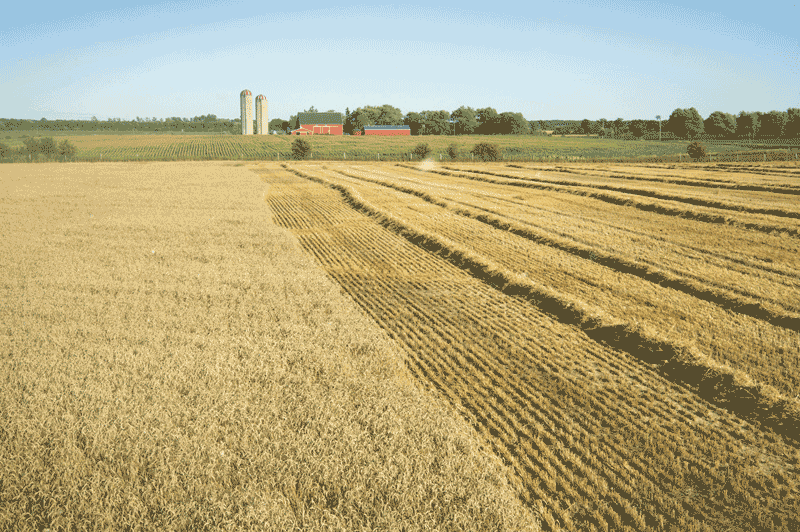 After a spring like the one we just had, with excess rain in many areas, it is obvious that ensuring your field is adequately drained is the first thing you should do to maximize productivity. Adequate tile drainage is something you pay for whether you have it or not.
The best time to control many perennial weeds, such as the ever increasing perennial sow thistle, is after wheat harvest. The onset of cooler temperatures encourages perennial weeds to move food reserves down to the roots. Applying the right herbicide at this time can be an effective way to reduce populations of hard to control weeds. The timing of this really depends on the weed you are trying to control, and the day and night time temperature.
consider double crop options
Double cropping is an opportunity to make extra income from your land. 2012 was a year that many prodcuers had luck with growing soybeans after wheat harvest. The best results came from the longer growing season areas where the crop was planted early (by July 10).
Others had luck with various forage growing options. Growing oats, or a mixture of oats and clover or peas, and harvesting that as forage, or selling that forage in the field, is a way to gain income from your land in any year. This strategy was extremely helpful to many farmers in 2012 due to low hay supplies. If growing oats alone, the addition of 60 units of nitrogen is critical to get yield plus protein. The nitrogen can be applied as manure or fertilizer. Adding a source nitrogen to the oats plus peas does work to increase yield and protein as well.
consider cover crop options
In the long term crop rotation plots at Elora, the inclusion of red clover increased the yield of all crops in the three-crop rotation. Leaving clover until after Thanksgiving will maximize the clover benefit, according to Anne Verhallen, Soil Management Specialist with the Ontario Ministry of Agriculture and Food and Ministry of Rural Affairs.
There are many cover crop options to consider if you do not have red clover in your wheat stubble (this year the red clover looks excellent- no surprise with the moisture). The first thing to consider is whether or not you are applying manure. Non-legume cover crops need a source of nitrogen to grow well. Ontario is part of the Midwest Cover Crop Council. Check out their website and the Cover Crop Selector Tool, developed by the Council. Some growers prefer to grow cover crops with many species in a mixture. Others use a more simple approach, with only one or two species. For many, cost per acre is of paramount importance.
consider summer seeding alfalfa
Summer seeding alfalfa is a way to get a full production year out of your alfalfa next year. The thing to watch out for is volunteer wheat. First off, disc or lightly till the wheat stubble after harvest to encourage the wheat to germinate. Then apply glyphosate to kill the wheat. Drill alfalfa a quarter to a half inch deep and pack. Do this by August 10 in 2700-3100 CHU areas. More than 3100 CHU, do this by August 20. If you can not get it done by then, plant straight alfalfa, with no grass such as timothy, and apply a graminicide after the wheat germinates. You may still need to apply glyphosate before all that to control dandelions or other weeds. The thing to do is to start clean.
The best time to soil test is after wheat. This gives time to correct any nutrient or pH deficiencies with manure, fertilizer or lime, in preparation for future crops.
consider your tillage options
The goal of your tillage should be to leave at least 30 percent residue cover, in order to minimize soil erosion. The second goal is to minimize the number of passes. The tillage tool should work all the soil, and leave the ground level. There is no need to work deep. If using a disc ripper, set the depth of the teeth at an appropriate level. That depth is most likely similar to a conventional plough depth of about six inches. Consider renting, and trying more than one piece of equipment to achieve your goals.
Go to the Outdoor Farm Show in Woodstock in September this year to see the single pass tillage demonstration.
Crop advisors provide advice and council producers in their decision making process. This responsibility requires a good understanding of science, food safety, technology, economics and environment. Crop advisors combine knowledge in these disciplines with their local experience to render sound recommendations.
If you would like to contact a CCA in your area or if you would like contact information for any of the above mentioned CCAs, please contact the CCA office at (519) 669-3350 or visit the website at www.ccaontario.com. •