Brule Creek Farms grain mill
A NORTHERN ONTARIO SUCCESS STORY
when jeff burke left for university, he believed life on the farm was over for him. One good business plan later and he is not only growing his own grain crops, but processing them too.
PHOTO: jeff and andrea burke.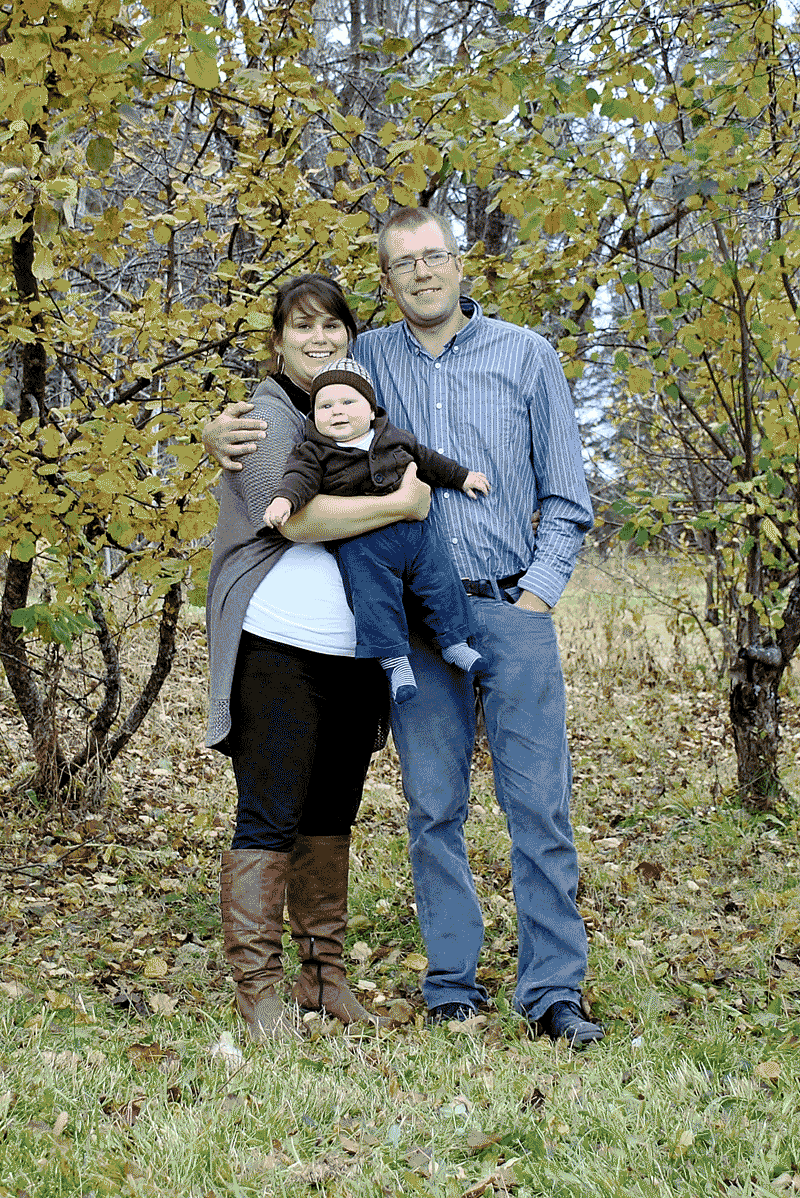 Brule Creek Farms is located about 40 kilometres west of Thunder Bay, making it the only mill in Northwestern Ontario, and one of very few in the province, which are owned and operated by farmers. Although Burke grew up on a dairy farm just down the road and enjoyed farming, he thought his brother was better suited to take over the family business. A degree in [biology] at Lakehead University helped him qualify for a position as a researcher at the University's Food Security Research Network, studying the sustainability of a grain processing facility. Soon enough, he had built such a strong business case that he was convinced to undertake the project personally.
"When we did these marketing studies in 2006 and 2007, there was already big interest in local food around here," says Burke. "It's probably due to a number of factors, one being these different groups that are pushing for it, but another might be due to our isolation and transportation costs."
starting small
Since Burke still had no plans to grow any grain himself, his main focus in 2008 was building a mill. In his research, he had found heritage stone milling sacrificed fewer nutrients and proteins throughout its refining processes but devised a modern twist by adding electric motors to power the two pink granite stones he eventually sourced from a small manufacturer in North Carolina. After at least one to two weeks of drying, all the grain is run through a seed cleaner before entering the first 12 inch stone mill. The second 20 inch stone mill grinds the flour to a finer consistency before it is sifted and bagged.
The technique allows Burke to produce 120 kilograms (kg) of flour in an hour and he can man the operation alone long enough to produce 600 kg on the average day. Milling just two to three days a week, Burke says he is able to provide customers with 50 to 60 tonnes of product in a year, sell at the local farmer's market Wednesdays and Saturdays, and make retail deliveries one day a week. Not to mention doing a little farming on the side.
"I always say we farm for fun and all our money is made in the mill, just because it's really hard to cover our cost of production with the scale of operation that we have," laughs Burke. "In most cases we could probably buy the wheat cheaper than we can grow it but there's a lot of good marketing associated with actually growing your own wheat."
Initially, Burke and his wife Andrea put 17 acres of wheat in merely to ensure they would have something to mill in their start-up year. Burke says the soil was so run down that 40 bushels per acre is the best average they have come to expect at harvest in late August. But customer demand for grains grown locally have encouraged them to reclaim land that has been abandoned for decades and his struggle has now produced 130 viable acres to work with.
"In those first couple years I actually plowed using a tractor with a loader to knock the brush down in front of me," says Burke. "It's taking awhile to bring it back up but some of the first land we started with in 2008 is starting to get decent yields."
expanding the product line
He believes that underseeding red-clover with the wheat has helped and two years ago they expanded their product line of Hard Red spring wheat, hull-less barley, and winter rye products to include buckwheat in their rotation.
Surprisingly, the buckwheat has been a hit at the market, due to growing demand for gluten free products. Andrea Burke says customer feedback has been critical throughout the product development phase which includes a variety of flours, muffin mixes, and even pizza dough blends. Their secret weapon? Facebook.
"We've used it for product development, like when we were doing a new line of fish crisp flavours," she says. "We had tonnes of people respond with different ideas and we used that as a jumping point because there were things we wouldn't have thought of."
Andrea Burke believes they make more connections through their Facebook page than through their website because it is interactive. She says they are constantly working to improve their marketing through any means possible because it is something neither she, a trained teacher, or her husband have much experience with. This fall Jeff Burke will attend the Royal Agricultural Winter Fair as a first time vendor in the Northern Ontario pavilion. He says he is hoping to expand beyond their main local market to surrounding areas and continue to acquire more retail business clientele. They fully expect the task to be much more difficult than when they got their initial start around home.
"The first week we sold tonnes, or it felt like it at the time, tonnes of flour and we thought this was going to be amazing," recalls Andrea Burke. "I'm sure there were people who never ended up using those bags of flour, they just bought it to support us or because it was new and different."
Given how far they have come in their first five years and how unexpected the journey has been thus far, neither is willing to guess what is still on the horizon for this dynamic young couple. •