BREWING WHEAT BEER AT NIAGARA COLLEGE
the niagara region is well known around the world for its tender fruits and wineries; but now the area is also gaining notoriety as the home of Canada's first and only teaching brewery.
PHOTO: NIAGARA COLLEGE OFFERS CANADA'S ONLY TEACHING BREWERY.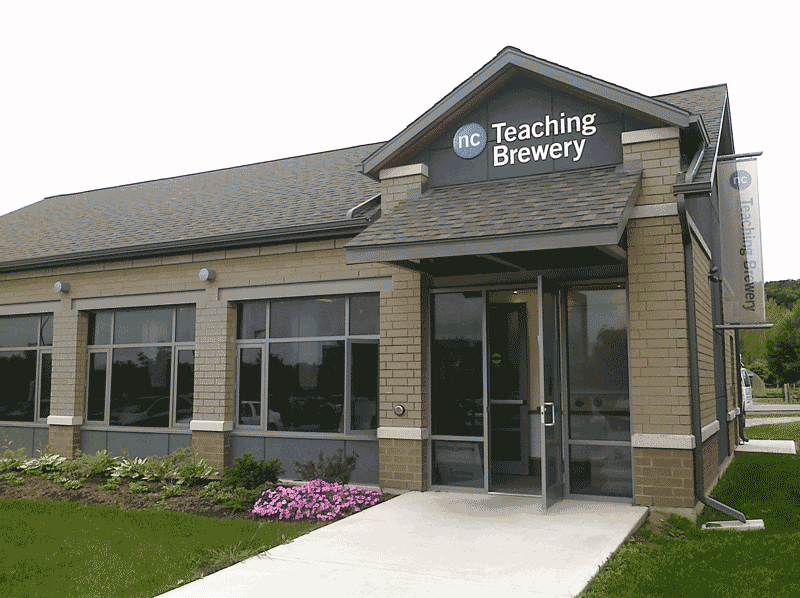 The Brewmaster/Brewery Operations Management program at Niagara College is a two-year program that trains students in beer production, brewery management, and product sales and marketing. Niagara College's President, Dan Patterson is proud to state that every year they have thousands of applicants vying for 35 spots in the program and they currently boast a 90% employment rate in the field.
Students of the brew master program go on to many positions within the brewing industry, including plant managers, brewing operators, assistant brewmasters, and lab technicians. Not only do these students go on to work in breweries in Ontario, but they are also sought after overseas in many European counties for their detailed skill sets gained at the college.
College Brewmaster, Professor Jon Downing helped developed the program with the college to answer the demand for skilled craft brew workers across Canada. Downing has helped set up more than 100 breweries worldwide, including the first brewpub in Ontario, the Atlas Hotel in Welland in 1986.
Professor Downing brewed his first batch of beer with his father when he was 14 years old. The success of this project fostered his love of beer and experimenting with varieties of malts, hops and grains to create different tasting beers.
The program includes the study of brewing ingredients where students learn how various ingredients in the beer making process affect the style and quality of beer and examine the different varieties of barley for malting. Students also learn about the technology and science of malting grains for different beer styles, including wheat beer.
There is a real science behind the calculations used in brewing and developing new recipes. Specific amounts of grain and hops can change the flavour of a new beer recipe. Mixing wheat with barley and special yeasts can create the taste of banana, clove and citrus. A mixture using between 50 and 70 percent wheat is typically used in the production of wheat beer.
At Niagara College, the brewmasters keep their exact recipes a secret. Students get to develop their own variations and test them out in the on-site micro-brewery facility. The facility includes both a large scale brew system capable of producing 1,000 litres of beer and a smaller pilot system that allows students to brew one keg at a time. It is an ideal set-up for the creation of experimental brews and one time beers for special events and occasions.
Wherever possible, the Niagara College Teaching Brewery uses local products, encouraging local farmers to produce malt and hops, as well as other brew flavourings such as honey and fruit. The Brewmaster Wheat – Let it Roll beer uses premium Canada Malting Company White Wheat malt as its malting base. This type of malt is made with superior-grade soft white wheat. It is used in the production of traditional German Wiessbier and American wheat beers and can also be used in other beers for added head retention and mouth feel.
Canada Malting Company operates the only Malt Rail Transload facility in the province out of Guelph, Ontario. It receives and transports malt and grains to their malt-dedicated facilities. The majority of the grains and malts loaded in Guelph are shipped to Thunder Bay for processing and then sold and transported to their end users across the province and world-wide. The Thunder Bay malt plant has an operating capacity of 120,000 metric tonnes of malt per year and has three operational malt houses. Malt is shipped via rail and truck to eastern North America and can be loaded directly onto vessels from its malt storage elevator.
The Niagara College Teaching Brewery student wheat beer recently won bronze at the 2013 US Open Beer Championships and it won a silver at the 2013 Dublin Craft Beer Cup that was held this past July in Dublin, Ireland.
Student-made beers (including lagers, ales, seasonal brews, and wheat beers) are available for purchase at the college brew store. They are fittingly called "First Draft," because they are the first run at making beer. Having them for sale ensures that no products and resources are wasted. •