NEW CROP IDEAS AND OPTIONS FOR MARGINAL LAND USE
"DIVERSIFYING CROPS IS important for grain farmers for a number of reasons," says John Kelly, Vice President of Erie Innovation and Commercialization, an initiative of the Ontario Fruit and Vegetable Growers Association (OFVGA). "Grain prices can fall, and having a variety of crops growing on your farm diversifies opportunities and mitigates risk." If you have a bit of extra land not suitable for corn, soybeans, or wheat, here are a number of alternate crops that may provide a new opportunity to add to your bottom line.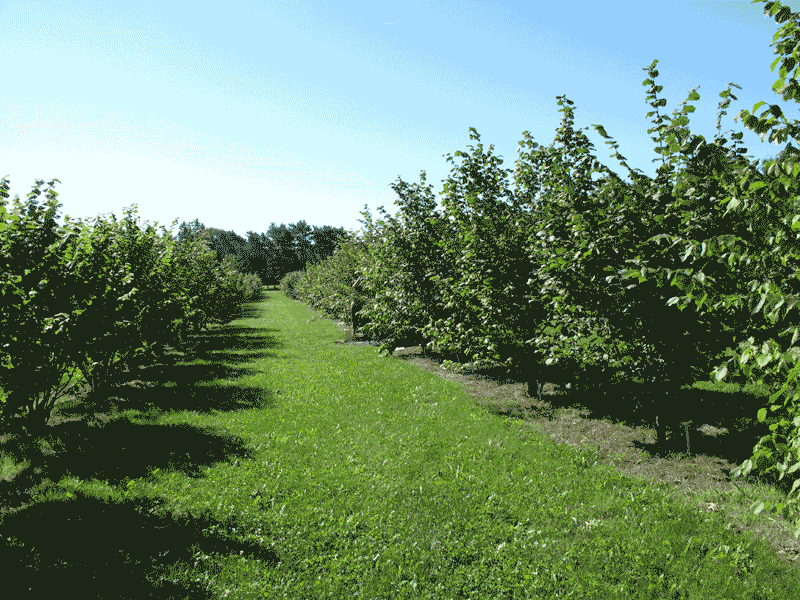 HAZELNUTS
The Ontario Hazelnut Association is looking for farmers who are interested in planting hazelnut trees. Brantford-based Ferrero, which manufactures Nutella spread and Ferrero Rocher chocolates, currently imports hazelnuts, but is very interested in accessing a stable, locally-grown crop. "We've identified a market potential for Ontario hazelnuts that's equivalent to about 10,000 hectares of trees," says Kelly. "Hazelnuts can be grown anywhere in Ontario that apples can grow, and the revenue potential for this crop is significant."
It can take four years for hazelnut trees to start bearing fruit and seven years before they offer full production. At that point, the potential net return is very competitive, but actual profit estimates will rely on individual grower's costs. Varieties have been identified that will grow well in Ontario's climate and show resistance to eastern filbert blight. The project, which included the creation of the Ontario Hazelnut Association, involves the OFVGA, the Ontario Ministry of Agriculture and Food (OMAF), University of Guelph, Ontario Centres of Excellence and industry partners. In addition to developing suitable varieties and quick propagation methods, the Association will gather market intelligence and plan for infrastructure needs. "We have two hundred farmers interested already," says Kelly, "and a goal of 20,000 acres by 2020."
BIOMASS CROPS
With the provincial government's commitment to close all coal-fired electricity plants by 2014, Ontario Power Generation must turn to other sources of fuel. Kelly says the use of biomass was investigated as a renewable option produced from various sources including forestry and agriculture, but the low price of natural gas has limited that option. However, perennial biomass crops still provide opportunities for farmers, even those on marginal lands, for combined heat and power plant fuel. "Those areas that have sandy soils and long growing seasons are really ideal for native grass production," Kelly notes. 
Beyond direct combustion for electricity production, perennial grasses can be used for pellet production and in products such as composite plastics. "Miscanthus is a Chinese grass being developed by New Energy Farms for combined heat and power systems," says Kelly. "Miscanthus could also be used for cellulosic ethanol. Switchgrass use is being developed by a company called Switch Energy."
For perennial crops to be a solid opportunity, Kelly says things must be set up in a flexible manner. "There must be long-term contracts with a guaranteed floor," he explains. "The upside should be tied to the highest corn price and/or petroleum in a given year. There also must be things like the option to sell carbon credits independently to a third party or the option to invest in a supply co-op or storage business."
SHORT ROTATION TREES
Hybrid poplar and willow make up the short rotation tree choices in Ontario, says Derek Sidders, Program Manager at the Canadian Wood Fibre Centre. "Farmers should contact us directly for guidance on site selection and best growing practices for their specific areas," he explains. "We can also arrange for you to visit one of our demonstration sites in southern Ontario that we manage in conjunction with the University of Guelph and the Ferguson Forest Centre."
Sidders says short rotation trees are used for solid wood and pulp forest products, direct energy production, and pellet manufacturing. They also provide a wide range of environmental benefits such as soil and water management and act as a carbon sink.
LAVENDER
An organized lavender industry in Ontario has also been developed, says Kelly, and the industry is expanding across Canada as well. "Lavender growers are motivated to develop their sector, but require organization to drive things forward," he notes. Erie Innovation and Commercialization is assisting in the continued development of the Ontario Lavender Association, which is supporting research being conducted by OMAF and University of Guelph staff to produce varieties that will prosper under Ontario conditions. "A parallel effort will be the development of agri-tourism, mirroring the 'Lavender Festivals' held in American states like Texas and Washington every year," says Kelly. "The plan will be to create a similar annual event in southern Ontario, initially starting as a smaller subset of existing festivals."
ALTERNATIVE FIELD CROPS
Camelina — Camelina, a member of the mustard family, is a high oil content, early-maturing, drought-resistant crop that has been grown in Europe for centuries. The oil from its seeds can be used in biofuel production and the meal can be used as an ingredient in livestock feed.
"Camelina could provide a valuable rotation crop option for growers in northern Ontario," says Linneas Plant Sciences President and CEO Jack Grushcow. "It's a low-input, short season crop that can be grown on marginal lands." The Vancouver-based company will be conducting field trials in various locations with partners.
Quinoa — Two companies, Katan Kitchens and the Value Chain Management Centre, announced in mid-October that they are joining forces on a project to develop the commercial-scale production and marketing of quinoa in Ontario. Representatives from the firms state that test plots have proven that the quality of quinoa grown in southern and northern Ontario is potentially higher than that grown in its native region of South America. The companies have a thirty-month project in the works to identify how Ontario quinoa can be produced with a consistently high quality, through establishing best management and quality monitoring practices from field to consumers. •