Developing leadership
FROM THE CEO'S DESK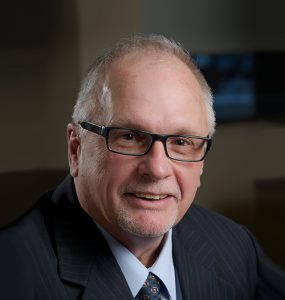 GRAINS IN ACTION
WITHIN AGRICULTURE, WE complained for years that young people were not entering into the industry. Statistics Canada's Census of Agriculture seemed to back up our concerns showing an increase in the age of the average farmer – now at 54.5 years. However, the next generation is poised to take over the family farm and people without a previous connection to agriculture are beginning to seek careers within agri-business. Grain Farmers of Ontario has made a commitment to encourage leadership amongst these young people through the development and expansion, of our Grains in Action program.
Grains in Action is a three-day program that exposes future agricultural leaders to the corn, soybean and wheat value-chain. Participants have the opportunity to tour the facilities of millers, processors, and exporters, and meet with representatives from government, business, and our organization. I have heard positive feedback from several people within our industry who feel this is an innovative way of fostering young farmers. It is not often that farmers get to meet those who work beyond the farm gate or see the infrastructure of the industry first hand.
We have three objectives for the program. The first is we want participants to learn about the industry and gain a better understanding of their role within it. Second, we as an organization want to learn from the participants about the issues that concern them. This way, we can get an early understanding of the concerns that may face us in the future. And third, perhaps most importantly for the participants, is our goal to form contacts between young farmers. Other than university or college, where else do you get this kind of opportunity to share a common learning experience and develop bonds with your peers? Numerous past participants have told us that they do remain in contact with the people they meet on our program.
We are proud of the success we have achieved with Grains in Action. Each year, approximately 60 young farmers apply for one of two sessions held in January and February. To date, 165 young farmers have participated in the program – 30 of which have gone on to assume leadership roles within our organization as Directors, Delegates, or Alternates. This summer, we are planning for an alumni follow-up training summit that will provide further leadership skills.
Last year, we branched out the program to include an industry tour – adding a farm visit to our itinerary for those within government and agri-business who want to expand their own knowledge of where they fit into the grain value-chain. People are getting into the ag industry through government ministries and expanding industry. However, fewer of these people have the background and direct connection to agriculture that used to be the norm. So as these new people come into these roles without that background, this program is a way to close that gap. It provides a snapshot of the complexity of the industry.
We believe young leaders will benefit not only our organization but the agricultural community as a whole. They will use these skills with local associations and community groups, and become stronger spokespeople for agriculture. Instead of complaining about the lack of new people within our industry, we now have a group of young, talented, and smart people interested in agriculture.  With the participants that I have seen in Grains in Action, I am very confident that the industry is in very good hands with them.
If you are interested in the Grains in Action program, limited space may still be available for the February session. Please contact Valerie Gilvesy, Member Relations, at vgilvesy@gfo.ca or 226-979-5581 for more information by February 10. Inquiries for 2015 are also welcome. •