Wanted: pesticide use data
GROWERS ASKED TO COMPLETE CONFIDENTIAL SURVEY
IF YOU ARE going to claim it, you have to be able to prove it.
That is what Nick Betts, Grain Farmers of Ontario's market development coordinator for environment and sustainability, is learning as he works on sustainability initiatives for the organization.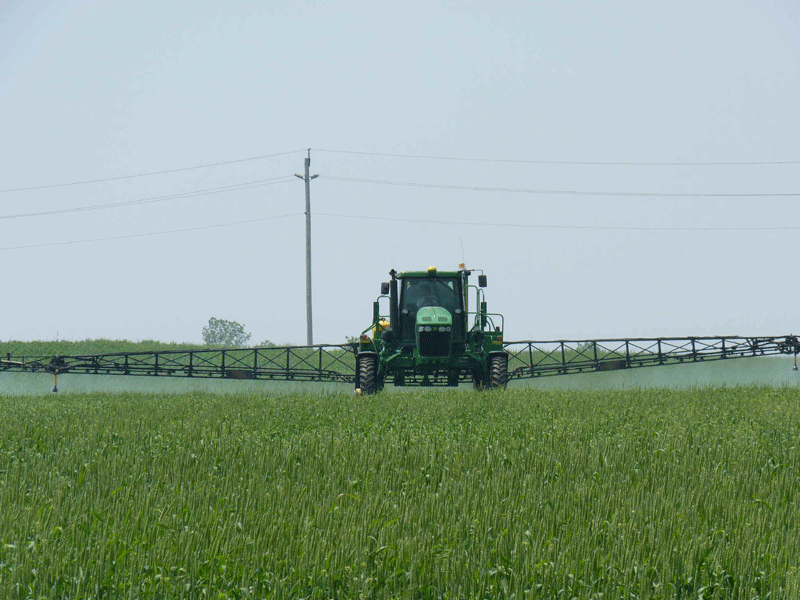 The confidential and anonymous Ontario Pesticide Survey has been extended into the 2014 growing season, and Grain Farmers of Ontario is urging its members to participate by recording their crop protection use.
MARKET ACCESS AND PUBLIC PERCEPTIONS
Responsible pesticide use is a key piece of the sustainability puzzle, including gaining and keeping market access. Ontario's grain farmers, for example, compete globally against large grain producing countries like Brazil and Argentina, where different mechanisms and approaches to crop protection are used. And not only do the results demonstrate responsible use, they are important in helping Grain Farmers of Ontario prioritize its market development, research, and communications activities.
"This information is something we can use to answer the question "what makes your industry sustainable?"" explains Betts. "We can say a lot, but this will help us back up those claims and position us very favourably on the world market. For high value markets in Asia and Europe, this is becoming an increasingly important marketing tool."
"Data on what is being used provides us with a baseline and helps indicate areas where more research might be needed," he adds. "If you understand the trends, you can figure out how to either harness those trends for benefit or how to improve to meet them."
But export markets are not the only benefit.
Public perceptions here at home are also important; and with many pointing fingers at the grain industry's use of neonicotinoid pesticides contributing to bee deaths in Ontario, it is more important than ever to have data that proves how responsibly farmers are using crop protection products, Betts says.
Results also help Grain Farmers of Ontario and other farm groups push for new product and minor use registrations, and investigate the ramifications of pesticide pricing policies in Canada. The survey has been conducted every five years in Ontario since 1973.
"Our stringent science-based regulatory system on pest management is respected worldwide," says Henry Van Ankum, chair of Grain Farmers of Ontario. "Our farmer- members who apply pesticides are highly trained in safe handling and usage of these products, and extensive records are maintained to ensure transparency and traceability."
CONFIDENTIAL, ANONYMOUS AND USER-FRIENDLY
The online survey was first launched in 2013 and has been extended to include the 2014 growing season. It is managed by Farm & Food Care, and although it is being conducted on behalf of the Ontario Ministry of Agriculture and Food, only the final collated results are being shared with government, says project manager Bruce Kelly.
"All information is submitted online anonymously and categorized only at the county level, so what growers provide is confidential," he says, adding that growers are asked to provide information on their use of all crop protection products, including herbicides, pesticides, insecticides,
and fungicides.
Submitting the information is easy with simple pull-down menus that are pre-populated with product information from the Pest Management Regulatory Agency database, and growers can record their use at any time during the season, including on their smartphone while they are in the tractor, says Kelly.
"Growers only have to enter how many acres they sprayed, how many times, and at what rate. The products themselves can be selected from pull-down menus and the site will add the appropriate PCP number as well as calculate and tabulate everything behind the scenes," he explains.
The survey is available at www.ontariopesticidesurvey.com. Those without the Internet or who are not comfortable with computers can receive a hard copy from Farm & Food Care at 519-837-1326, ext 292. Surveys are accepted by fax, email, or postal mail. •