Common ground at IOPD conference
A MEETING OF OILSEED EXPORT COUNTRIES
ONCE A YEAR, oilseed exporting countries get together to discuss common concerns and challenges. And while they are export competitors, representatives at the 17th annual International Oilseed Producers Dialogue (IOPD) set their business aside at the conference to address issues affecting their industry together.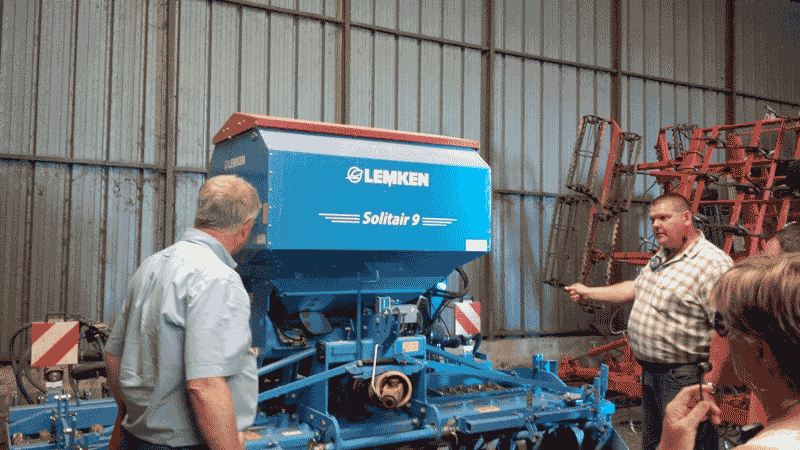 "We're all competitors, but once a year we sit down to work together, for the benefit of the industry and everyone attending," says Henry Van Ankum, chair of Grain Farmers of Ontario and the Canadian Soybean Council (CSC) representative at the conference.
Van Ankum says it was encouraging to discuss export and trade challenges with others facing the same concerns. Attendees from more than 10 countries, including Canada, took part in the conference in early July, hosted in Paris, France. Conference attendees represented oilseed producing crops, including soybeans, canola, sunflowers, and rapeseed.
THE ISSUES
Timely science based reviews and approvals of new biotechnology traits, the development of a low level presence (LLP) policy, sustainability, and changes to the European Union (EU) Common Agricultural Policy (CAP) were all key themes and challenges discussed at this year's conference.
"The topics haven't changed drastically over the years," says Van Ankum. "The group continues to address concerns that affect our abilities to produce and transport soybeans and make sure everyone is aware of concerns that could affect growers in our respective countries."
Slow approval of biotechnology traits in key export markets, like China and the EU, are serious concerns for Canada and other exporting countries. "New technology is moving into the production stream here in Canada and without approvals to ship these traits into our export markets we could face serious challenges," explains Van Ankum.
Challenges like trade barriers and refused loads are trade limiting and costly concerns for growers and exporters. Van Ankum says the industry is working on the approval processes and continues to address this important issue. "Trait approvals are vital.  A Canadian contingency traveled to Brussels last November to push for these approvals to be done in a timely manner," notes Van Ankum. "We are also in close contact with trade officials to monitor progress." 
Continuing with last year's conference discussion of developing a LLP policy, the group agreed a policy would be a significant benefit for exporters. Some importing countries currently have a zero tolerance policy for genetically modified (GM) products that cause huge risks for exporters who can face load refusals if even one GM seed is found in a shipment. Van Ankum says the development of a tolerance policy for trace levels of GM seeds is a practical approach to an industry-wide problem. And with the consensus of all countries represented at the conference, Van Ankum is hopeful a policy will be developed and adopted by all countries. "The group agreed that, as global trade partners, we need to work together to develop an LLP policy and it's important we implement it together."
Efforts to improve the public image of oilseed production and modern farming practices were new on the agenda for 2014. The U.K. and U.S. both presented campaigns they have respectively launched directed at consumers and government policy makers to increase the awareness and understanding of the importance of agriculture and crop protection products.
"It doesn't seem to matter what country you live in, farmers everywhere are trying to educate consumers and government on the importance of our industry and why modern agriculture practices and technology are important to food production," says Van Ankum, noting Grain Farmers of Ontario recently launched their own awareness campaign, Good in Every Grain.
The conference concluded with a tour of a biorefinery, a corn, wheat, rapeseed, and sugar beet farm, and a farm cooperative.
"It's important Canada have a seat at the IOPD conference table to discuss issues;  but the ongoing value from this event comes from opening the lines of communication with trade partners and the contacts we make," says Van Ankum. •
INTERNATIONAL SOYBEAN TRADE BY THE NUMBERS:

•    90 MMT — Brazil's expected 2014 soybean production
•    53 MMT — Argentina's expected 2014 soybean production
•    32.98 million hectares — soybeans the U.S. expected to plant in 2014
•    20 MMT — soybean meal the EU imports on average
•    12 MMT — whole soybeans the EU imports on average
•    5.2 MMT — total Canadian soybean production in 2013
•    3.2 MMT — total Canadian soybean exports in 2013
•    759,251 MT — volume of soybeans Canada exports to our top export market, China •