HARVESTING GROWTH WITH ALUMNI
OVER THE PAST four years, the Grains in Action program has provided valuable opportunities for young farmers across the province to network with one another, make industry contacts, and learn more about the grain supply chain in Ontario. This year marked the first alumni event — Grains in Action Summit: Harvesting Growth. The event was intended to encourage personal growth, professional development, entrepreneurship, and farm business strategies that our young farmers could take home and use to better their operations. Thirty-two alumni from the first three years of the program and their partners took part in the two-day summit held in Guelph.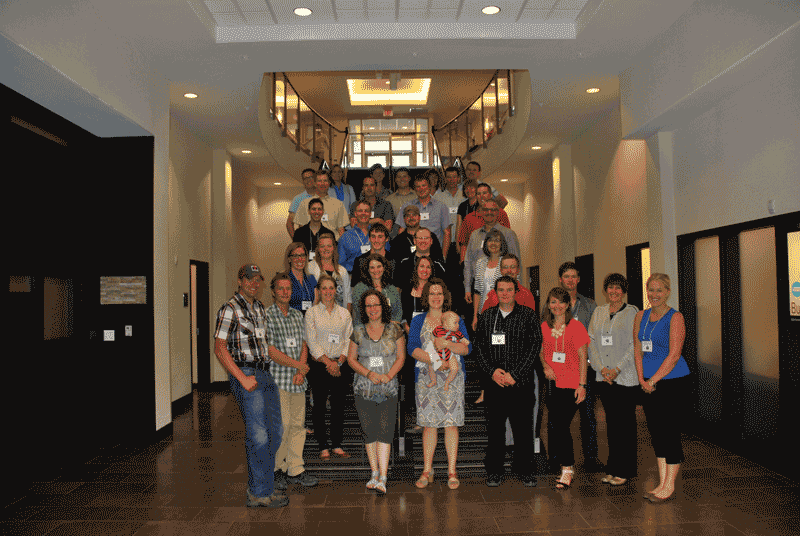 Throughout the duration of the program, participants were encouraged to complete all the activities with their farm business in mind. The end goal was for them to leave the course with the tools and inspiration needed to turn their future plans into successful realities.
NEW SKILLS
Samantha Klaver, from Grain Farmers of Ontario's District 8 (Huron), was enthusiastic about the program after her past experience with the Grains in Action program in 2012. Klaver also wanted to sign up for the alumni program because she recognized the learning outcomes she could bring back to her family's cash crop farm in Huron County and use in her off-farm career as an IP co-ordinator at Thompsons Limited in Hensall.
In anticipation of the program, Klaver said,  "I'm hoping to broaden my horizons in the strategic business aspect of agriculture". Also, as the oldest of five girls who all play a role in the family farm, she was interested in learning more about her strengths and weakness from the Kolbe Instinct Assessment, a self-assessment tool that measures how a person would naturally do an activity or task.
"The Kolbe Assessment has provided a new tool on how to deal with and manage people of all different dominant instincts," said Klaver after completion of the assessment break down lead by Rob Hannam, client director for Synthesis Agri-Food Network.
Participants quickly put their new people management skills to the test with an interactive Iron Chef team building session where they were challenged to make a portion of the evenings meal from Ontario corn, soybean, or wheat products. Klaver drew a direct connection between the Kolbe Assessment and the Iron Chef Challenge.
"Being the 'fact finder' that I am — as I learned from the Kolbe Assessment results — I asked the chefs a lot of questions when making the salads. My group consisted of all producers from Middlesex County, so it was nice to work with some neighbouring producers and see their competitive side come out along with myself."
NEW INSPIRATION
Day two of the program featured a full agenda with sessions on developing a vision and direction for your farm and the global movements in grain. There was also a panel discussion from two agricultural innovators — Jason Persall, owner of Pristine Gourmet, and Shaun Haney, founder of RealAgriculture.com. They each discussed how they expanded their farm business and added value to their operations.
"Hearing from the entrepreneurs was really neat as it truly showed that if you let your passion lead you, the possibilities are endless," said Klaver after the program.
Participants also heard an inspiring entrepreneurial success story from Matt Schnarr, founder and managing partner of Awake Chocolate, a caffeinated milk chocolate bar that was featured on CBC's television show Dragon's Den.
Klaver plans to continue to build on her farm business plan that all participants had the opportunity to start creating at the Grains in Action Summit. "This program has given me insights on making sure all individuals have the opportunity to share their thoughts and the kind of questions that need to be answered to keep the farm moving forward," she stated.
Another key session for participants was on communicating your message with confidence which was delivered by Bernard Tobin, a consultant with Synthesis Agri-Food Network.
"This was just as important, if not the most important session of the program. As farmers, we know what we do best, but we do not always have the tools to help share our message in a positive, impactful way," said Klaver. 
Today's young farmers have unique opportunities to educate urban consumers because they are passionate and connected. By furthering their knowledge of how to share their message, young farmers can convey this passion and the reality of farming in a way that makes a memorable connection.  Whether it be your own entrepreneurial success story or daily farm activity, sharing it will help develop a more accurate picture of grain farming in Ontario.
Grain Farmers of Ontario plans to make the Summit a yearly event for alumni of the Grains in Action program. If you are interested in participating in either learning opportunity, contact Valerie Gilvesy, Member Relations, at vgilvesy@gfo.ca or 226-979-5581. •