JOHN DEERE ANNOUNCES NEW EQUIPMENT PROGRAM
AT THIS VERY moment, beneath a broken- down piece of equipment, there is a farmer dreaming of buying new. But fresh-off-the- line equipment is not for everyone, so John Deere is offering a new program to give these potential customers more peace of mind when purchasing used equipment.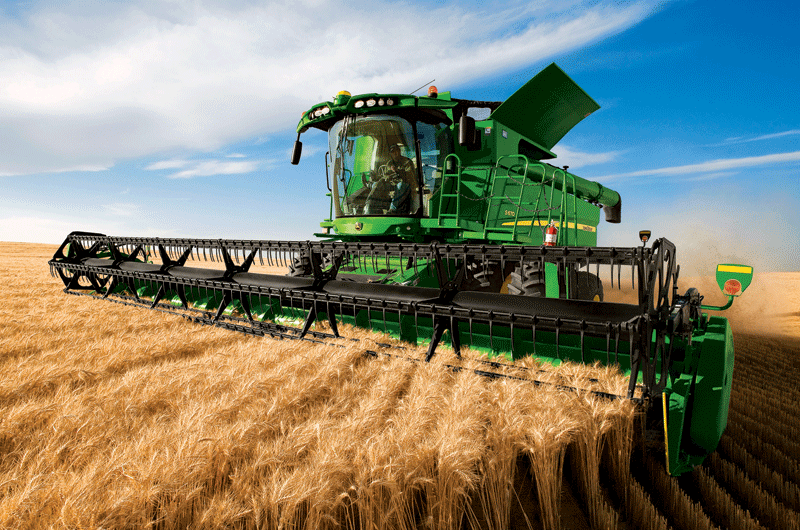 The company calls it Certified Pre-Owned equipment, promising a low-hour used machine that has been field tested and inspected according to set specifications. It also means every certified tractor or combine is covered for a year under the company's trademarked warranty plan and is equipped with the JDLink monitoring service. John Lagemann is senior vice president of John Deere's agriculture and turf sales and marketing for Canada, the United States, and other regions. He believes these two aspects of the program will make it useful to both buyers and dealers.
MANAGING RISK
"We believe that it will be a very important strategy for our dealers to have another tool in their toolbox," Lagemann says. "You can take a good piece of used equipment and allow the customer to manage his risk profile and drive his productivity."
The risk Lagemann says he believes the certification could help farmers manage is equipment down-time. Since the only machines eligible for certification will be highly depended-on 8R/8RT or 4WD tractors (with less than 1,500 engine hours or under three years old) and S-series combines (with less than 1,000 hours or under two years old), that is likely a significant consideration for most buyers. John Deere says there has never been a better selection of these products.
Ken Morton, president of Deerhaven in Belleville, Ontario, does not believe it is any secret that used inventory is piling up. Anyone can use MachineFinder.com to search for late model S series combines, for example, to see how much is out there, he says.
"North America wide, especially in the U.S., we've had bumper years in equipment sales," he explains, noting the reality that high sales levels won't last forever.
Morton knows firsthand that having a yard full of new equipment is dangerous. During the 1980s, the combination of high interest rates and excess inventory cost his father an equipment dealership. Morton's been told he worries too much about overloading his business with inventory as a result; and although he is more cautious, he does not believe dealers will ever face such stark conditions again. Still, he thinks the company's recent decisions to reduce factory production and support used sales with more new programming is a responsible move.
"It doesn't do John Deere or the dealer network any good to have extreme excess amounts of used inventory in their yards," he says.
INCREASED INVENTORY
John Hanna handles used equipment support and sales for Premier Equipment Ltd throughout southwestern Ontario. He says excess used inventory is not an issue at his dealership, but he is well aware inventory is becoming a worry for dealerships in Western Canada and the United States. What he likes about the Certifed Pre-Owned program is how it standardizes certification on such a broad scale. Premier has been running a certification program of its own for years, but when these certified machines find their way into other dealer's territories, it has caused problems.
"It doesn't matter how well we inspect a used combine, you can't inspect electronics," Hanna says. "We've had it before where you've inspected everything, you've let it run out behind the shop for an hour, you put it on the truck, you ship it for six hours someplace and when it gets there, it doesn't work — we call it shipping fever."
Now if that happens, he says, there will be an ability to consult the JDLink system from a distance and hopefully have a better idea of what happened.
A standard check list will offer all customers more consistency and ensure they are not charged for unnecessary parts or services by a different dealer. The original seller will be responsible for any repairs that relate to set Certified Pre-Owned specifications, which means dealers like Premier who have already been offering these certification programs will no longer be disadvantaged.
"Our low hour, pre-owned units we had up to standard but sometimes we'd be higher priced in the market place because all the work had been done on the piece," says Hanna. "If it's certified as pre-owned, it doesn't matter what company owns it, the quality should be relative." 
Morton agrees the new certification will help alleviate the regional differences buyers currently have to watch out for. "When we look at a combine in the U.S. that has 300 hours on it and we look at a combine in Ontario that has 300 hours on it, generally something from the U.S. has more wear on it," he says.
Larger heads allow more, often drier, crop to be processed and this is much harder on auger and separator parts he explains. "Even from western Ontario to eastern Ontario we'll get that, with a third more product getting through the equipment from the west."
But unlike his partners in the west, Morton says his dealership is far less busy with routine maintenance work. "There's a tendency in western Ontario to spend a little more on maintenance," he admits. A standard inspection will level the playing field for everyone, ensuring that farmers really are getting what they are paying for if they cannot afford to buy new in coming years. •