NEW SOUTHWESTERN ONTARIO SEED CORN COMPANY
TWO LONG-TIME farming families have come together to start a new seed corn production company in southwestern Ontario.
PHOTO: DALE STEWART, CRAIG STEWART, CHRIS STEWART, LYLE GIFFIN, LEE GIFFIN, AND CHRIS WHITE OF C7L SEED PRODUCTION IN BLENHEIM, ONTARIO.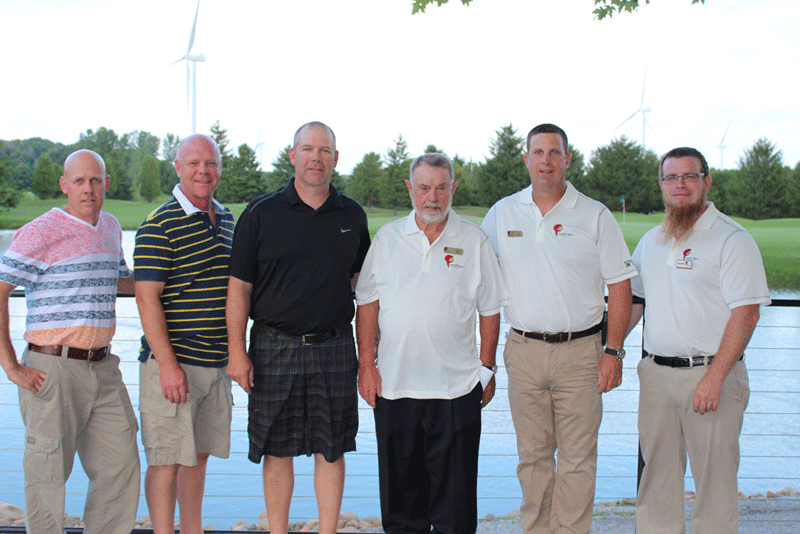 Lyle Giffin and his son Lee, have joined brothers Chris, Craig, and Dale Stewart of Jon Ern Farms to create C&L Seed Production Inc. The Giffin and Stewart families have a history of seed corn production in the region.
"Southwestern Ontario is known for seed corn," says Chris White, spokesperson for the new company. "It's fair to say that as long as seed corn has been grown in this part of the world, the Giffin and Stewart families have been doing it."
White says the creation of C&L Seed Production allows both families to take the next step and move a little further up the value chain.
"They're not only producers, they're a primary processor now," explains White.
C&L Seed Production will be focussed solely on wholesale production and has no intentions of serving the retail business.
In explaining why C&L Seed Production came to exist, White says long-term forecasts talk about more corn being grown west of the Ontario-Manitoba border. That, in itself, presents an opportunity since it means there will be a greater demand for seed corn.
 
White says another motivating factor is that a lot of the larger independent wholesale producers of seed corn, mostly in the United States, are positioning themselves towards large-volume throughput to gain efficiencies through size. White believes this will alienate some of the larger producers' customers because their production is going to be greater than their customers need for a given variety. Enter C&L Seed Production, who will service both the small orders and the large orders, producing the amount of corn that the customer wants.
White says they are also looking into offering certified organic production, which will create additional opportunities for the new company.
C&L Seed Production will be located on Communication Road, just outside of the Town of Blenheim, Ontario, close to the Village of Shrewsbury. Construction will start this fall and will be completed by next spring. They expect to be processing their first crop of seed corn by the 2015 harvest.
White is reluctant to talk about the warehouse and facility size but says based on customer feedback, he anticipates the facility will be approaching its full capacity in its first year, which is greater than everyone initially forecasted.
"It's a good feeling to know that our customers are really interested in dealing with us," says White.
White says its important — and exciting — to highlight that C&L Seed Production is an investment in the long-term capital infrastructure for seed corn production in southwestern Ontario.
"This investment is being made by two families born and raised here," says White. "(The Giffins and Stewarts) farm here, live here, and they're from here. We're not going to move our production out of Ontario for an economic whim. We're here for the long term and we're not going anywhere else." •