Reseeding claims highest in 10 years
WINTER WHEAT CROP INSURANCE UPDATE
THE 2014 WINTER wheat crop got off to a rocky start with cool, wet conditions at planting followed by extremely low winter temperatures and a cool spring. With the harvest now complete, yields reported for Production Insurance are coming in around average and even better in some areas. Even though much of the winter wheat crop survived, the reseeding benefit was crucial for many farmers this year.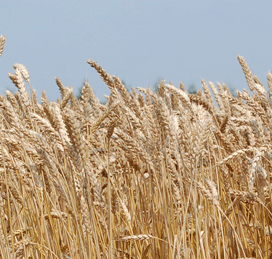 In the spring, Agricorp paid $8.7 million in reseeding claims. Reseeding claims pay $85 per acre to help farmers cover the costs of getting a new crop in the ground in time for the growing season.
PRODUCTION CLAIMS IN THE MAIL
Agricorp is paying about $5.2 million in final claims to customers who had yield shortfalls at harvest. The following floating claim prices were set early in September and are based on average prices reported from representative growing regions for Grade 2 winter wheat.
CHART: FIXED AND FLOATING CLAIM PRICES
| | | |
| --- | --- | --- |
| Crop | Fixed claim price | Float claim price |
| Soft white winter wheat | $5.40/bu | $6.1958 |
| Soft red winter wheat | $5.20/bu | $5.5259 |
| Hard red winter wheat | $5.30/bu | $6.1829 |
| Hard white winter wheat | $5.65/bu | $6.5911 |
| Organic winter wheat | $10.47/bu | n/a |
| Winter spelt | $0.44/kg | n/a |
NEW PRODUCTION INSURANCE DEADLINES FOR WINTER WHEAT
Winter wheat renewals are being mailed to existing customers now. Farmers considering Production Insurance for the first time can contact Agricorp to learn more and apply. The Production Insurance deadline to report final planted acres for your 2015 winter wheat crop is coming up in November. Deadlines for planting, reporting acres and making premium payments have been extended by seven days in most areas of the province.
Here are the new deadlines:
Advancements in farm management techniques and hardier varieties of wheat contributed to the change of the 2015 deadlines for winter wheat and organic winter spelt. Agricorp's research included input from OMAFRA's cereal crop specialist, a historic review of planting dates against Production Insurance reseed and production claims, and climate data for the last 30 years.
Data also showed most producers plant as close to the optimal seeding date as possible but are influenced by weather and the previous crop's harvest. The delayed growing season in 2014 will likely require producers to plant later than normal.
You can report now by phone at 1-888-247-4999, or by using Agricorp's online services at agricorp.com. If you haven't registered for online services, contact Agricorp. Agricorp is ready for the 8,000 reports expected this season. To avoid the rush, producers are encouraged to report sooner rather than wait for the deadline. •