U.S. FARMERS ADOPT PRAIRIE PRACTICE
GRAIN BAGGING, A common practice in Western Canada, is gaining popularity in parts of the U.S. Corn Belt, especially within the Dakotas and Minnesota.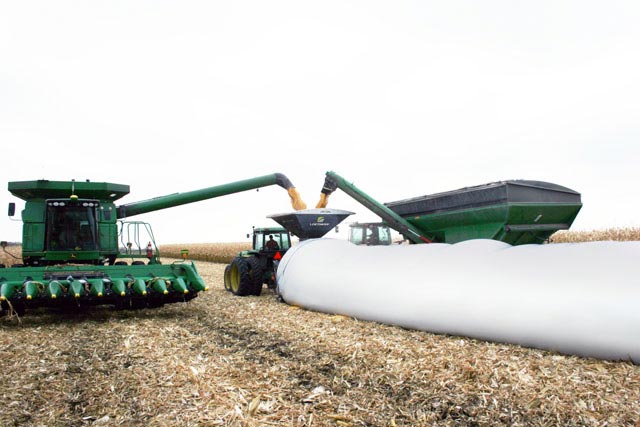 "They've been bagging grain in Canada for 20 years," says Dave Nelson, senior vice president — sales, for Loftness Manufacturing. "We started making bagging equipment in 2008 and we've seen growing interest all along. In 2014 we saw tremendous increases from the previous year."
According to Nelson, good crop yields, low prices, full grain elevators, and rail shipping delays created a "perfect storm" for farmers searching for storage capacity in 2014.
"That bodes well for bagging, especially for growers who face a long haul from field to elevator. They can just bag [grain] in the fields and keep on going," Nelson says. "You don't need trucks. You don't need truck drivers. You can haul the grain from the bags as you have time after harvest when the elevators aren't full and there aren't trucks waiting in line. You can significantly increase your harvest speed."
EQUIPMENT NEEDS
Grain bagging, originally used for silage production, involves unloading from the combine or a grain cart into a grain bagger attached to a tractor and an auger, which pushes the grain into a polyethylene bag sealed at one end. A typical 300-foot bag can be filled in 30 minutes, holding 13,500 to 14,000 bushels of corn. Once the bag is full, the second end is sealed. In addition to corn, grain bags can be used to store soybeans, wheat, oats, canola, and barley.
Costs for the technology include approximately $28,500 (U.S.) for a grain bag loader, $40,000 for unloading equipment, and $975 for a 300-foot bag, which cannot be re-used. Disposal rules vary from one state to another; some collection sites for chemical jugs or polyethylene irrigation pipe will also take bags, but bags cannot be burned.
MAINTAINING QUALITY
At the Iowa Grain Quality Initiative, Dr. Charles Hurburgh raises some concerns about bagging technology. "Polyethylene bags were originally for silage. You filled them with wet material, sealed the ends tight, and as they heated up and the oxygen was excluded, you ended up with sweet silage," he explains.
"That's not what you want for grain. The problem is, you don't have any way to move air, so you don't have a way to control conditions, and you can't put wet grain in them for sure because you're going to have condition problems," Hurburgh argues. Nelson agrees that dryer is better for grain going into bags but offers reassurance about quality questions.
"You typically won't get hot spots because after a certain amount of time the oxygen is gone, and oxygen is required for something to mould or rot or for insect activity," he counters. "If you put corn in at 17 per cent moisture in the fall and you're taking it out by April, it's going to be fine," Nelson says. "If you're at 15 per cent moisture, it's good for a year, no problem."
With high moisture corn (24% or above), there could be some fermentation after six months or so, "but it's not going to rot unless there are holes in the bag where moisture and insects can get in," says Nelson.
   
He notes that every bag comes with a roll of patch tape for any holes, including the slits some farmers make to insert a temperature probe. North Dakota farmers, Craig Fisher and John Anderson, say they have learned, through their own use of the bags, that it is important to check bags for holes each week and repair them as needed with the manufacturer- provided tape.
Fisher and Anderson also note they've learned it is important to choose a well-drained, level location that will be accessible in winter and not too muddy in spring. It's also a good practice to lay out the bags north to south so the sun hits both sides of the bag. You also need to factor in if you have a problem with the wildlife in your area, such as deer, before deciding if storage bags are a viable option for use on your farm. •