WHEAT BREEDER WINS PRESTIGOUS WORLD FOOD PRIZE
INDIA-BORN MEXICAN wheat breeder Dr. Sanjaya Rajarm was the recipient of the 2014 World Food Prize. The award coincides with the centennial of its founder, Dr. Norman Borlaug, who acted as Rajaram's mentor.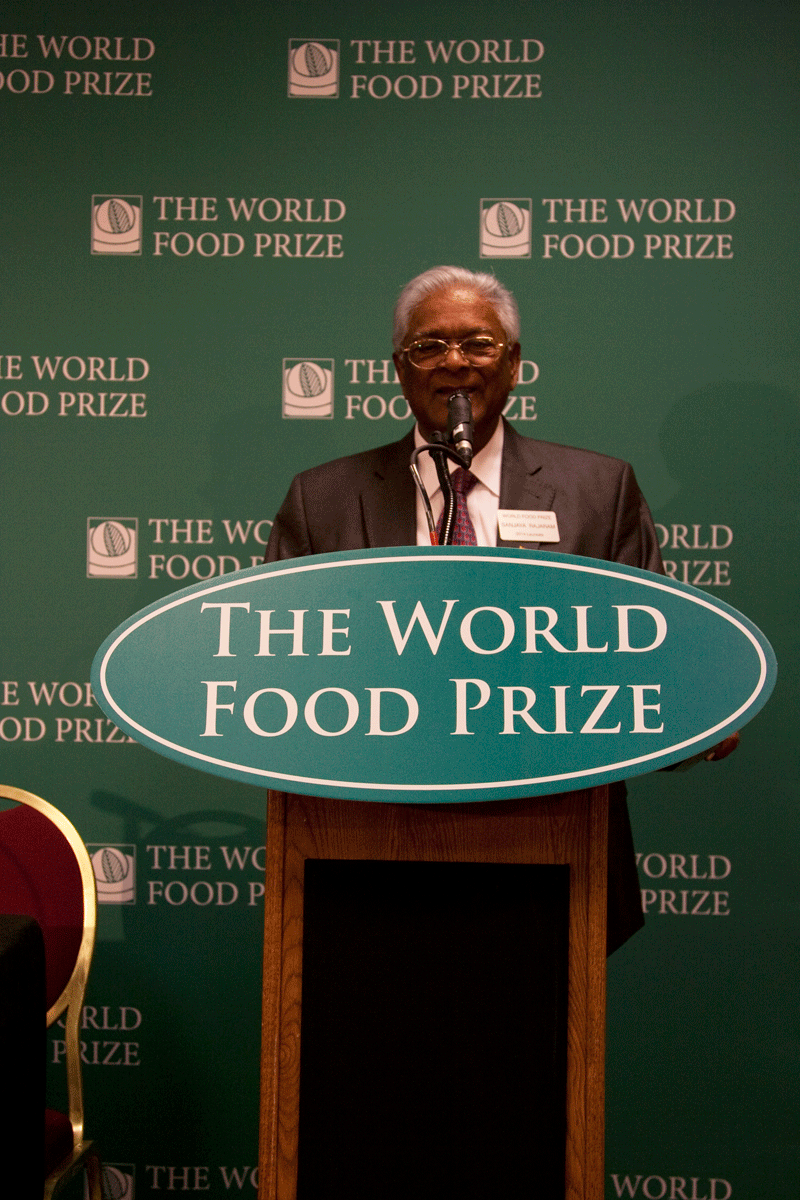 "This award honours the resilience and innovative spirit of farmers in the developing world and the national agricultural systems," Rajaram said during his acceptance speech. "Without their contributions, my research would not have been possible. The mission was — and the mission remains — to serve them."
Rajaram leads the International Maize and Wheat Improvement Centre's wheat breeding program. The Centre is commonly called by its Spanish acronym CIMMYT. He is responsible for the development of an impressive 480 wheat varieties that have been used in 51 countries on six continents. His work has provided nutritious grain that is resistant to rust disease and has increased world wheat production by more than 200 million tonnes. 
INTERNATIONAL RECOGNITION
First conceived by Nobel Peace Prize laureate Dr. Norman Borlaug, the World Food Prize is an international award that honours outstanding individuals who have made vital contributions to improving the quality, quantity, or availability of food throughout the world. Laureates have been recognized from countries all around the world, including Brazil, Israel, Ethiopia, and Switzerland.
"Dr. Rajaram worked closely with Dr. Borlaug, succeeding him as head of the wheat breeding program at CIMMYT in Mexico, and then carried forward and expanded upon his work, breaking new ground with his own invaluable achievements," says Ambassador Kenneth Quinn, president of the World Food Prize. "His breakthrough breeding technologies have had a far-reaching and significant impact in providing more food around the globe and alleviating world hunger."
Born in a small village in India, Rajaram was a dedicated student whose first goal was to become an extension specialist. Through hard work and dedication, he easily became one of the top students in his school, dedicating his life to making improvements for farmers.
In 2007, father of the Green Revolution Norman Borlaug referred to Rajaram as the greatest present-day wheat scientist in the world.
Rajaram is deeply honoured by the recognition. "I believe that the challenges of 21st century agriculture and food production are surmountable compared to the past and can be overcome provided we can bring together new knowledge and delivery systems to farmers in a very sustainable manner," he says.
ONGOING RESEARCH
"Future crop production is bound to decline unless we fully factor in the issues related to climate change, soil fertility, and water deficits, and utilize advanced genetics in the next 20 to 30 years," Rajaram continues. "It will require all the resources from international research centres, national governments, foundations, NGOs, and farmer groups together to synergize future agricultural technologies and food production."
Rajaram says there is a strong need for new wheat varieties worldwide. "We need 60 per cent more wheat by 2050," he says. "That will require more investment in good genetics, GM technology, better nutrient management — particularly with respects to micronutrients — optimum planting time, and a reduction in post-harvest losses."
Post-harvest losses in wheat are very high, he says. In some cases, they are as high as 65 per cent. "Using GM technology, we can easily protect those and even last longer," he says.
"We can't protect through conventional breeding," he continues. "There are those special genes in those unrelated species."
While Rajaram is pro-technology, he believes that caution needs to be exercised when it comes to adoption. "I'm a scientist," he says. "But like any technology, we need to be very cautious."
"I'm very pro, in the sense that I see a tremendous yield stability that GM can bring to various crops," he continues. "However, how to handle that — what are the effects on the environment? We need to study those things very carefully." •