LEASING LAND
IT'S THE MIDDLE of November 2014. At the edge of a soybean field on the outskirts of Temiskaming Shores, a wood post has just been hammered into the ground. On it is nailed a sign that reads 'Notice of Distress'. It's a warning that with rent in arrears, the tenant is prohibited from accessing the land and harvesting the crop.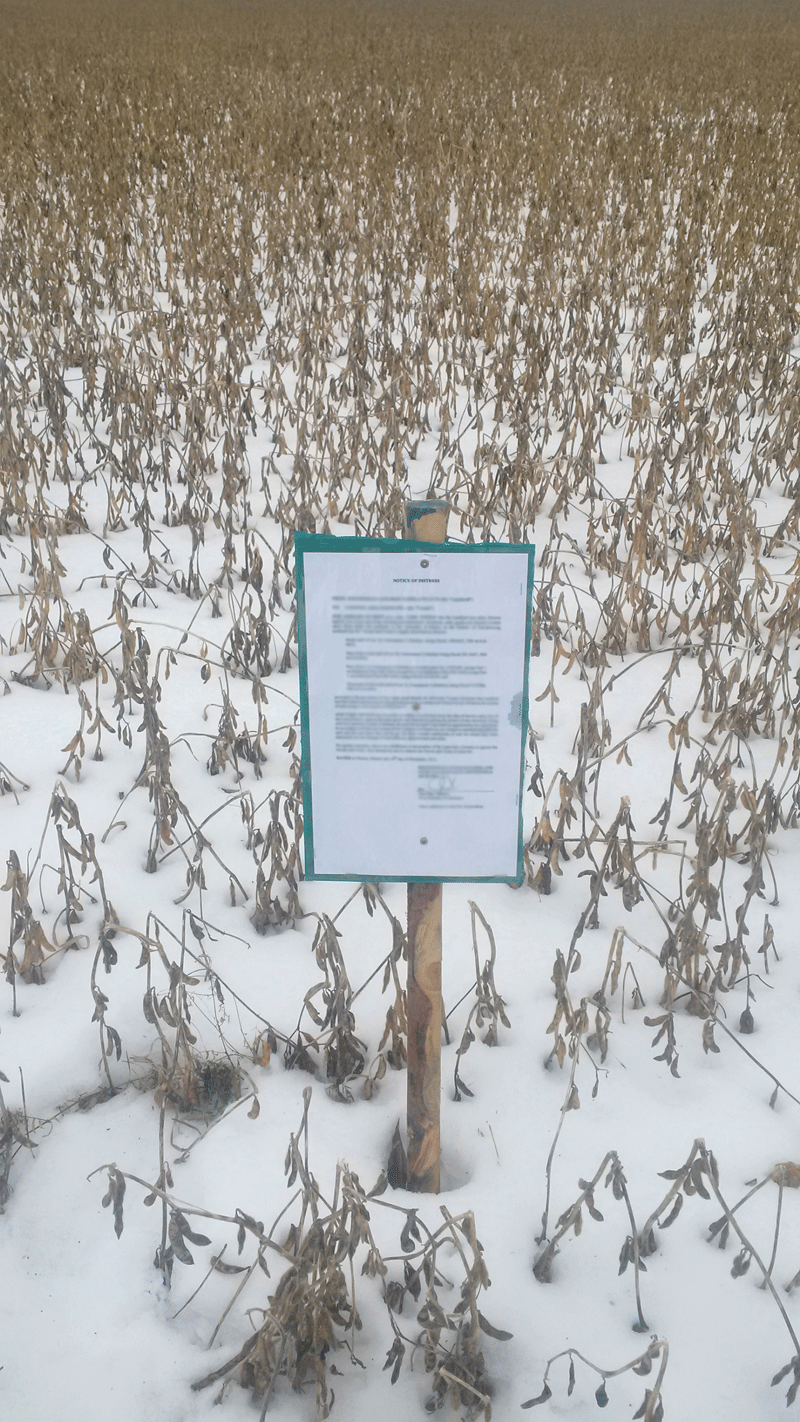 "We couldn't pay the second half of the rent when we couldn't get the crop off on schedule due to the weather," says Kevin Runnalls, the tenant farmer. "These large corporate investors don't understand the way agriculture works. They've seized the crop and I'm left with nothing but expenses."
This isn't the position Runnalls expected to find himself in when he entered into an eight month agreement to rent the field from a national land lease corporation at the end of March 2014. For the past four years, the company had been approaching farmers in his area to sell and they were looking for others to rent the land.
"In my case, there was an older gentleman that had decided to retire. I signed on the lease knowing they wouldn't commit to purchase the land until they had somebody obligated to rent the property," explains Runnalls. "It was a nice chunk of land, 375 acres in one block."
A DIFFERENT EXPERIENCE
Runnalls didn't have a lawyer review the contract before signing it. He's no stranger to renting land; he's done it for more than two decades. Last year, he and his sons rented about 2,000 acres to farm in addition to the 1,500 acres they own.
"In some cases, we've rented from the same landowner for 20 years. Most of the owners are retired farmers and understand the crop income uncertainty. These other fellows just thought I would come up with the money," he notes in comparison. "If we had been in the situation where we had two or three years into this lease before we hit this poor harvest season, maybe we could have had some extra money, but I had nothing but expenses from putting the crop of soybeans in. We're probably talking in access of $350 an acre between rent, fertilizer, seed, and insurance. "
The lease Runnalls signed was very broad and included two amendments. On top of the rent, Runnalls was expected to cover the taxes on the land, pay the fees for two inspections by a certified crop advisor, and provide soil tests — approximately $6,000 in extra fees. He was also expected to do some field work to leave the land in the same tilled condition it was when he rented it.
"You were the tenant farmer but you pretty well had to follow their rules, allow their inspections, and do what they wanted. Otherwise they could come back on you for additional expenses," Runnalls notes.
"To me, this lease agreement, you have to have some cooperation both ways. Farming is working with Mother Nature and in our area, it hasn't been this wet in 50 years. But they didn't see it that way and they had a legal document that they would be paid on November first and there was no leeway."
LEGAL ADVICE
Legally speaking, unless there is a 'due date extension' provision of some sort in the contract, a landowner is under no obligation to offer a farmer in Runnalls' situation more time to make the rent payment. "They don't have to if it's not in the signed contract," says Sarah Jacob, a lawyer with SMM Law in Cobourg and a member of the Canadian Association of Farm Advisors. She is not affiliated with this case, but regularly advises her own clients on land lease agreements.
"It's not the fact that it's a corporation that is an issue. It is the size of the entity. When you are dealing with a large landowning corporation that isn't locally owned you don't know their reputation."
Jacob's simplest advice for farmers is, "just don't deal with them. That's the safest thing. If there is other land to rent – rent the other land. Don't rent from a large out-of-area entity when you don't know who they are and you don't know how they do business."
She realizes that there may be a good business case for doing so, due to the quality and location of the field, but that is a decision you have to make with a full understanding of who you are dealing with.
"Research who the owner is. If the corporation is recorded anywhere in the United States or Canada, you can get the information as to who they are. If you are not comfortable online, then get a family member or a friend who is, and do some research."
You also need to fully understand what you are getting into. "If you want to do business with them, then do spend the time with a lawyer. A lawyer will translate the provisions of the contract into everyday language and explain what the different paragraphs actually mean," advises Jacob. "You need to know the hidden costs and expenses they are putting on you and the obligations you will be under in terms of how to work the property. If you end up in a dispute with them, saying you didn't read that part of the contract or didn't understand it won't help you."
Another advantage to seeking the advice of a lawyer is that you will know whether what you are about to sign is in fact legally valid in Ontario.
"A lot of companies they just pull contracts off the internet or use contracts from their head office. These are sometimes originally American contracts; the language and the requirements and obligations in them sometimes aren't lawful in Ontario," cautions Jacob.

LOOKING FOR CLOSURE
It's now February 2015; the soybeans remain in the field under a layer of snow. Damaged by the wet winter weather and infected with mould, they are unharvestable. Runnalls' involvement with the land corporation is still unresolved. He and the lawyer he hired to help resolve the issue are still in negotiations. 
At one point prior to receiving the insurance payout, the corporation attempted to have Runnalls sign the full amount over to them in order to cover the $34,000 remaining on the rent and added fees (a fraction of the total insurance coverage). "They wanted me to sign it all over to them and then I would have to wait for them to send me the remainder. My lawyer said not to do that. He wanted them to agree that they wouldn't come back on me for any further expenses before we paid them the rest of the rent."
With the funds now available from his crop insurance payment, Runnalls has forwarded the final amount owing to his lawyer in trust. However, the corporation has yet to act on receiving payment and they are seeking further field work to be done this spring to get it ready for planting. Even though the weather would have made harvesting the crop unlikely at the end of November, Runnalls says he could have made their December deadline for tilling the field if they had given him access to the land and doesn't believe he should be penalized for that work now.
"I guess there should have been more clauses on our behalf," reflects Runnalls. "They've got such a large legal team and every angle covered.  I'm just worried how other farmers are coping with longer term leases, high rent, and restrictions on their production practices."
Runnalls views this experience as a costly lesson and hopes that other farmers will learn from it and know what they are getting into when signing their own rental agreements with large corporate landowners. •