2015 ASA DuPont Young Leader Program
STRONG ADVOCATES FOR AGRICULTURE
WEB SPECIAL
GLENCOE FARMER DAVE McEachren was selected to represent Canadian soybean growers in the 2015 American Soybean Association (ASA) DuPont Young Leader Program. He provided us with a first-hand account of his experience.
PHOTO: ASA PRESIDENT, WADE COWAN, AND RUSS SANDERS, DIRECTOR OF FOOD & INDUSTRY MARKETS, DUPONT PIONEER PRESENTED PLAQUES OF RECOGNITION TO PARTICIPANTS OF THE 2015 ASA DUPONT YOUNG LEADER PROGRAM.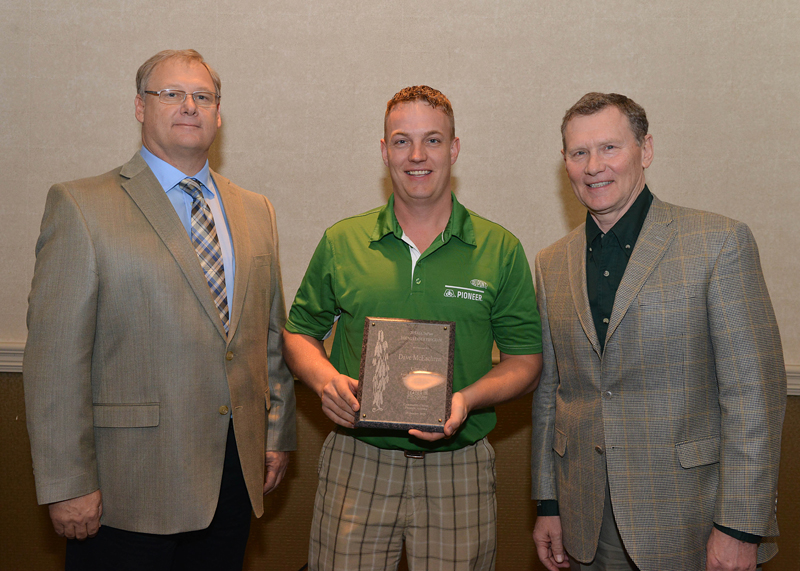 NOVEMBER 2014
Hosted by DuPont Pioneer, the first stage of the 2015 ASA DuPont Young Leader Program took place at the company's world headquarters in Johnston, Iowa. The first night was spent meeting the 40 other soybean growers from across the U.S. participating in the program. We each gave a short presentation on our farm operation. The other farmers were from as far south as Louisiana, and as far north as Minnesota and North Dakota. A combination of field crops and livestock were grown by the members of the group, which is typical for many farms these; but I was really impressed by the diversity of other crops that they included on their farms, such as blueberries, strawberries, cotton, cranberries, and even maple syrup. One Michigan farmer even raised bison. The other interesting dynamic of the group was the size of the operations they ran and the number of people required to keep it running. Some farmers were involved in a father-son operation while others employed up to 15 people full-time.
Over the next two and a half days, the group spent time with some of the business leaders from DuPont Pioneer, as well as the President and 1st Vice-President of the American Soybean Association. Together we learned various leadership skills through workplace personality assessments, media communications training, and a social media and outreach session. I have participated in personality assessment workshops before, but this one helped me to recognize how various personality types interact with each other and how I can use that to better work with the different people we do business with on our farm. The social media session gave me the spark I needed to continue writing 'agvocacy' articles. I realized it's important to share my story and my opinion on things that matter to me. You can see an example of this on realagriculture.com in my post 'If you farmed today, thank a consumer.'
Another part of this program introduced the group to new technologies in the seed industry. Representatives from DuPont Pioneer shared information about new pesticides they are developing which are expected to be released beyond 2020. We also received an overview of how new technologies travel through the regulation process. Global bio-tech approvals are notoriously slow and it was interesting to see a timeline how long the process actually takes in different countries. Not surprisingly, of our major trading partners the European Union takes the longest to approve new technology; but China isn't far behind. Canada and the U.S. have similar timelines which is good for our trading relationship and we place the same emphasis on the significant human, animal, and environmental safety studies that are undertaken to approve a single trait.
Working in small groups and having the opportunity to get up and speak in front of your peers, allowed us to really get to know one another quite well. In addition to the scheduled program, we had social time that allowed us to have further discussions about the vast range of farm management practices we use. We shared our experiences with different tillage practices and had lengthy discussions on the broad range of crop maturities for growing soybeans – we represented group 0 to group 8.
FEBRUARY 2015
After a brief winter break, the group reconvened in sunny Phoenix, Arizona for the second stage of the program. The Commodity Classic played host to the group this time. It took no time at all for the group to get back into the comfort zone of knowing where everyone was from and recalling everyone's names.
On our first night in Phoenix we were joined for dinner and a social by the many leaders of the ASA organization. The next morning, however, we were right back into our training sessions. The focus continued to be on leadership and working with multi-generational teams. It illustrated some of the dynamics that are present at my home while working with my dad and uncle. It allowed me to better understand the differences between generations and how we want to communicate.
That afternoon we had an excellent session with Matt Roberts (Ohio State University) on Grain Markets and their International Impact. Roberts was so engaging, he had the whole group talking for two days. He had a way of talking about ag economics in an easy to understand way that went beyond the simple concept of supply and demand.
Rounding out the day was the always enjoyable Kip Cullers and his presentation on "Breaking the Yield Barrier". Cullers is all over the world now working on exciting things to try and test to improve soybean yields as well as the yields of other crops. The take home message from his presentation was "what are you going to do different?" My answer to that is, I am going to experiment with some unorthodox cover crops this year.
Our second day at the Classic was spent learning about Ag Policy in the United States. This session was very eye-opening to me as the lone Canadian in the group. It is very interesting to see how the government and ag industry of one of our largest trade partners works and operates. I learned that the way the government lobby effort is organized plays a crucial role in the lives of farmers and the success of their farm operations. We see some lobbying here in Canada, but it isn't the big business like it is in the U.S.
The young leaders then enjoyed a few days of free time to participate in the Commodity Classic. For those who have never been, the Commodity Classic could be compared to a Southwest Ag Conference "on steroids". With just over 7,900 attendees, 355 exhibitors covering over 170,000 square feet of floor space, more than 85 guest speakers, and more than 30 learning sessions this agricultural conference is second to none. On top of all that, the four commodity groups (NCGA, ASA, NAWG, NSP) all have policy meetings and banquets throughout the schedule. Next year's event in New Orleans will also include the Association of Equipment Manufacturers, creating an even larger attendee draw and trade show.
I am very appreciative of the opportunity to have represented Grain Farmers of Ontario and Canada as part of the ASA DuPont Young Leader Class of 2015. I have learned much, and made some great lifelong friends along the way. I would encourage anyone who is interested in taking part in this program to get in touch with Grain Farmers of Ontario, and submit an application.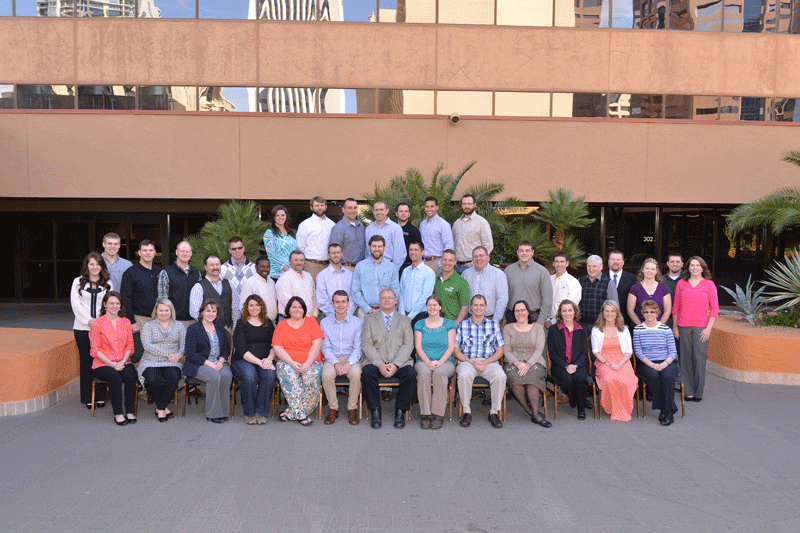 2015 marked the 31st year of the ASA DuPont Young Leader Program. If you are interested in learning more about this program go to https://soygrowers.com/learn/young-leader-program/. If you would like to apply for the 2016 program, contact Valerie Gilvesy, Grain Farmers of Ontario Member Relations at vgilvesy@gfo.ca or 226-979-5581. •