CAMPAIGN DELIVERS A BALANCED MESSAGE WITH RESULTS
IN JUNE, BEES Matter was launched across the country to bring public attention to the many ways the agriculture community supports pollinators.
PHOTO: FREE POLLINATOR GARDEN SEED KITS WERE DISTRIBUTED ACROSS CANADA WITH MORE THAN 4,000 SENT ACROSS ONTARIO.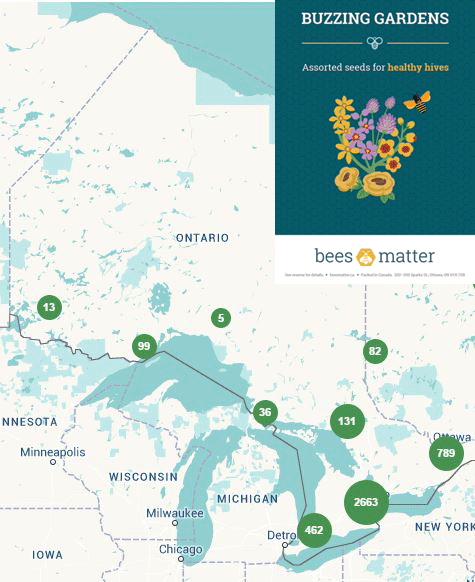 With Bees Matter, Grain Farmers of Ontario joined other agricultural groups to make the farmer's voice heard, to tell our story, and to speak to many people at once about what honeybees mean to farmers and in turn what farmers mean to honeybees.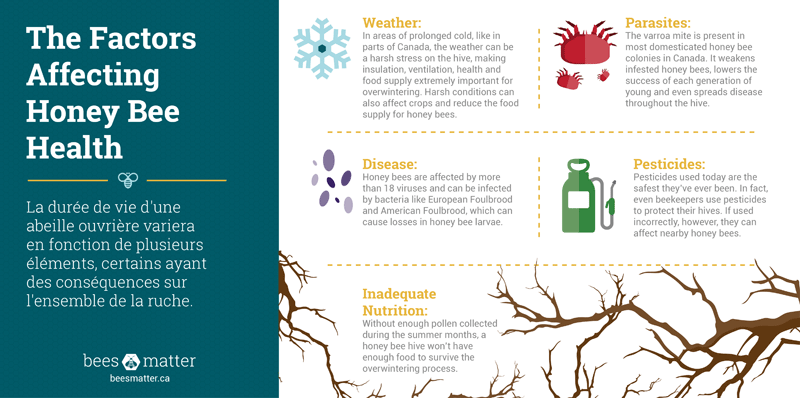 The campaign unfolded in two different ways: education and outreach.
EDUCATION
Education meant helping the general public to more completely understand the lives of honeybees and the challenges they face, because there is no single cause of honeybee health issues.
This was accomplished with the launch of the Bees Matter website at www.beesmatter.ca. The site includes articles about the varroa mite, the life cycle of the honeybee, the importance honeybees have to farming, and the ways in which the farming community helps to protect their hives. These are bolstered with infographics to provide quick at-a-glance information with attractive imagery to give visitors the full picture of honeybee health.
There are also guides directed to farmers and educators to help bring the message to more Canadians. The farmer-focused guide offers advice for how to answer questions farmers might get about the state of honeybee health in Canada and how agriculture contributes. The teacher- focused guide, on the other hand, is dedicated to giving Canadian children a sense of how important honeybees are and how many challenges they face on a day-to-day basis while they forage.
Since the campaign was launched, there have been 125,000 visits to the website, as well as numerous media reports in publications such as the CBC, Toronto Sun, 680 News, Alberta Farmer Express, and RealAgriculture.com.
OUTREACH
These successes were aided by the launch of Buzzing Gardens. Through this program, Bees Matter offered free pollinator garden seed kits to everyone in the country, to help address one of the challenges honeybees face: poor nutrition. Each seed kit includes a packet of seeds with a variety of honeybee friendly wildflowers that can be planted throughout Canada, as well as a pamphlet about Bees Matter and how Canadians can join the agriculture community in helping to protect pollinators.
Since Buzzing Gardens launched at the beginning of June, there have been over 17,000 requests for seed kits across Canada, including inquiries from municipal governments, teachers, and the media. More than 4,000 kits were distributed across Ontario.
Bees Matter is a partnership of agricultural organizations with a vested interest in pollinator health. The mission of the group is to provide a platform for conversation, dialogue, and information sharing regarding modern agriculture and the importance of ensuring a healthy environment for honeybees, which play an important role in Canadian food production and agriculture. Partners include: Barley Council of Canada, Bayer CropScience, Canadian Canola Growers Association, Canadian Horticultural Council, Canola Council of Canada, CropLife Canada, Canadian Seed Trade Association, Grain Farmers of Ontario, Grain Growers of Canada, Monsanto, and Syngenta. •