COLLABORATORS AIM TO MAKE AERIAL SCOUTING PAY
FOR ALL THE hype around unmanned aerial vehicles (UAVs) in agriculture, there remains some question of the technology's usefulness to the average farmer. But while many farmers wait on the sidelines for UAVs to prove themselves, Norm Lamothe is already in the game.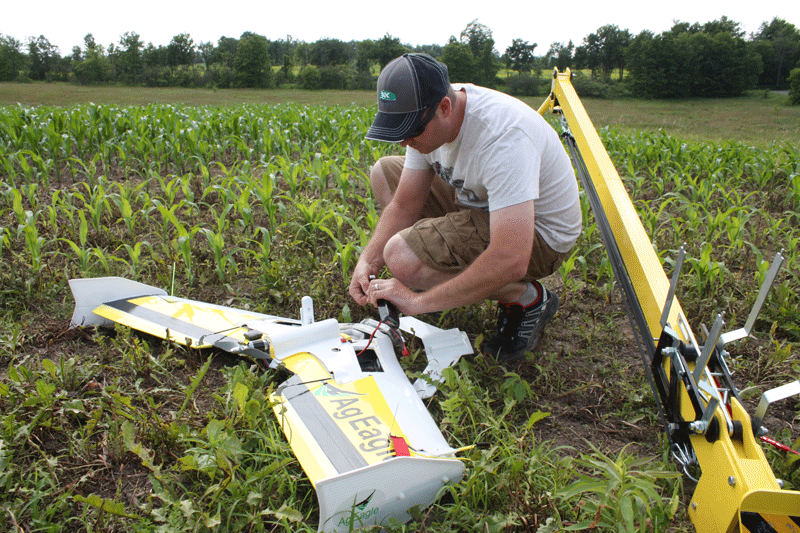 Norm Lamothe and his family operate Woodleigh Farms, cash cropping 420 acres just outside of Peterborough in addition to selling their own maple syrup and four acres of garden produce at the weekly farmer's market. It's not perhaps the sort of farm anyone would assume is the home of a brand new AgEagle UAV — except that Lamothe had a successful career in aviation before he gave it up to farm fulltime last year. This experience didn't go unnoticed by the local farming community.
"One of our neighbours approached me and requested that I look into the use of UAVs for scouting," Lamothe explains. "Given my aviation background and my love of farming, it seemed like a natural fit."
LAUNCHING BUSINESS
By March, Lamothe was engaging in discussions with three other growers, now his 'launch client customers', about committing to a UAV scouting program together. A month later, with their support behind him, Lamothe started Eagle Scout Imaging and bought a model that is made in Kansas specifically for agricultural purposes.
"I chose the AgEagle because of its versatility, ability to fly for a fairly long time, and size," Lamothe explains.
He says many people will opt for smaller UAVs with less surface area exposed to damage, but the AgEagle's five foot wingspan allows clearer imaging because it is more stable in the air. A larger craft also allows him to fly at an optimal altitude of 300 to 500 feet, without losing mandated visibility. This means he can fly 100 acres in less than 20 minutes and still have 20 minutes of battery time to spare. Because this UAV is basically just a carbon fibre reinforced Styrofoam, without complicated attachments like landing gear or propellers, it will prove relatively cheap to maintain.
According to Lamothe, costs and regulations are the two most significant barriers in starting up an aerial scouting business. Entry level UAV models start at $3,000 — $5000 but high end units can cost up to $50,000 or even $100,000 including software. If he includes the cost of the near infrared camera lenses and NDVI stitching software, Lamothe figures he has more than $20,000 invested so far. Navigating the regulation end of the business wasn't too extreme for him, since he is already well versed in aviation law.
"You don't have to have a pilot's license to fly a UAV, but being a licenced pilot certainly accelerated the regulatory framework for me," he says. "Transport Canada really does treat this as an airplane."
SCOUTING BEGINS
Though it is still early in the scouting season, Lamothe feels that his efforts are already starting to bear some fruit. He had visual confirmation that spraying residual herbicide last year paid off when one of his first flights in June produced a map clearly showing where the tank ran out. He can also see how detrimental it was to bury a few old rock piles in another field several years ago, as bean emergence lagged visibly in those spots. He can even see variability where manure tanker tracks have crossed fields, long after the plants have visibly recovered. The maps alone didn't identify these problems but Lamothe says when you see something you weren't expecting, it's only natural to go looking for the reason why.
"The NDVI formula measures chlorophyll, so basically it shows areas where there's plant stress or anything that's an anomaly relative to the rest of the field," he explains.
When every acre counts, like it does on his small operation, knowing what management techniques produce the least amount of plant stress is critical, Lamothe says. For relatively little cost, he believes he is going to learn a great deal just while building a library of images for his farm and the farms of his launch clients.
CLIENT FEEDBACK
One of those clients is Joe Hickson, a farmer in Lindsay and director for Grain Farmers of Ontario's District 12 (Durham, Northumberland, Kawartha, Peterborough, Hastings). Rain in June turned his farms from dustbowls to ponds, so it is too soon to tell how Lamothe's services will help identify more subtle plant stress on his 2,300 acre operation.
"I figure the only thing we're going to gain this year is a benchmark to base our measurements on in the future," Hickson says. "That's why we signed up for a three-year program rather than a one-year commitment."
Unlike Lamothe's other launch clients, Hickson mostly grows cereals for seed production or identity preserved beans. While there are a lot of possible applications to explore down the road, Hickson's primary objective at this time is prioritizing and minimizing the 10-12 hours of weekly field scouting his operation requires. But he doesn't see aerial scouting eliminating boots on the ground either. "There's no sense pointing out a problem if you're not going to follow up," he says.
Hickson gives Lamothe credit for being willing to learn as part of a group and embracing a collaborative approach in launching his new business venture. "We're all going in on this to teach each other and we're only going to improve from trial and error, so hopefully collectively we eliminated some of the errors."
Tempting as it may be to wait on the sidelines for others to develop UAV technology, even if the first year does turn out to be a learning experience, Hickson feels some sense of urgency to move forward anyway. "If this is something we don't need today, just for argument's sake, I can see where the way we're farming now might not be the way we're farming in five years' time."
Hopefully, proactively adopting another tool that has the potential to conserve resources and mitigate even perceived threats to the environment pays off in the long run, Hickson says.
More information on Eagle Scout Imaging can be found at www.eaglescout.ca.  •