Representation for barley and oats
PRODUCERS WELCOMED TO GRAIN FARMERS OF ONTARIO
BARLEY AND OAT producers now have official representation in Ontario. As of July 1, 2015, they have been added to the mandate of Grain Farmers of Ontario.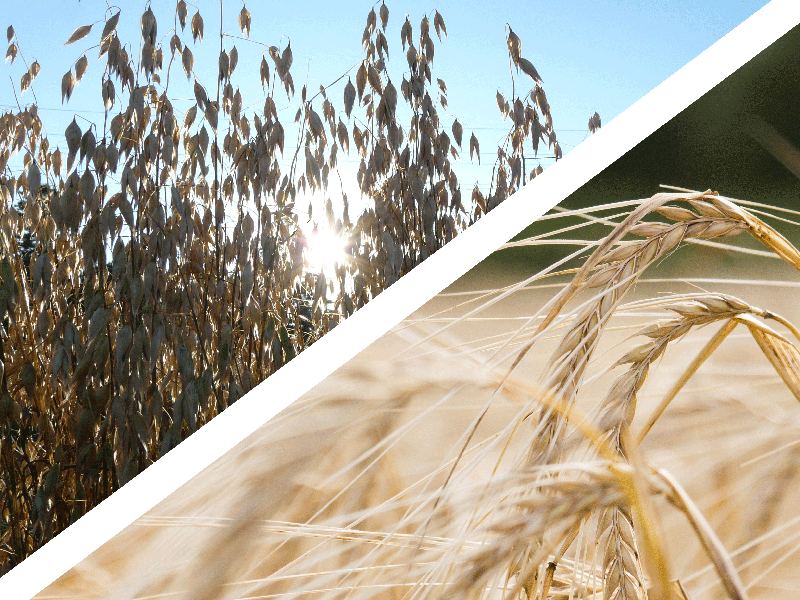 "We are proud to see our organization grow with the inclusion of these two important grain crops," says Mark Brock, chair of Grain Farmers of Ontario. "We look forward to supporting the province's barley and oat farmers, just as we do our current membership, through research, market development, advocacy, and public and member relations."
THE ROAD TO REPRESENTATION
In 2010, the Oat and Barley Council of Ontario, which had been operating for nearly a decade, was shut down because they did not have the voluntary budget to sustain their activities. That left producers without a formal body to leverage funding for market development and research activities that would help to improve the quality and profitability of their crops.
In November 2013, representatives of the former Council wrote to the Farm Products Marketing Commission with a formal request for barley and oats to be represented by Grain Farmers of Ontario. The letter stated, "These commodities need a voice in order to provide representation for research funding, as well as representation within the commodity groups that are being formed at the national level."
A month later, a meeting was held to develop an agreement in principal. This was then presented to Grain Farmers of Ontario's Board of Directors in January for approval.
"The Board passed a motion that we would accept barley and oat producers into our organization," says Ryan Brown, vice president of operations for Grain Farmers of Ontario, who was involved in the regulatory process. "However, the motion clearly indicated that it had to be the desire of those producers to join us."
"This representation initiative was for the grower," says Craig Martin, chair of the Oat and Barley Representation Committee. "The Commission process did what it was supposed to do. It reached out to those growing the crops to get insight from them if it was the right thing to do. Nearly a year was spent on an awareness campaign which included getting farmers registered to vote."
The entire process was supported by industry and government partners. A Growing Forward 2 application was submitted and approved under the funds directed toward capacity building for organizations*. This funding helped to support the awareness campaign.
The vote, held in November 2014, returned what Martin calls "a confident yes". Seventy- seven per cent of all those who voted were in favour of representation by Grain Farmers of Ontario. According to the Commission, the vote was even stronger (at just over 80%) among those who not only produced but also marketed their barley and oats (those who will pay the check-off fees at the point of sale). 
"My hope is that we can now ride the synergies that exist within market development and research," says Martin. "For example, existing research on field crops could apply to barley and oats, such as field trial studies. Staff members at Grain Farmers of Ontario aren't going to have to reinvent the wheel; they already have the expertise."  
NEW INITIATIVES
Grain Farmers of Ontario's market development, research, and communications staff already have preliminary plans to include barley and oats in their projects during the upcoming year.
Among the first steps within market development will be to develop a profile of the current barley and oat markets, identify opportunities for targeted growth, and make barley and oat projects eligible for funding through Grain Farmers of Ontario's Grains Innovation Fund.
"The opportunity is there to provide higher value for these crops by increasing their viability and profitability. New markets, particularly high- value food markets, need to be investigated," says Barry Senft, CEO of Grain Farmers of Ontario, while adding the feed market also has the potential for expansion through exports and domestic use. "If there is processor demand that we can meet, we also need to ensure that we are providing the quality they need."
Research projects will help increase crop quality and improve agronomic practices to combat pest and disease issues. Staff will spend time working with producers to identify core research priorities in different growing regions and explore the option of a targeted call for proposals to kick-start barley and oat research projects funded by Grain Farmers of Ontario. Barley and oats will also now be formally represented on the $10.3 million public breeding program led by the Canadian Field Crop Research Alliance.
"Barley and oats have been missing out on several funding opportunities for research that we can now utilize and leverage," says Senft. "There is the capacity to do some additional research in Ontario, but we may need to look at expanding that capacity in the future, similar to how we expanded wheat research capacity in Ontario."
The communications team will integrate barley and oats into fair and event trailers, corporate displays, and printed materials. The benefits and uses of barley and oats will be highlighted along with corn, soybeans, and wheat through the Good in Every Grain campaign.
"Most consumers are already familiar with oats as a food staple and this provides a good bridge to talk about other grains consumers don't directly consider play a role in their everyday lives. It will be a good opportunity to get conversations going," says Senft.
Farmers can also expect to see production, research, and market information relating to barley and oats in the Bottom Line weekly e-newsletter and the Ontario Grain Farmer magazine.
"Although, barley and oats are currently smaller crops, farmers looking to diversify their operations may see a benefit in growing them once they become more aware of the opportunities that exist for these crops," says Senft, who grows both crops on his family farm in Saskatchewan.
PRODUCER FEES
When selling barley, oats, or a mix of barley and oats to a dealer, farmers will be charged a check-off fee to Grain Farmers of Ontario. Barley and oats used on-farm or sold farm-to-farm are exempt.
The fees1 per mT are:
•    Barley $1.30
•    Oats $1.65
•    Barley Oat Mix $1.65
1    note: barley and oats are not included under the Grain Financial Protection Program.
"One of the governing concepts of including barley and oats into the organization is these crops are not going to be treated separately," says Brown. "We wanted to be consistent with how we set the check-off fees for corn, soybeans, and wheat, so we used the same formula to establish the fees for this first year."
The formula is based on a per acre basis with a fee per metric tonne derived from the five-year yield average and the seeded acres for the current year. Statistics Canada values are used for the yield and acre data. Check-off fees for all crops will continue to be reviewed every year in April and May with any changes effective on July 1. 
According to Statistics Canada, 280,000 acres of barley and oats were seeded in Ontario in 2015 and, on average, yearly farm receipts for the crops average more than $80 million.
"Despite the fact we are smaller acre crops, there was an element of enthusiasm from Grain Farmers of Ontario during this process that was nice to see," says Martin. "As a person working with barley and oats for a number of years, trying to keep representation up with different organizations, it feels nice to have finally landed with an organization where it feels like the right fit where we can be for the long-term."
"As an organization run by farmers for farmers, we hope to see new members getting actively involved and seeing first-hand the value we provide for them," says Brock.
* This project was funded in part through Growing Forward 2, a federal-provincial-territorial initiative. The Agricultural Adaptation Council assists in the delivery of Growing Forward 2 in Ontario. •