Using flowering plants for cover crops
BENEFITS AND PROBLEMS TO CONSIDER
THE LATEST TREND for cover crops is to use flowering plant mixes, a benefit for both the farmer and pollinators. Seed companies both here and in the U.S. are promoting ready- made "bee friendly" mixes to capitalize on this trend.
PHOTO: COVER CROP MIX ON JULY 9. BUCKWHEAT IS DOMINATING THE MIX OFFERING LOTS OF FLOWERS.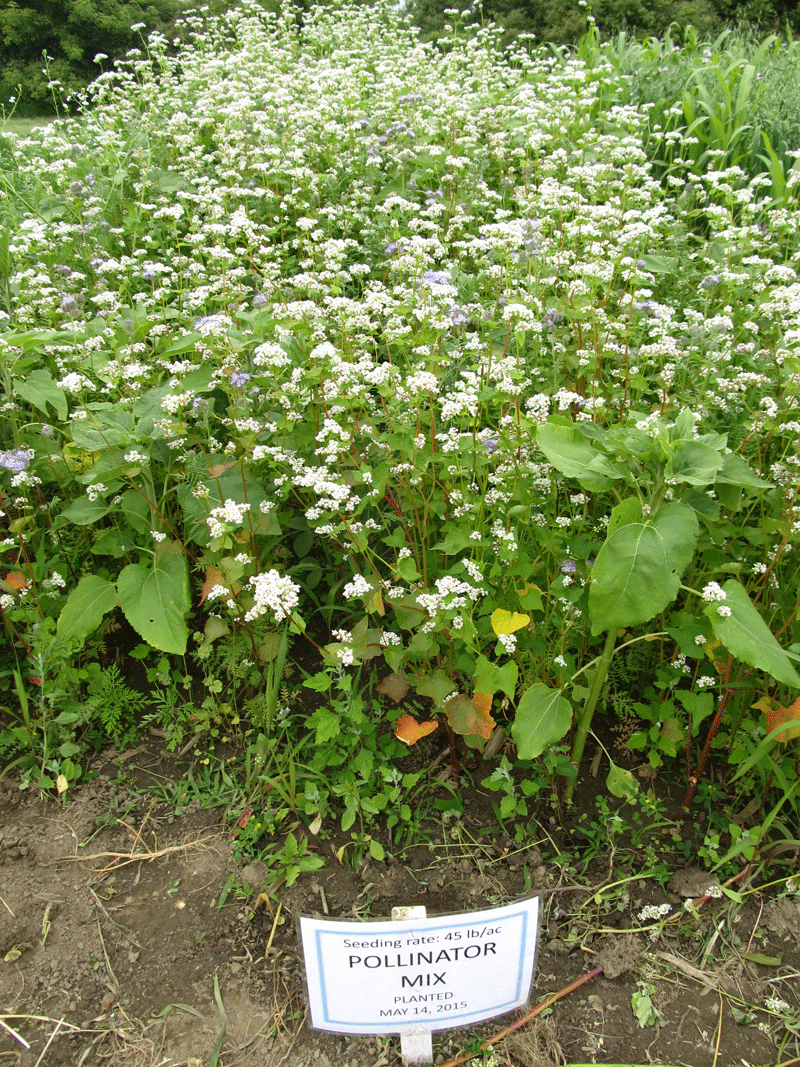 Anne Verhallen, soil management specialist with the Ontario Ministry of Agriculture, Food and Rural Affairs (OMAFRA), encourages farmers to use flowering plants in their cover crops, either as solid seeds or in mixes. However, she cautions that, as with any cover crop, making the right choice takes careful consideration.
"Part of what gets me going, for example, is that I come across pre-made mixes that had some barley or oats in them — probably as filler and to make the seeds flow through the drill, but barley really does not support pollinators," she says.
Overall, though, Verhallen suggests finding a mix that isn't a 'one-shot deal'.
"What I'd like to see in most of these pollinator mixes is a variety of different species that flower at different times, so you'd always have something flowering in that field," she says.
Verhallen also suggests capitalizing on the opportunity to plant flowering mixes late in the season. For example, the July to August window after wheat is harvested is a great opportunity to plant cover crops that include some flowering species so that you have something flowering in the landscape before the frost sets in.
POTENTIAL PROBLEMS
Before considering this option, farmers need to make sure they do their research and consider the long-term implications of the plants they choose.
"One of the mistakes that I've seen in the past is where they've put buckwheat into a mix. It's a lovely cover crop — but in a mix, unless you have a high tolerance for having buckwheat coming back, it probably is not a good choice. Buckwheat flowers and starts setting seed within about six weeks," says Verhallen.
Mustard is just as attractive to bees but it is not as problematic to control in following crops.
Phacelia is another cover crop option that can grow aggressively, flowers very easily, and is attractive to bees. However, it is also a plant that behaves differently in cover crop mixes. To capitalize on the benefits of phacelia, the best planting option is to grow it as a solid seeded cover crop.
"When you start putting in a mix where phacelia's going to compete with other kinds of plants that have different architecture, it doesn't do as well. It'll find the little open spots but it's not aggressive enough to really shine the way it does in a solid seed," says Verhallen.
PHOTO: COVER CROP MIX ON JULY 27. THIS IMAGE SHOWS THE PROGRESSION OF DIFFERENT PLANTS; NOW SUNFLOWERS, PHACELIA, FABA BEANS, AND CLOVERS ARE FLOWERING, BUCKWHEAT IS MOSTLY FINISHED.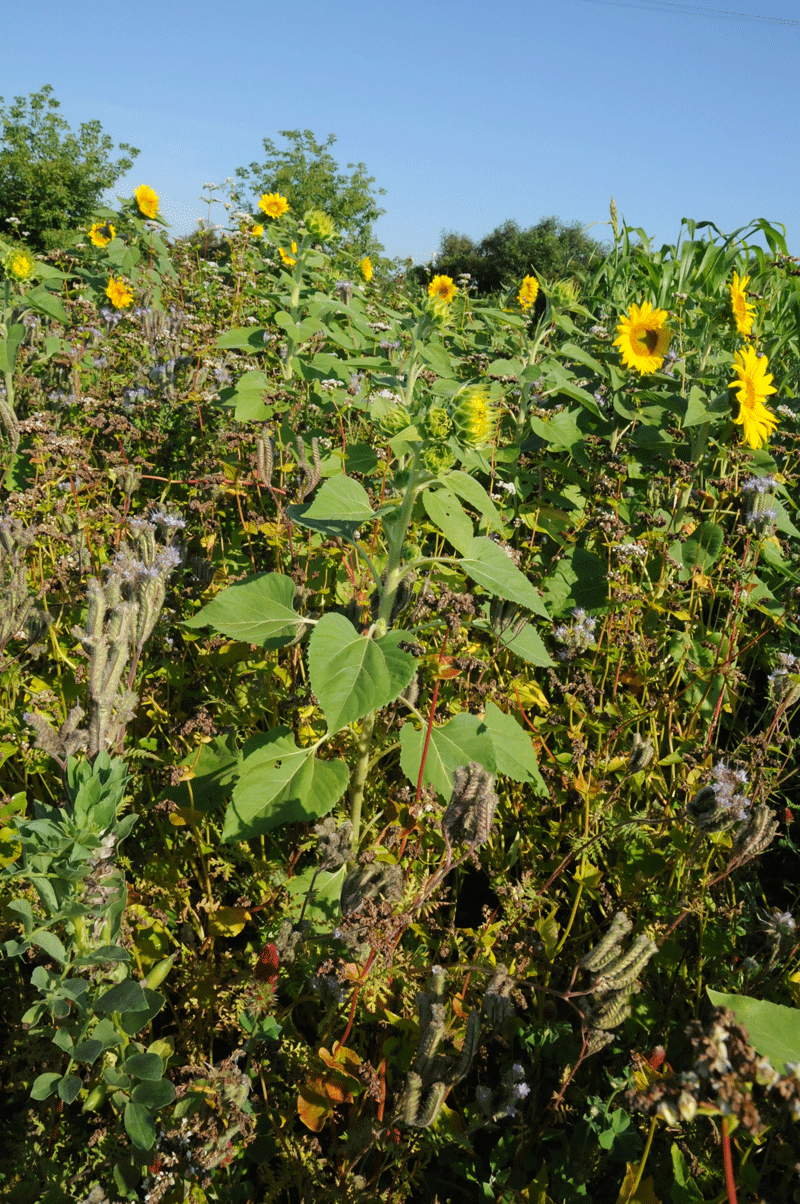 Another thing to consider when planting mixes is that cover crops are meant to cover the ground. Verhallen says she sees a lot of farmers planting things like radishes for large root systems and then plowing it six weeks later. "It kind of negates what they are trying to do — the radish creates biopores with their roots and the tillage cuts off those biopores," she says.
Verhallen also points out that farmers are now seeing sunflowers in their mixes, which can attract unwanted attention. One farmer near Toronto is putting up a sign beside his cover crop field to educate people about what it is and the benefits the plants provide. It's an excellent opportunity to caution people driving by who may want to stop for a photo that it's important not to interfere with what is growing in the field. Sometimes cover crop mixes aren't attractive, so it is important for the general public to know that there is a reason for the mix of plants.
AGRONOMIC BENEFITS
Cover crops, whether they are flowering or non-flowering, are beneficial to help prevent soil erosion, improve overall soil health, or restore nutrients such as nitrogen and phosphorus in the soil. They also help the soil retain these nutrients over the winter months.
PHOTO: LATE FALL PICTURE OF A SIMPLE COVER CROP MIXTURE – DOING ITS JOB COVERING SOIL AND PREVENTING EROSION. MUCH OF THE MIX WILL DIE FROM WINTER FREEZING.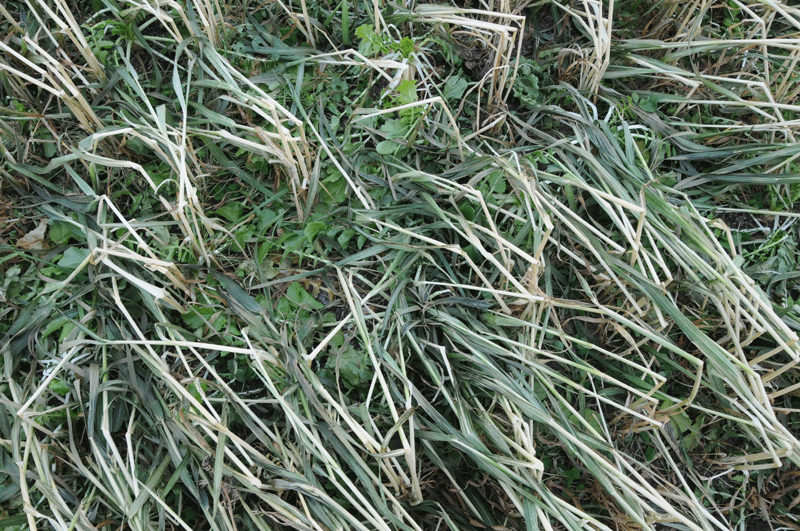 In choosing any cover crop, the first thing to consider is your goals. "It all depends on your management system, but why are you wanting to use a cover crop? What are you trying to get out of it?" asks Verhallen.
Next, she would ask farmers what they are expecting out of it and where the crop fits into their rotation? The same questions apply to flowering cover crops. It could be in the spring or late fall, but farmers need to find what works best for their own farm.
"Also, what are you willing to spend." asks Verhallen. "Because that will be a determining factor too. For most of the cover crops, it's a long- term investment and part of a rotation system so you won't see the payback immediately."
Farmers are seeing the benefits, though, and Verhallen is seeing lots of progress. "There are some guys out there doing such a great job with their cover crops, it's just amazing and you can see the impact on their soils," she says.
Across Ontario, there is growing interest in trying new and different cover crops. Farmers are cautioned though to have a good understanding of each cover crop, how it will grow and how it will behave is important to know when trying these new crops.
Farmers are showing interest in trying new and different things, which is very positive news. As with any new thing, though, it is important to make sure you've got a good comfort level with each cover crop, how it's going to grow, and how it will behave differently. •