Field and site specific crop advisories
AN INTEGRATED KNOWLEDGE PLATFORM
REAMS OF SCIENTIFIC research are readily available on crop physiology, management, pest biology, agronomy, and soil fertility, but very little of that information has been translated into addressing specific concerns within Ontario farmers' own fields.
TABLE 1. EXAMPLES OF PREDICTED EMERGENCE DATES FOR THREE CORN PESTS, NEAR BOTHWELL ONTARIO, IN 2015.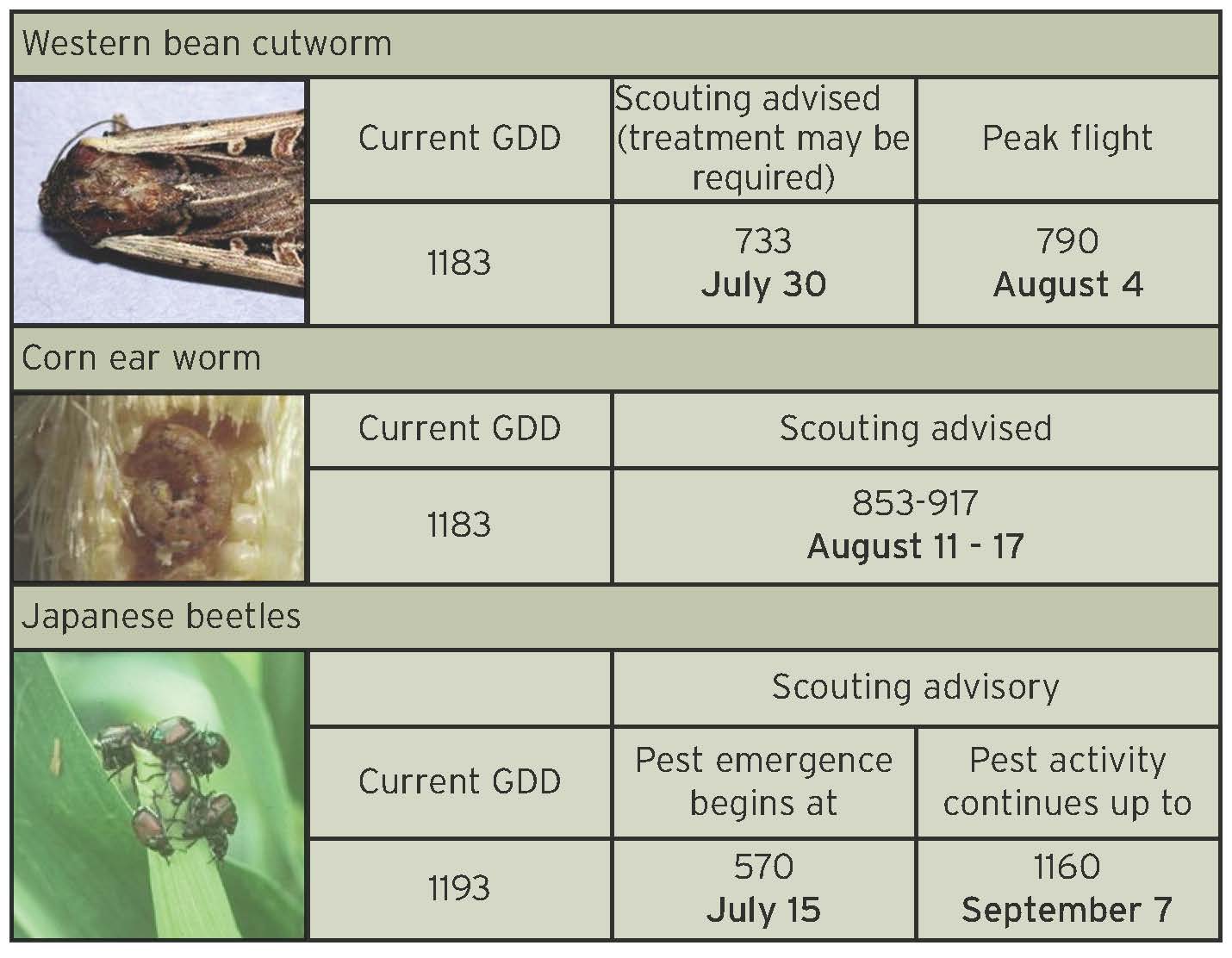 Weather INnovations Consulting LP (WIN) translates regional, local, and field-specific environmental information to respond to a grower's own field crop concerns. WIN has developed a spectrum of crop management alerts and advisories for Ontario growers and publishes ongoing advisories on a free integrated platform www.weathercentral.ca.
Growers can sign up on the website and register any number of fields through its integrated GoogleMap© software. This allows growers to receive field/site-specific management alerts and advisories.
DISEASE ADVISORIES
Site-specific WHEATcast™ and DONcast® advisories are available to wheat producers for foliar diseases and Fusarium head blight (FHB) alerts. Wheatcast™ provides a direct advisory as to when wheat growers should scout their fields for foliar diseases, such as Septoria leaf spot and powdery mildew. Foliar diseases on winter wheat usually appear after mid-May in Ontario. As an example, in spring of 2012, the temperature suddenly increased by 20° C during the third week of March and warm temperatures continued through the end of the month. Septoria leaf spot was observed in wheat seedlings during that period. WHEATcast™ accurately predicted the high risk of disease during that time.
DONcast® can assist in fungicide spray decisions at the wheat heading stage to manage FHB and to reduce deoxynivalenol (DON). Using actual, forecasted, and historical weather data along with field-specific agronomic data, the model predicts DON levels in wheat at harvest. FHB and DON contamination in small grains is of great concern to wheat producers and 2015 was one of our worst years. WIN works closely with the University of Guelph Ridgetown Campus to constantly improve and fine tune the DONcast® advisory.
INSECT PEST ADVISORIES
A number of insects are of economic concern for field crop producers in Ontario. Using knowledge of insect life cycles and site-specific weather, scouting advisories have been developed and launched for eight important insect pests for corn and soybeans in Ontario. Scouting advisories involve western bean cutworm, European corn borer, corn earworm, corn rootworm, Japanese beetle, bean leaf beetle, potato leafhopper, and seed corn maggot. Using current weather models, forecasts, and a 30-year normal baseline, these models predict pest emergence dates (Table 1). Growers can use these tools to identify critical pest-risk periods and guide their field-monitoring to observe pest damage and take appropriate actions.
AGRONOMIC ANALYSIS AND FIELD ADVISORIES
Growth stage calculators and dry-down prediction tools are available for corn growers. Based on the planting date and hybrid crop heat unit (CHU) rating, growers can see an estimated schedule of all stages across the season, through to maturity. This tool incorporates real-time weather data which allows specific growth stages to be adjusted to that season's unique conditions.
The growth stage calculator helps growers prioritize which fields need attention first. It also helps schedule field operations such as crop protection spray applications to manage weeds, diseases, and pests. The corn dry-down calculator estimates the desired percentage of moisture loss from maturity in grain corn that can be used to plan harvest dates. Another corn tool will be available for the 2016 growing season. Growers will only be required to add a few agronomic inputs to receive predicted individual corn field yields.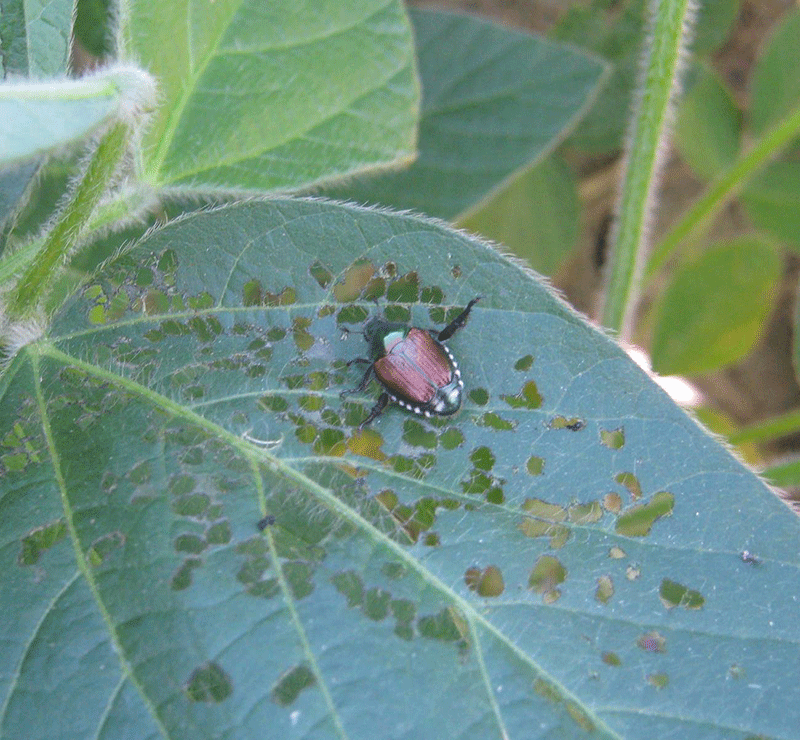 The soybean growth stage calculator was added in 2015. Soybean growth is influenced by two factors: temperature during vegetative growth, and temperature and night length influences on reproductive stages. The soybean growth stage model considers both parameters.
WIN will launch the winter wheat growth stage calculator in 2016. This tool will assist in more accurately predicting the wheat heading date, as required by DONcast®.
Cover crop planting advisor maps are now available on WeatherCentral.ca for Ontario. Cover crops included are buckwheat, mustard or radish, winter rye, and hairy vetch. The maps show appropriate planting windows across Ontario. This project is supported by Grain Farmers of Ontario and WIN is collaborating with Laura Van Eerd from University of Guelph Ridgetown Campus.
BINcast®, launched in 2014, is designed to help producers with aeration management and grain conditioning for grains in on-farm storage bins. This is a tool growers can use to maximize storage quality and increase market value. The model uses site-specific weather data to predict any grain's equilibrium moisture content and advises the exact hours when best to run storage bin fans.
SPRAYcast® is available to all WeatherCentral.ca visitors with no registration required. The model provides a three-day forecast identifying appropriate spray timing to minimize off-target pesticide movement.
CONCLUSIONS
WIN's ongoing purpose is to advance and improve crop management advisories and the company continues to collaborate with universities and Agriculture and Agri-Food Canada (AAFC) researchers, crop specialists from the Ontario Ministry of Agriculture, Food and Rural Affairs (OMAFRA), and agriculture industry partners to improve existing advisories and create new advisories.
WIN's funding agencies include AAFC, OMAFRA, Agriculture Research Institute of Ontario, and Grain Farmers of Ontario. WIN also receives support from PRIDE Seeds, Bayer CropScience, and South West Ag Partners for their crop advisories on www.weathercentral.ca.
With files from Karla Jackson and Ian Nichols.
About the author: Dr. Rishi Burlakoti is the research lead and plant pathologist for Weather INnovations Consulting LP based in Chatham, Ontario. He is also an adjunct professor in the Department of Plant Agriculture at the University of Guelph. •