Protecting your investments
SECURITY AND MONITORING TECHNOLOGY FOR THE FARM
THE FARM IS not the place it used to be, even ten years ago, notes GHC Safety and Security president Jamie Couper. "Unfortunately, security has become an important aspect of farm businesses today," he says. "I think the public's perception of agriculture has not kept up with the reality. People think that farmers are rich. They see all the equipment and they don't understand the debt levels involved. People don't think a theft will impact the farm very much. So farmers who used to leave their shops open are seeing items go missing, or large pieces of equipment being vandalized, which never happened years ago."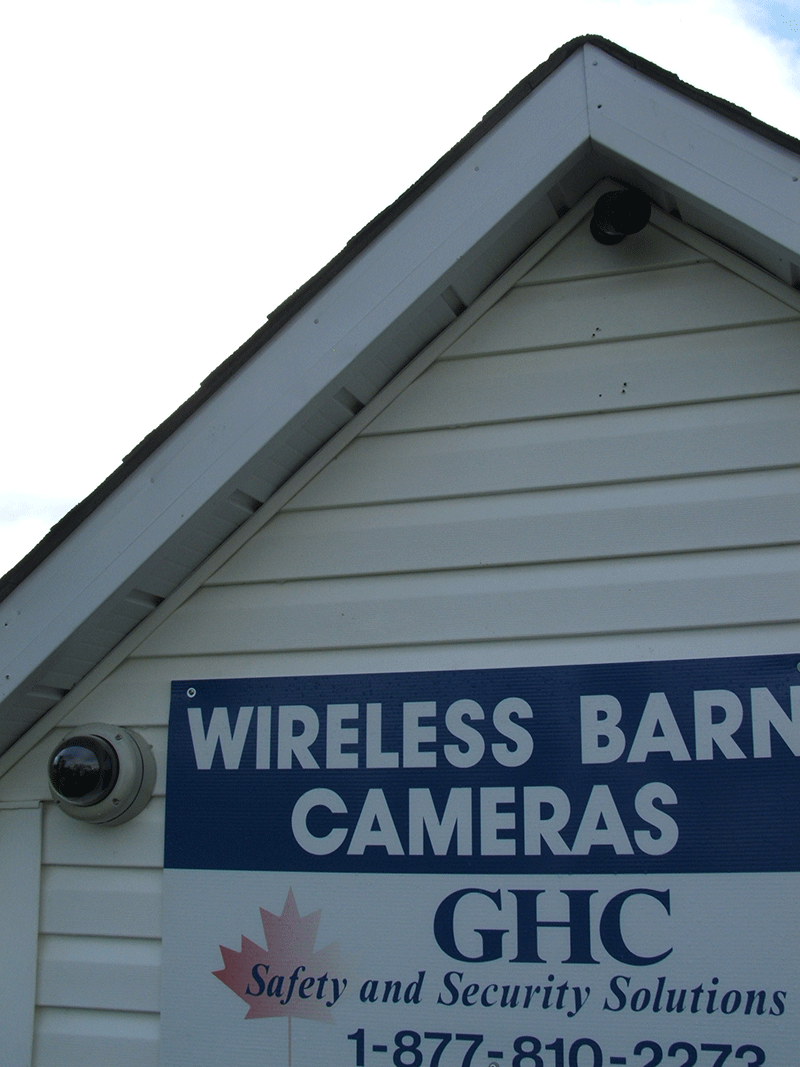 Another reality that Couper says Ontario farmers are facing these days is the nature of hired help.
"The availability of qualified employees is getting smaller and smaller," he notes, "and it's a tough question, but are the people you hire doing what they're paid to do?"
Couper notes that just one employee regularly filling up with gas from the farm tank without permission has an effect on the bottom line. "There can be two or more sides to a story, but if there is a video record of what's occurring, video is the facts," he says, adding that "many of our clients have avoided serious WSIB claims or Ministry of Labour claims because you can see on the video that the employees weren't practicing the safety procedures."
DIFFERENT NEEDS
GHC has over 14 employees and has been around for almost 20 years. The company provides services all over eastern and southern Ontario, and rural security has been a focus from the start. Couper farms some beef cattle and has grown cash crops in the past, so he understands the needs of farmers well. There is no typical scenario, however, every farm is different.
"It depends on the segment of agriculture," Couper observes. "With livestock, there is more of a problem with intruders causing potential biosecurity issues. With cash croppers, they need to protect fuel, chemicals, and seed from theft, as well as vehicles and farm equipment."
At a number of grain storage facilities, GHC provides an ongoing video record of what's coming in and out and monitors weigh scales. Sometimes the crop being brought to the elevator by the trucker is not what it is supposed to be, Couper notes. "Some of it's not on purpose, it's a paperwork error," he says, "but sometimes there is foul play."
Monitoring on the farm goes beyond the security of assets to the management of the entire farm business. The system chosen can offer a multitude of uses that pays for itself many times over and makes things more efficient.
Couper points out, for example, that if you can check your grain dryer remotely from where you are combining, or have the system send you automatic alerts, you can do several things at once and save on labour costs.
Nowadays, a farmer can access many camera feeds on a smart phone, and 'zoom in' live or after the fact.
"It's our job to find solutions for whatever problems the farmer has," says Couper. "That can be fire alarms, automated farm gates, flood monitoring, the use of motion and temperature sensors, and more." 
THE PROCESS
When a company like GHC is called by a farmer, they are generally starting at zero.
"They've never dealt with security before," Couper says, "but they are ready to learn."
Couper remembers the first two years GHC had a booth at Canada's Outdoor Farm Show in Woodstock. Back then, there was an attitude from passersby of 'I don't need security, I leave the keys in my truck'; however, he says these days the booth is packed.
"Those folks who don't see a need for it are still out there," he notes, "but they turn into people who see the value in spending on systems for securing their assets and making their operation more efficient when an incident occurs, or when they realize that not having a system is putting them at serious risk of reduced profits."
The first step forward is a site assessment and asking the farmer about his or her concerns. A discussion of solutions follows, during which Couper usually explains what works for similar operations. Video surveillance is usually part of the overall plan for farm buildings, combines left out in the field overnight, and other locations away from the main farm property. With the sensors and automatic alerts, incidents can be responded to right away.
Couper says it's very rare that clients don't add more cameras later — a lot more. "We have had numerous customers start on a small scale and then greatly expand the number of cameras they have after realizing problem areas," he says. "And the quality of image is so much better than it was years ago."
GHC uses cameras made by Vancouver-based Avigilon, one of the fastest-growing tech companies in the world. "The high definition video technology picks up things that the human eye can't at night and in all weather," Couper explains. "Today, we can deliver those high-quality images like you see in crime TV shows, where you can zoom in after the fact and get evidence images like never before."
The Avigilon cameras' analytic software distinguishes between different objects and actions to prevent false alarms relating to weather, animal movement, and so on. "We have seen dramatic results many times," says Couper, "with arrests occurring onsite while the crime is being committed." •