SeCan's catalyst for science
RETIRED SENIOR PRINCIPAL WHEAT BREEDER IN NEW ROLE
CANADIAN WHEAT HAS benefited from Dr. Ron DePauw's dedication for 41 years and although he retired as an Agriculture and Agri-Food Canada breeder this spring, his dedication will continue as he takes on a new role with SeCan.
PHOTO: DR. RON DEPAUW.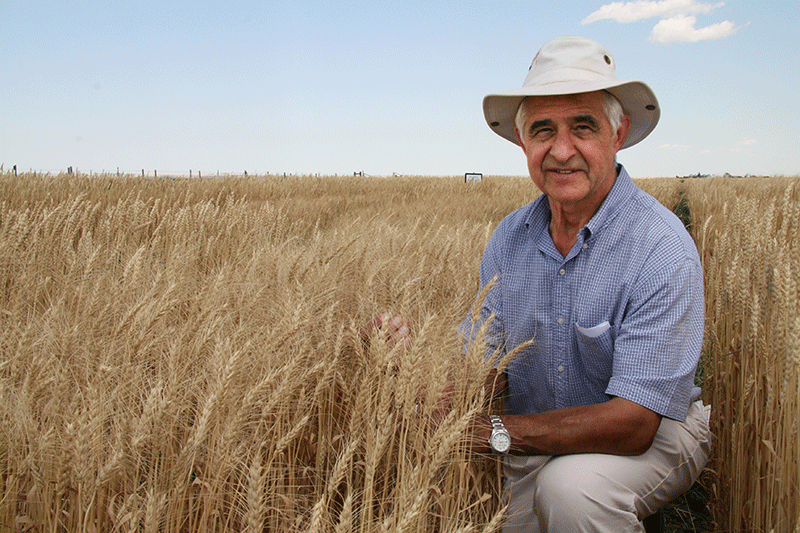 This May, SeCan announced it was creating an entirely new position and that this Saskatchewan based, Order of Canada recipient, would be the perfect man to pioneer the new role of Science Advisor. Considering about 50% of all the wheat grown in Canada derives from cultivars DePauw helped to create, it's safe to say he knows a lot about successfully fulfilling farmers' needs.
DePauw actively participated in the registration of more than 50 cultivars of wheat and durum throughout his career, including widely grown AC Barrie and Lillian. It's been estimated that DePauw's team developed cultivars that gained about 25 per cent of all royalties for the Canadian government.
SeCan's general manager, Jeff Reid, dubbed him the billion dollar man last year when he won the 2014 Canadian Plant Breeding and Genetics award.
"That's the incremental value of grain produced from wheat cultivars developed by Ron DePauw," Reid explained at the time.
VARIETY DEVELOPMENT
But Reid says DePauw's new role is significantly different now as SeCan's not looking to start initiating new breeding programs. Reid goes on to explain that SeCan has always been focused on distribution but is evolving to help facilitate variety development now.
"We don't actually breed products ourselves," he says, "Our role is to help facilitate activities being done by public and private sector partners."
Since the federal government started to pull back on finishing varieties in 2012 and focus more on up-stream genetic enhancement instead, there is a greater need to maximize the public resources that remain. They are also finding there is gradually increasing interest in more private sector involvement with the adoption of UPOV '91.
"A lot of private players are looking for assistance in registering, testing, commercializing, and managing their intellectual property and that's really what SeCan does," Reid says. "Of course Ron, with his vast expertise in breeding and variety registration, is just the person to help facilitate those products moving into Canada."
DePauw believes ramping up private sector involvement is becoming increasingly critical in Canada. Taxpayers can no longer be counted on to cover the ongoing investment needed in the Canadian wheat industry so there needs to be other ways of maintaining, if not increasing, breeding investments.
"At the breeding level, we're spending less than $11 million a year where a competitor like Australia can be spending something like $60 million," DePauw estimates. He says partnerships of any kind are going to be extremely important but stronger national programs are a real opportunity worth pursuing right now.
MEETING A NEED
Wet weather conditions have prevailed in recent years in the west, so farmers are now typically asking for more fusarium resistance and shorter, stronger straw. As Ontario farmers also look for wheat varieties with these improved qualities, the opportunity for collaborations between eastern and western wheat programs grows. Private and public breeders are quite willing, even anxious, to form partnerships that will help them meet these demands because there simply is not the kind of profitability in cereals as there is in hybrid crops or crops with patented traits. But DePauw is quick to point out that this does not mean wheat is lagging behind biotech crops in becoming more profitable.
"There's been some research done summarizing actual farmer production results in western Canada that has indicated the rate of gain at the farm level in wheat has been as great as it has been in biotech crops like canola," he says. "There gets to be this impression that wheat breeding methods have to be modernized in order to capture the benefits that are possible, but that's a misconception."
DePauw says modern breeding tools have been readily adopted in Canada and have contributed to the release of numerous commercial varieties that are already well used by farmers. He has the knowledge to share among breeders on how best to take advantage of these techniques and he's enjoying this new opportunity to also reach out to regulators, funding agencies, and seed producers. Reid says DePauw is so well known and highly respected, he can often walk in anywhere and offer a few well received pointers.
"He just has that knack for looking at varieties in the field and identifying what would work in terms of crossing for something that's really commercially viable for farmers," Reid says. He can see that DePauw is very quickly being adopted as a mentor by breeders right across the country. •