LATEST TECH ADDS INFRARED AND SOIL MAPPING ELEMENT
DRONES ARE THE latest hot-ticket high tech item, with the U.S Federal Aviation Authority (FAA) estimating more than a million Unmanned Aerial Vehicles (UAVs) given as Christmas gifts last year. There's no denying their popularity, but does that also translate into usefulness on the farm?
PHOTO: ALTHOUGH THE UAV INDUSTRY IS CHANGING RAPIDLY, ONE AREA WHERE ADVANCES AREN'T AS QUICK IS SOIL MAPPING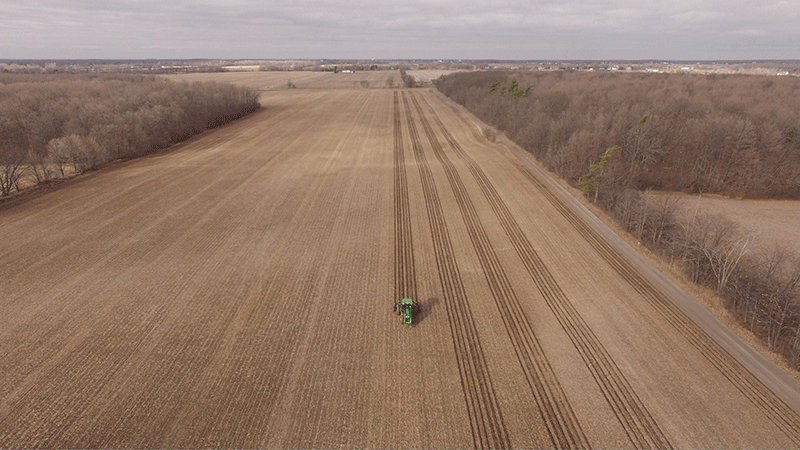 Three Ontario agronomists who work with drone technology believe so, stating that agriculture is only at the very beginning of exploring the possible uses and benefits of UAVs in crop production.
Gathering information about a field from the air can result in anything from spotting disease or pest problems or gauging the success of a fertilizer application to identifying crop vigour and helping to develop yield maps for nitrogen application.
FROM SIMPLE TO COMPLEX
UAV systems range in cost and complexity from simple, $500 systems that will take a few images for viewing on a smartphone, to sophisticated machines equipped with infrared sensors capable of generating data for Normalized Difference Vegetation Index (NDVI) maps — systems that will cost $50,000 or more.
And although it can't replace boots-on-the-ground agronomy, a UAV can make that job easier to do.
"Even at the high end, you still have to know what you're looking at. It will show you where you have to go to practice good agronomy, so you still need boots and brains in the field," says Dale Cowan, senior agronomist with AGRIS Co-operative Ltd.
Tony Balkwill of NithField Advanced Agronomy, has worked with drone technology for three years, and echoes Cowan's sentiments. He's a fan of the UAVs' efficiency in helping quickly pinpoint problem areas, often earlier than is possible by walking or driving a field.
"It's efficient to fly a few hundred acres, and it can tell me what to check out in the field," he says. "When you're looking for 10 acres in a thousand, this gets us in the right spot."
Simple aerial images or short videos that offer a quick snapshot of field variability can be taken by small quadcopter units that are controlled with an iPad or a smartphone. Range is important — the most inexpensive units may only have approximately 200 metres of Wi-Fi connectivity with the controller, limiting in-field use.
A system priced in the $3,000 to $5,000 range can roam up to two kilometres, making it suitable to scout a 200 to 300 acre farm, for example.
This is where 80 per cent of UAV activity will be, believes Cowan, with growers reviewing images and videos directly on their devices or on their regular home computers to look at what might be going on with their crop, or even to check on how accurately fertilizer or crop protection products were applied.
No special software is needed for this level of drone technology, says Jordan Wallace of GPS Ontario, adding it is currently how many growers are getting their feet wet with UAVs.
"You can get started in the $2,000 range and have something that will give you a decent resolution on a low acreage level, such as flying 100 acres or less per season," says Wallace. "If you want to scout 4,000 acres every two weeks, however, you will be spending $25,000 to $50,000 or you'll be looking at hiring it out."
ADVANCED TECHNOLOGY FOR CROP SENSING
These more advanced UAV systems use automated flight planning to create a grid that allows the drone to fly in a precise pattern. Photos are taken at specific intervals during flight and are then stitched together into high resolution, orthomosaic images.
This step can be outsourced to cloud-based services but growers with a keen interest, good high speed internet access with an unlimited data package, and plenty of available time can also undertake this work themselves.
"This level of technology requires more skill and more processing time where flying for an hour means three hours of processing," says Cowan.
Thermal imaging and infrared technology further expand UAV potential by letting users get a read on crop health through the NDVI maps that are created.
"We're heading into our fourth season with drones. We fly with an infrared sensor and use NDVI to look at crop vigour and growth. When we look at yield potential for final nitrogen application, that's where some value starts to come in for farmers," Cowan says. "How much more money can a nitrogen map make you? We're all on the cusp of trying to figure this out."
All three agronomists strongly advise potential drone users to familiarize themselves with Transport Canada's existing regulations concerning UAVs. Special permits are required for uses other than pure recreation, and drones aren't allowed to fly within nine kilometres of an airport or higher than 90 metres.
Transport Canada recently announced its intent to publish new drone regulations within the next 12 to 18 months. More information is available at www.tc.gc.ca.
STUDYING SOIL BASICS
Although the UAV industry is changing rapidly, one area where advances aren't as quick is soil mapping. In order to use drone data to its ultimate potential, growers need access to detailed and accurate soil maps, says Balkwill.
Passionate about soil, the 2016 Nuffield scholar is travelling to countries like Australia and Ireland to learn what kind of systems are in place there to improve the accuracy of soil maps.
"We need soil type changes documented down to hundreds of metres so we can look at a stress area identified by a drone and show it next to a soil type map and immediately know what is going on," he explains. "When we see field variability with the drones, what we're seeing is soil type variability and it's the only thing we have that isn't changing."
Balkwill, whose Nuffield studies are supported by Grain Farmers of Ontario, will be sharing his learnings in upcoming articles and presentations as his research progresses. •