Interseeding cover crops in corn
PRESERVING CORN YIELD WHILE IMPROVING SOIL
ADDING NUTRIENTS, PREVENTING erosion, and increasing microbial activity are just some of the goals when adding cover crops to a rotation. Interseeding cover crops in corn is gaining popularity in Ontario, but many farmers are concerned they'll sacrifice yield with the practice.
PHOTO: A MODIFIED NO-TILL DRILL INTER-SEEDS A COVER CROP INTO CORN. THE DRILL ALLOWS FOR GOOD DEPTH CONTROL AND SEED PLACEMENT, WHILE BEING ACCESSIBLE FOR MOST FARMERS.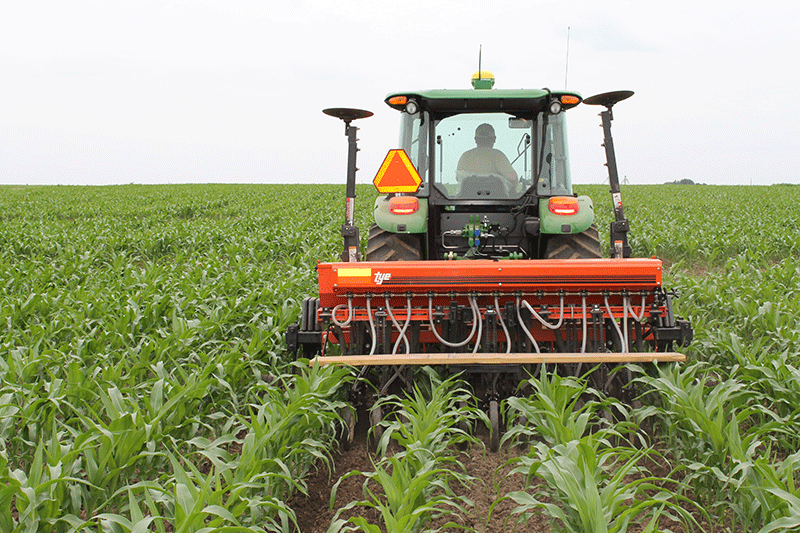 Ed Hanson, a Sunderland-area farmer and fertilizer sales rep for CanGrow, started experimenting with interseeding several years ago after first seeing the practice at work while travelling in the United States. In the last six years, Hanson says interest in interseeding has grown, with about 19,000 acres across Ontario and western Quebec going in in 2015.
"I saw this as a way to help customers who were continuously cropping corn," says Hanson. "Interseeding is like adding a crop rotation in the same year."
Hanson originally started planting his cover crops at the end of June but has since moved seeding up to the V4 stage, usually in the beginning of June. This allows for germination to occur with good access to sunlight but is nearing the end of the corn's necessary weed-free period.
Done primarily in no-till or minimum tillage fields while side-dressing fertilizer, annual ryegrass or single-cut clover is broadcast onto the soil. Hanson seeds at approximately eight pounds per acre for annual rye grass, four pounds per acre of single cut clover, and one pound per acre for turnip.
GRAIN VS. SILAGE CORN
Trials have been conducted with both grain and silage corn. Silage has shown a much higher success rate due to earlier harvest. This allows for more access to sunlight and fertilizer application post-harvest.
Results show the effects on yield have been neutral, and that there is an improvement in organic matter in the soil.
An added benefit to interseeding, Hanson says, is the ability to feed cattle on the stover and remaining forage. A late fall in 2015 meant on one farm, 40 cows were able to continue grazing on 100 acres of corn stalks and the underlying cover crop, even digging through the snow, well into the winter.
Looking towards the 2016 growing season, Hanson and his team of farmers will continue using annual ryegrass and single-cut clover but are also experimenting with red-topped turnips. Turnips were chosen because they do well in dry, shaded areas, Hanson says.
EQUIPMENT CHOICES
A team of researchers from the University of Wisconsin-Madison saw a need for Wisconsin based-research as that state's farmers were showing interest in this management practice as well.
South-West Wisconsin outreach specialist for nutrient and pest management for the University of Wisconsin-Madison, Daniel H. Smith began working on this project in 2014 as a graduate student with Drs. Matt Ruark and Francisco Arriaga from the Department of Soil Science and Dr. Mark Rentz from the Department of Agronomy.
While there has been equipment designed to do this interseeding, the researchers opted to modify a no-till grain drill.
"The drill allowed us to control the depth and ensured good seed placement," says Smith. "It's equipment that farmers have easy access to."
The modifications included removing four of the 10 row-units so three rows of cover crop could be planted between each row of corn. They also had to remove the no-till disks to prevent damage to the existing corn crop.
Working in plots of 10-feet by 50-feet, the researchers interseeded winter rye, red clover, an oat/pea mix, and radishes into 30-inch rows of grain corn at the V5 stage.
All cover crops successfully established within four weeks. After the grain was harvested, the researchers harvested the biomass. Although there was variability in the amount, in both years, the radishes had significantly more biomass than the other crops.
All crops were buried under the corn residue following harvest but the rye survived winter.
After two years of study, Smith says this project is consistent with the Ontario work that shows the interseeded cover crop did not negatively impact yield.
When asked about herbicide concerns, both researchers have indicated residual from previous years is the number one issue. If farmers are contemplating this soil management option, planning ahead is recommended when considering herbicide use on other crops.
He says they will continue to study this practice to determine what levels of biomass are needed to see an increase in the level of nutrients in the soil. They will also begin to look at interseeding into soybean fields as farmers have expressed interest in being a part of that research, as well. •