EMBRACING NEW TECHNOLOGY
WHEN HONG (JENNY) Cui started farming with her father it wasn't exactly the future she'd had in mind. She had, after all, studied in the United Kingdom to be a chartered accountant. Today, though, she is a leader in her community, Heilongjiang, China's biggest corn-producing province, where she helps farmers to improve crop quality and, yields.
PHOTO: HONG (JENNY) CUI, PICTURED AT THE WORLD FOOD PRIZE 2015, HAS MODERNIZED NOT JUST HER OWN FARM, BUT HAS ALSO BROUGHT MODERN AGRONOMICS TO HER FARMING AREA.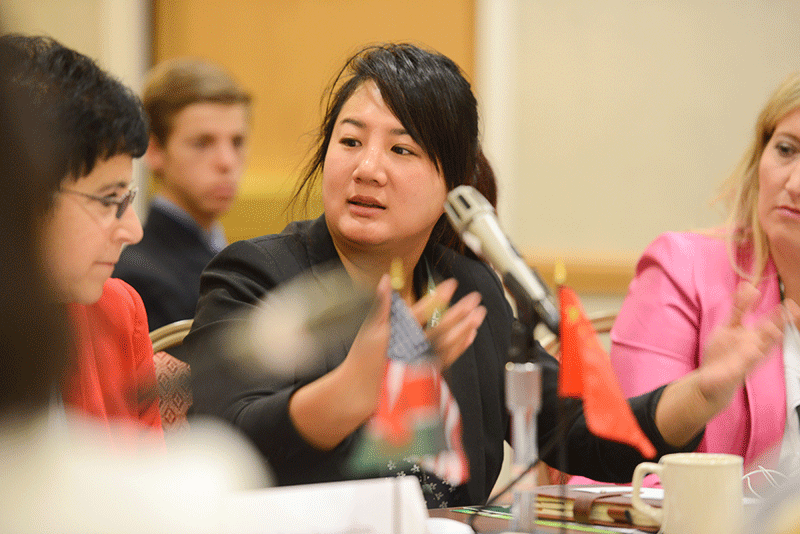 After studying and working abroad, Hong returned to the family farm to help her father, who had been farming since around 2000 when he bought land in Inner Mongolia. Unfortunately, his health took a turn for the worse, leaving him unable to complete his daily tasks. While he had some help, it was too costly, and he had no desire to sell the farm. It was then that Hong decided to give up her London job as a financial analyst for Barclays (a banking and financial services company) and returned home to manage the farm.
MODERNIZING FOR GROWTH
When Hong started on the farm, her father was still using traditional methods and small tractors with little horsepower. The work was extremely labour intensive and expensive, said Hong in a recent interview. This is not uncommon on Chinese farm operations. "Sometimes we could have hundreds of people work in the farm," she said. "But the farm size was only around 3,000 hectares (approximately 7,000 acres)."
Since that time, Hong has embraced new technology, switching to larger machinery and more efficient farming practices. "I went to America to check out how modern agriculture works there and was surprised to see such efficient systems for growing corn," she says. "We bought big tractors, planters, and all sorts of machines."
Since that time, Hong's business has grown. In 2014, Hong started her own farm in Harbin, Heilongjiang province, where she grows corn and corn silage. While improving yields was one of her first main goals, she also works to improve quality. "My end users are local dairy companies," said Hong. "They look at both quantity and quality from me for their feed. But this year they are paying more attention to quality, such as starch levels."
CHINA'S CHALLENGES
Chinese farmers face a number of challenges that directly impact their farm operations, including changing and unpredictable weather patterns. "But for me, now it's the market in China," said Hong. "The land price is very expensive, but the selling price has dropped."
Hong has worked hard to improve yields, though, which has made her work more profitable. By changing her fertilizer mix and plant density, yield jumped from six tons/ ha to 10 tons/ha. "Sometimes, in a good season, we can make it to 13 tons/ha," she said.
The improvements Hong made on her farm awoke the curiosity of the farmers in her community. To help them to improve their crops, Hong showed them what products and machinery she had been using. Later, she joined up with some leading agricultural companies to organize training sessions. They were a hit.
"I organized training for farmers both in the classroom and in the fields," said Hong. "[They were] mainly technical and on how to improve [crop] quality and quantity."
EXTENSION WORK
Hong is also a leader of a local professional agricultural service organization, Zelin Agriculture (www.zelinnongye.com/). The purpose of the organization is to help farmers earn more money by increasing overall yield and crop quality. The organization works together to source agricultural products, to share management experiences, and to sell their grain.
Hong also owns a North American-style farm machinery business. "I have machines with some drivers, and farmers have asked us to work on their land," she explained. "Farmers like my business because [we have] good machines and it is fully equipped with precision agriculture tools, so the results are amazing and efficient."
Hong is proud of the services she provides for local farmers. "It has opened their eyes and showed them everything in their fields," she said. "They believe the only way to improve farming is by using technology and adopting new things."
While she's done a lot to improve the lives of farmers in the region, Hong still has big goals. "I wish to have more land to earn more money to support my consultancy business," she says. "Long-term, I wish to be the best corn consultancy company in China." •