IP PRODUCTION OF GMO SOYBEANS IS GROWING
INTEREST IS GROWING in the added traceability of genetically modified (GMO) high-quality food grade soybeans. But as with any emerging market, there are complex forces at work and several significant growth-limiting factors.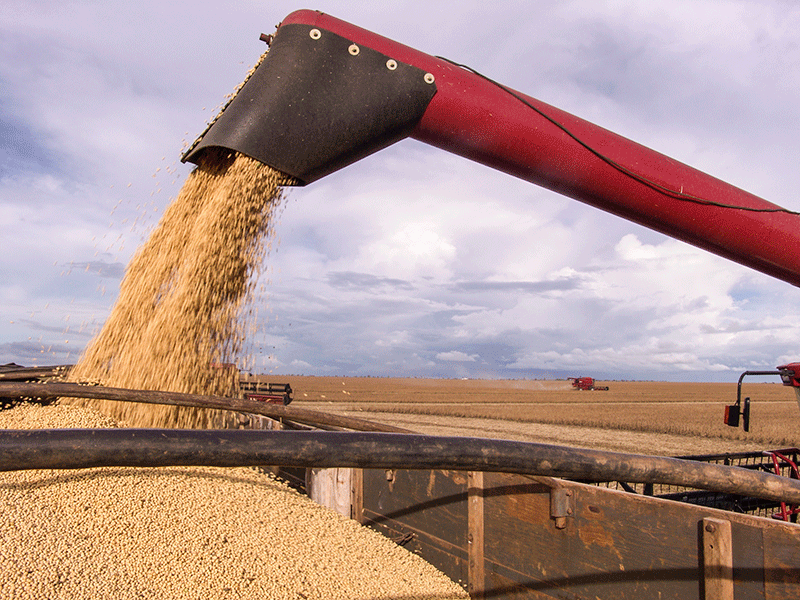 By far, the majority of interest in identity preserved (IP) GMO white hilum soybeans is from customers in price-sensitive markets around the world, says Jeff Stonehouse, an export and domestic grain trader at Thompsons Limited in Blenheim, ON. Last year was the first year Thompsons actively sought customers to fill IP GMO white hilum contracts. Stonehouse has set up a few contracts for a white hilum GMO soybean that's been on the market for a couple of years, an alternative to non-GMO varieties that have been available for many, many years.
 
The growing desire for IP GMO soybeans is all about cost, Stonehouse says. "For 2016, IP non-GMO soybeans may fetch a producer a $2.50 per bushel premium, versus a $0.50 per bushel premium for IP GMO," he explains. "It's a large difference in price when you turn around and market these bushels. This difference could grow as years go on. For cost-conscious customers interested in high-quality soybeans and not particular about the GMO aspect, it's an opportunity to substantially lower costs."
MORE THAN PRICE
Dwight Gerling, managing director and owner of DG Global in Toronto, started arranging GMO IP soybean contracts well over a decade ago. He explains their purchase not only saves buyers money, but can greatly simplify their logistics.
"It starts with the fact that in Canada, we've carved out a niche for food-grade non-GMO soybeans," he explains. "Everyone all over the world recognizes them as a very high-quality product. So, what is happening is that some Asian buyers have been purchasing lower-grade/lower-cost soybeans from the U.S. or South America, and to improve the quality of their end-products, they will also buy high-protein Canadian IP non-GMO soybeans and blend them in. The end-product is still GMO." Gerling adds, "These buyers can't afford to purchase all IP non-GMO soybeans and so they do this blending from two or more sources, but they could streamline their process by purchasing only high-quality Canadian IP GMO soybeans". 
PLANNING AHEAD
However, growth in the IP GMO market has been stifled for three reasons, two of them relating to a lack of understanding on the part of both Asian customers and Ontario soybean farmers of how the market functions. Gerling says more education going forward could make a big difference.
For their part, many buyers of IP GMO soybeans don't understand the concept of advanced contracting to secure enough supply for the upcoming year. "They will say 'Those IP GMO soybeans we bought recently are really great and we'd like some more,'" Gerling explains. "And we have to say 'Well, there are no more'. Then they will ask 'Whatever do you mean?' because they are used to having a big supply of GMO soybeans, and we say 'There are no more, and so if you want a certain amount next year, you need to pre-contract'. Over time, it's a slow process of explaining to them that a commitment is necessary for them to secure as much as they want."
Another factor stifling the Canadian IP GMO market occurs when world non-GMO soybeans are over-supplied and buyers switch to them because the price has dropped. "If the prices of GMO and non-GMO food grade soybeans are pretty close towards purchase time, customers will choose to buy non-GMO at the last minute," Gerling notes. "Not only is the price good, but there are more marketing options for non-GMO soybeans compared to GMO. Non-GMO are guaranteed to sell into many markets."
TRACEABILITY
For their part, some growers also need more understanding and follow-through. "The grower mindset needs to be changed from thinking they have contracted 'just' GMO soybeans," Gerling says. "IP GMO soybeans have to be viewed the same as any IP soybeans — they still need care in terms of handling and drying so the IP contract conditions are met." Gerling adds that growers also need to actually deliver the soybeans to the buyer.
"We all understand that sometimes you can't wait to harvest, the weather just doesn't allow it, but Ontario farmers in general right now are too quick to forego the premium, harvest the crop, and send it to the crusher so at least they have some profit assured," he says. "There are no ramifications for breaking the contract. If we want this market to grow, we all have to follow through and build trust."
The third barrier is a dearth of food-grade GMO soybean varieties. "On the whole, breeding companies haven't yet put a lot of focus on developing these," Gerling says, "but I am hopeful things will continue in a positive direction." •